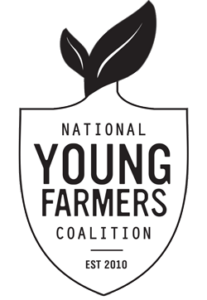 I interned with National Young Farmers Coalition (NYFC) as their communications intern for five months this year. NYFC advocates for all young and beginning farmers by providing business services, policy advocacy, and opportunities to join a network of young farmers and farmer-led chapters throughout the United States. NYFC has 48 chapters nationwide and is especially active around the Hudson Valley and Washington DC.
NYFC envisions a country where young people who are willing to work, get trained, and take a little risk can support themselves and their families in farming.
I became interested in working with the NYFC communications team because I wanted to explore more about how we can best tell farmers' stories so that policymakers and the general public can recognize both their challenges and the dignity and the importance of their work. In my undergraduate work at St. Olaf College, I explored telling farmers' stories through portraiture, so I was excited to take a policy angle through writing.
At NYFC, I wrote farmer stories about farmers who received a grant from the organization, several of whom are BIPOC and queer. I think people's stories of struggle and triumph are sacred and should be treated as such, especially when others use them to move action or an agenda.
Writing them taught me that, before you start to tell a story of somebody else's, you need to really ask yourself, does your account bring dignity, honor, and benefit to this person and their story? Is telling this story creating action and engagement that drives action that this person wants, or is it an action that only you want? Are the values and perspective of this story centered around the subject of the story or the interests of an outsider? Would the subject characterize themselves and their story as you do? Good storytelling isn't simple and requires great sensitivity to power dynamics.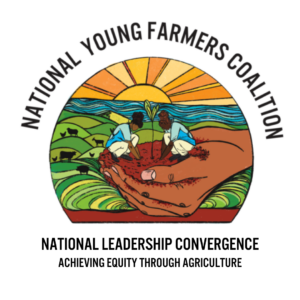 During my time at NYFC, I also supported the organization's annual National Leadership Convergence, whose theme this year and next is "Achieving Equity Through Agriculture."  At the Convergence, farmers network, voice their policy opinions and needs, and attend workshops and panels on the experiences of other young farmers and organizers.
It was the first time that NYFC had held this conference virtually. While I've heard of how exciting the typical, in-person Convergence has been for bringing together farmers from all parts of the country, I think with all the help of staff and the cooperation of all of the farmers, we were able to successfully have lots of learning and interesting conversations with over 400 participants who joined in the week of activities over Zoom.
Finally, I learned more about what it means to be a true advocate. As a staff team, we discussed different learning items from NYFC's Racial Equity Toolkit in racial-affinity caucuses. We met monthly to discuss various readings, podcasts, and articles about how land, food, and farming relate to race, power, food, and inequality.
These caucuses spurred interesting thoughts, questions, and conversations for me that lasted beyond my work hours. This work has prompted me to ask many more questions about how I can use my position, privilege, and storytelling skills to fight for environmental justice.
I'm thankful for the work NYFC does, and for the window into policy advocacy for farmers and farmworkers my internship with the organization gave me.