In addition to its beautiful scenery, beaches, and historical sites, Central Vietnam is known for extreme flooding events that are both deadly and destructive.
In 2020 alone, over 240 people were either killed or went missing due to a series of floods from October through November. Property losses were valued at roughly $1.52 billion.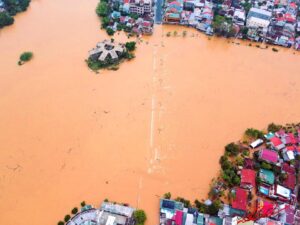 Flooding in Central Vietnam—Government Policy and Vulnerable Communities
A tropical country, Vietnam has always been vulnerable to floods, and Central Vietnam experiences major flooding events every year. Despite this vulnerability, the state's main approach to supporting communities in Central Vietnam is reactive instead of preventative.

In fact, the Vietnamese government terms the communities in flood prone areas in Central Vietnam "flood-region communities," and its aid strategy is based on post-flood disaster relief instead of prevention or mitigation. After the flooding events in 2020, for example, the government spent 670 billion VND, the equivalent of over $29 million, on aid.
The flood hazard issue in Central Vietnam is also an environmental justice issue. Not only are the communities in the region exposed to flood losses every season, they are also among the poorest communities in Vietnam. 
Despite the obvious inability of these communities to protect themselves from the consequences of this annual flooding, there has been little to no change in the way the government manages flooding in this area.

In fact, government priorities around economic development may be making the situation worse.


Not a "Natural" Disaster
Some researchers believe that the 2020 extreme flooding events in Central Vietnam were not the result of a natural disaster, but of a man-made disaster because in recent years, many small, unsustainable hydroelectric dams have been built in Vietnam, especially in the Central Vietnam region. 
To build the infrastructure for these dams, thousands of hectares of forest have been destroyed, and even mountains have been flattened. Increased deforestation results in increased flooding, mainly because without tree roots to absorb the rainwater, the effects of flooding are exacerbated. Soil erosion from deforestation only makes matters worse.   

Ironically, when the Prime Minister of Vietnam attended the COP26 in Glasgow, he called for environmental justice, promoted sustainable natural resource management, and assured the international community that Vietnam's economic development has not been at the expense of the environment.
The series of floods in Central Vietnam in 2020 is evidence that the Vietnamese government is not living up to these international pledges.
So, how could the government do better?  Are there international models it could look to?
Is the U.S. National Flood Insurance Program a "portable" model for Vietnam?
The National Flood Insurance Program (NFIP) helps property owners recover more quickly after a flood event, but it's also preventative program: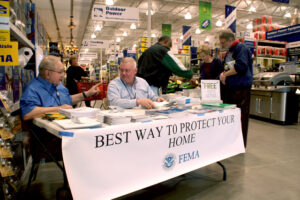 However, a program like the NFIP might not be portable to Vietnam because flooding events are too frequent in Central Vietnam for the flood insurance market to be viable. Even if the communities living in flood-prone areas were able to afford flood insurance, which is unlikely considering their low income level, it would still be impossible for either the state or private insurance companies to cover flood insurance policy claims.

In addition, the NFIP might not be entirely helpful in terms of warning Central Vietnamese communities about flood risk because the high flooding hazard throughout the region is common knowledge. Furthermore, recent efforts to reform the NFIP to align real flood risks with insurance premiums in order to discourage development in flood prone areas is not something that makes sense for communities in Central Vietnam. These communities are tied to their livelihoods, they lack the resources to relocate out of the region, and the Vietnamese government has not demonstrated interest in helping them move. This is not to say that many families in Central Vietnam do not get displaced by flooding, because they do. 
A flood insurance scheme is not completely out of the question in Vietnam, but such a scheme would require very careful design to be effective.
So, if it's not a program similar to the NFIP, is there a solution for Central Vietnam?
Towards preventative solutions

 
One practical solution that Vietnam could learn from the NFIP is to invest in resilient infrastructure and weather forecast technology, which is a mitigation and preventative strategy instead of a reactive one. Since there is little likelihood that communities in Central Vietnam will adopt effective floodplain management practices on their own, again, due to the lack of resources, the state needs to take action in this regard.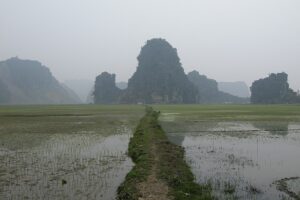 The government could help communities in Central Vietnam build resilient infrastructure, especially green infrastructure like wetland recovery or creation and reforestation. Recovering the habitat lost from building unsustainable hydroelectric dams may be the first step. Resilient infrastructure might be more costly in the short run, but it can be cost-saving in the long run.
Another step that Vietnam has been taking is learning from Japan's meteorological technology in order to provide precise weather forecasting so that vulnerable communities can take precautionary measures.
Takeaways—What Can You Do? 
It can be challenging to take action when you learn more about the political structure in Vietnam and the risks associated with speaking up, especially when you are Vietnamese. However, you can try to address environmental justice issues where and whenever you can in both formal and informal settings to raise awareness.
If you are not from Vietnam, but you are an avid traveler who is planning to take a trip to top-rated tourists attractions in Central Vietnam like Hoi An, Da Nang or Nha Trang, it is always helpful and ethical to be aware of how vulnerable the local communities are to natural disasters, to poverty and to injustices so that you can make donations where you see fit.
In terms of policy-making, it is crucial to ask communities what they need and engage them in the decision-making process so that community participation in policy-making is active rather than simply filling a checkbox.