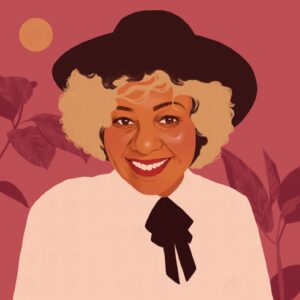 Bianca Pryor was born a leader. Raised in Richmond, VA, as the eldest sibling of three, being a protective big sister was her first leadership role.
Before jumping into her career, Pryor attended Virginia Union University where she earned a Bachelor of Science in Marketing and Spanish. She then completed a Master of Science degree in Consumer Behavior from Purdue University.
Pryor expressed that it was during her college years, particularly during graduate school, that she dedicated time to soul search and figure out how her identity as a Black woman fit into American capitalism and the other systems of power that govern our lives.
During our conversation, Pryor and I discussed how identity impacts leadership and how these two elements intertwine for her, enabling her to lead with empathy and energy.
Leading in Corporate America
Currently, Pryor is the Vice President of Consumer Insights for Content Optimization at Black Entertainment Network (BET), where she transforms data from consumer and market research into compelling strategies that ultimately inform BET's programming decisions.
As an executive, Pyror's approach to leadership prioritizes the well-being of her team, both in and out of the workplace. Pryor emphasized the importance of both trusting her team and herself—this enables her to focus on bigger-picture items and strategic decisions instead of dwelling on day-to-day minutia.
While the COVID-19 pandemic has made her even more acutely aware of the importance of her team members' well-being, Pryor also leaned on her people-first leadership style in her previous roles at marketing firms System1 and Kantar TNS. Here she took on operational and technical challenges of how to run a business, but she also notes that she gained intangible experience of how to be leader by understanding people as whole humans in order to foster talented individuals that will want to stay under your leadership.
Leadership Specifics: Exploration, Engagement and Enjoyment
As I continued to talk with Pryor about her leadership style, one thing that stood out was her commitment to ensure her team members' satisfaction with their individual roles and the type of work they do.
Pryor uses the three E's of Exploration, Engagement and Enjoyment to check in on this. She tries to ensure that the members of the teams she leads have space to explore in their work and looks out for disengagement or boredom to use as an opportunity to unpack any issues that might be occurring. These two strategies lead to team members being able to enjoy their work and reach their full potential.
Another foundational component to Pryor's leadership style happens to also start with E: empathy. Pryor emphasizes the human quality of leadership through recognizing with empathy that everyone is unique, with their own strengths and style. Empathy also shows up in Pryor's leadership through extending grace whenever she can and recognizing the importance of logging off.
Leadership for Sustainability and Beyond
As we wrapped up our conversation, Pryor—true to her leadership style of empathy and energy, pivoted towards a message of encouragement. Pryor emphasized that leaders in the sustainability field are thought leaders when it comes to looking towards the future. She believes that corporate social responsibility will shift towards having a people-planet-profits lens, and thus cooperation between sustainability leaders and corporate leaders will become increasingly important.
Lastly and most importantly, Pryor highlighted the importance of having sustainability leaders and policymakers who understand intersectionality, as the social, racial, and economic issues that must be reckoned with are deeply intertwined with sustainability issues.
For more with Bianca Pryor, check her out on the Unlikely Leadership podcast, where she shares her expertise on data, or on the Rock n' Roll Research podcast, where she talks about championing Black maternal health by co-founding Dr. Shalon's Maternal Action Project, and the Believe Her app.