Written by Adelina Keshishian
Originally posted at http://theoriess.tumblr.com, on October 27, 2013
I haven't written in my log for a while, but i am starting again for a few reasons… For starters, I was inspired. I was inspired to be optimistic again. The majority of the people in my life think I am unhappy, but really they just don't understand me. It's really hard to maintain relationships with people around you, especially family when they don't have the same values as you do, the same passions and ideals. There is nothing wrong with being different, but the difference between the majority of the people in my life and myself is that I can accept the fact that we are different and support them and their lifestyle choice, but for some reason I just feel belittlement and judgement from their end. I'm done pretending.
This weekend I met an amazing group of people and I challenged myself socially. I met like-minded people who I was able to have such fun, light-hearted and interesting conversations with. It was so…refreshing. Campus to Congress is a fellowship workshop I attended and I was surrounded by people who had the same kind of aspirations as me, who had similar goals as me.
I am an optimist by being, but I do have the tendency of playing victim. This is the day that I have declared to be the new me for the rest of my life. Today I choose to challenge myself every time my thoughts that conditioned to make me feel like a victim. Although I have been saying this for over a year, this weekend made me realize that I am a survivor, that I am strong, I am goodhearted, I am capable. I have flaws, as do we all, but my intentions are never ill. I don't think I am better than anyone, and I will no longer allow people to think its ok to make me feel like they are better than me.. I want to help people, like I was once helped. I want to inspire people how I was once inspired, and most importantly, I am going to believe in people just as someone believed in me.
…In addition to this being the most inspired weekend of my life, it has also been…(I don't have the words to describe the feeling). Something happened this weekend not connected to the c2c fellowship, that has impacted my life in a very big way. In the past I have overreacted in so many different ways when difficult things surface, but no more. Today is the day I change course in my life for the better, in so many ways. It will be a struggle, but it has to be. If not now, then when. I am starting to tred the path less taken… I am going to focus on the fact that although I know this change has to happen, I don't understand or see why this has to happen. I won't see it, anytime soon, but I will in retrospect. A part of me believes and knows that this is how the course is going to play out, and it is up to me for the first time to really let things be. To really let it go. To really let life fall into place, to jump and not be afraid of where I am going to land.
Never be afraid.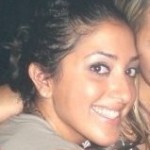 Adelina is a graduate from Bunker Hill Community College with an A.A. degree in Business Administration, and is currently a junior at Bentley University studying economics. She attended the C2C Fellows workshop at Bentley in October, 2013.