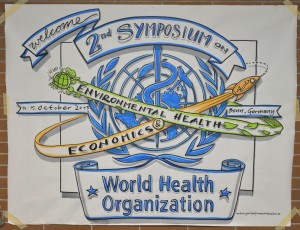 MEETINGS, MEETINGS, MEETINGS….

After two months into the internship, I was already feeling comfortable in both formal and informal settings. Fall season at the World Health Organization (WHO) means a lot of meetings. I was asked to be a note-taker for the Human Biomointoring meeting and the Economics Symposium which were great preparation for my main task of being a note-taker at The First Meeting of GDG for Updating Environmental Noise Guidelines for the European Region. I was also helping out with organization, administration, and evaluation forms during the Multiple Exposure workshops that gathered almost 80 participants from different countries in the WHO European Region, including people working in similar international organizations, science, or politics.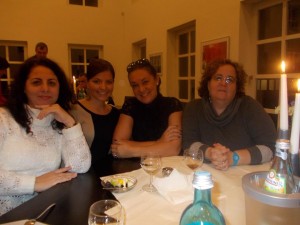 These were all exceptional experiences—each meeting has a specific WHO agenda and it is usually 2-3 days long. These meetings were valuable due to various contacts I made, great presentations that reflected the teachings of Bard CEP (translating science into policy), and relaxed moments during lunch and dinner with meeting participants when I got a chance to see them in a different setting. During these encounters, I realized that WHO/UN staff and the participants that these meetings attract have one feature in common—exceptional interpersonal skills. And I believe this was the reason I felt very comfortable at WHO during these 6 months. I realized there is no doubt I want to be surrounded with this type of people at my workplace- people who value being dynamic and communicative.
UN SECRETARY GENERAL IN BONN

January 31st was, unfortunately, my last day of the internship. A few days before I had a fun farewell presentation which was a mixture of personal background, humor, and my contribution during the internship, with chocolate covered strawberries, Belgium cheese, and grapes. Friday was the quickest working day of all 6 months, probably because I didn't want to leave.
The day when Ban Ki-moon was visiting the office was a hectic joy—from security to minute-by-minute organization plan, trying to get into the first row and snap a few pictures… An hour of standing in the newly built World Conference Center was definitely worth it as I had a chance not only to take pictures and videos but also to shake hands with Ban Ki-moon! What a great last day!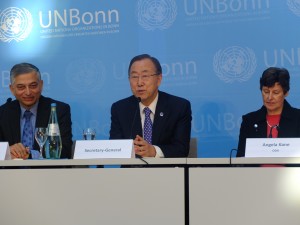 NERDY IN A CHARMING WAY

…is a perfect description of WHO Bonn office. I could say that I was intimidated at the beginning due to the pure title of the organization, but there is definitely a special atmosphere at WHO with frequent laughter from the offices or hallways, smell of pralines that someone brought from a conference in Geneva, different languages exchanging…Thanks to meetings and tasks I had a chance to collaborate with most of the office. But there were also interactions outside of the office such as jogging during lunch time along the Rhine river with two colleagues or playing tennis with a former WHO staff member.
Amazing communication skills and high-skilled expertise are main characteristics of WHO Bonn office but at the same time the staff is humble and down to earth, with a great sense of humor, fashion, and fun!
After years of trying to find myself in science during undergraduate school and working in labs, I realized dry science and alone laboratory work are not for me. Working in an international organization such as WHO or UN would be a perfect fit for me or anyone who enjoys being around people, likes using policy vocabulary, and knows how to communicate with scientists, economists, policy-makers, Russians, Italians, and British people. Being able to effectively communicate and adapt to a multicultural environment and people of different national backgrounds is as important as communicating with different stakeholders.
I applied a lot of aspects from Bard CEP to my internship, but there are many things I learned  outside of the classroom, too. I have never been exposed to administration tasks and the internship definitely taught me how to effectively handle paperwork. It seems that my thesis writing improved due to the tasks at WHO and many WHO publications that have a unique and concise way of writing.
I truly enjoyed every day of the internship and I hope to see the familiar faces again J