Originally posted on: thegenynot.com
Written by, Dorthea Thomas
On March 6, 2014 WE ACT for Environmental Justice hosted their first Environmental and Climate Justice Teach-In atThe Peace House in Washington DC. The Peace House is a center that fosters learning and activist excellence through the facilitating various individual, community, and world betterment projects; such as Teach-Ins, Non-Violence Training's and Direct action tactics for social change. The Teach- In introduced WE ACT to the activist community in DC by engaging attendees through presentations and games with an education component on environmental justice issues. At the Teach-in, participants had the opportunity to meet the WE ACT staff and interns, learn about the background on WE ACT for Environmental Justice, and the role of policy- making in achieving environmental and climate justice.
 According to the EPA, environmental justice is the fair treatment and meaningful involvement of all people regardless of race, color, national origin, or income with respect to the development, implementation, and enforcement of environmental laws, regulations, and policies. When President Obama introduced his Climate Action Plan in a speech at Georgetown University in June 2013, it gave hope that our country would finally move forwards to a just environmentally- friendly energy future. However, there wasn't much mention on how climate change hurts the most vulnerable and marginalized in our society. Environmental justice was only mentioned once.
The featured guest included Shilpa Joshi, a Field Organizer with the Chesapeake Climate Action Network who presented information about the disastrous development of Cove Point, a liquefied natural gas (LNG) export facility located right on the Chesapeake Bay in Southern Maryland  which is proposing such a dangerous and costly detour from our region's clean energy future.The emerging, young progressive Interim Director of the Environmental Justice and Climate Change initiative Kari Fulton helped educate participants about the guiding principles of Environmental Justice and how important it is for underrepresented
communities to have a voice at the decision-making table. Attorney Marcia Cleveland from the Interfaith Moral Action on Climate explained how environmental stewardship is a moral responsibility for all religions and the dire importance of climate justice from an interfaith perspective. Also, Leslie Fields the Environmental Justice Director with Sierra Club shared with the detailed history of the Environmental Justice movement and the importance of Executive Order 12898, which urges Federal Agencies to focus on the needs and inclusion of environmental justice communities.
This teach-in allowed participants to learn about ways to get further engaged with other local events and opportunities to engage on the issues of climate change. In order to ensure low income, communities are included in the plan towards climate action we must have more ways to fellowship with others while also spotlighting local organizing efforts for climate justice and national campaigns on environmental justice.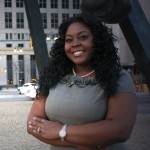 Miss Dorthea E. Thomas is a renowned public speaker, poet, and social entrepreneur with a passion to inspire youth. She's the Founder of The Minority Women in Leadership Commission, a not-for-profit group dedicated to mentoring and empowering young women and girls to increase their leadership capabilities. Currently she works for Detroit Public Schools District in the Office of Energy & Sustainability as an Americorps Green Schools Coordinator with EcoWorks.  She attended C2C UMich 2013.