Written by Karen Maserjian Shan
As a kid, Jess Scott read works by Jane Goodall.
Like the renowned primatologist, Scott imagined a career working in the field doing research. That changed once she started to study animal behavior at Bucknell University.
"It turns out that what I'm really passionate about is people and how people understand their place in the world," said Scott, workshop director of the C2C Fellows program at the Bard Center for Environmental Policy in Annandale.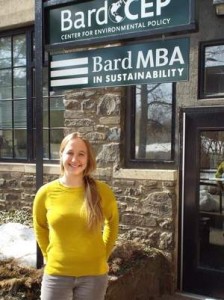 Increasing interest in environmental problems and the growing population's demands on the environment are heightening the need for environmental scientists and specialists, according to the U.S. Department of Labor. With that, employment in the field is expected to grow 15 percent from 2012 to 2022, from 90,000 to 103,200 positions.
Early on, Scott secured a job through an internship at Bucknell with the Susquehanna Economic Development Association-Council of Governments, a public development organization in Pennsylvania. Her work involved renewable energy and energy-efficiency education along with technical consulting for the area's residents, farmers, manufacturers and others.
While the position combined her interests in sustainability and working with people, Scott left it after a year to travel, spending 18 months in Japan, Greece, South Africa and other countries. The trip widened her vision, giving her a global perspective on other cultures and the world at large.
"When you step 100 percent out of your personal comfort zone and you don't have a lot of expectations, you learn a lot about yourself and the things that are important to you," she said.
Upon her return to the United States, Scott consulted for the environmental center at her alma mater, a program she helped establish when she was a student there.
Less than a year later, she was back in Africa, filling in for the temporarily absent owner of a remote camp for backpackers, Mushroom Farm, a cliff-side eco-lodge in northern Malawi.
"If you couldn't use what was around you or you couldn't make it yourself, it was terribly difficult to get," she said.
Nine months later, she was back on home soil, and by late 2012, she had landed her position with C2C Fellows at the Bard Center for Environmental Policy. The job has her working with the program director, Eban Goodstein, to produce five national weekend-long workshops per year that educate, counsel and train college students and those who have recently graduated on ways to secure leadership positions in sustainability.
"It's great when you give young people the realization that they already have the skills and network to create meaningful change," said Scott, adding that work in sustainability addresses both bleak and environmentally sound futures.
Goodstein said Scott has grown into a leadership role in the C2C Fellows program.
"She has brought a number of 'best practices' in leadership training into our program, and is terrific at communicating the underlying vision of C2C to the hundreds of students who go through our workshops each year," he said. "Her career is going to be changing the world."