Before Brittany Chiles even stepped foot on Penn State's campus, she knew she wanted to run her own business.  Growing up, both her mother and grandmother were business owners and this experience gave her an entrepreneurship spirit.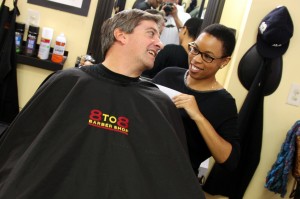 When her college orientation leader mentioned that a senior was giving haircuts out of his dorm room, Brittany decided to get involved.  Over the course of her freshman year, she apprenticed with this underground barber, building a client base and supplementing her education with YouTube videos and online research.  By the beginning of her sophomore year, Brittany had a steady flow of regular customers.  She ran surveys and incorporated the lessons learned from this experience to hone her skills as a business owner.  She found the work interesting and empowering.  Barber shops, she realized, can give back to the community in several ways.
Outside of school, Brittany was introduced to the 8 to 8 Barber Shop, in West Orange, New Jersey.  Jason, the original owner, had a vision similar to Brittany's and after a year of working with him Brittany proposed assuming an ownership role.  Jason agreed and this January they celebrated their first year as business partners.  Together they hope to make 8 to 8 Barber Shop a place for networking, social building and, of course, haircuts.  She wants the old school barber shop mentality to provide a forum where progressive ideas can be discussed and incubated.  Through "laughing and learning" this business can expose community members to new ideas.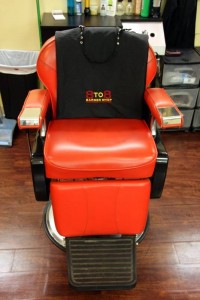 Among Brittany and Jason's vision for 8 to 8 is  an academy, where employees perfect their craft while learning new techniques and acquiring business management skills.  Brittany seeks to empower her employees to become business leaders and aims to hire people who recognize ownership potential in themselves.  Ideally these employees will graduate from the West Orange location into satellite franchise shops.  Brittany wants her employees to invest in themselves in order to maintain long and productive careers.  However, this can prove to be difficult.  Brittany describes finding the ideal company cultural fit, when recruiting,  as one of the greatest challenges to her job.
When asked for advice that she would give to other C2C fellows looking to advance their own careers in sustainability, Brittany says, "Follow up!"  Networking is a great tool, but it is not worth much if you do not take the time to follow up with those who you meet.
C2C is proud to have Brittany among our many fellows who attended the 2014 workshop at Bard College.  We're looking forward to the next time we are in West Orange to stop in for a shave and chat.