Scenic Hudson believes that the Hudson Valley is an irreplaceable national treasure that must be preserved for all residents and visitors to enjoy. Since kickstarting the grassroots environmental movement in 1963, the organization has dedicated itself to promoting the Hudson Valley's environmental health and sustainable economic growth.
One of Scenic Hudson's initiatives that highlights the relationship between the region's environment and its economy, and that brought me to intern here, is the Foodshed Conservation Plan (FCP).
Adequate food access and nutrition for millions New Yorkers relies on a healthy foodshed.
Foodsheds are analogous to watersheds. In watersheds, gravity channels rainwater from small streams into bigger rivers and eventually out to sea. In foodsheds, demand for fresh food channels produce from nearby farms into a food distribution network and 'downstream' to feed city residents. And, just as water quality is linked to the overall health of the watershed, food quality is linked to the overall health of the foodshed.
Looking at the Hudson Valley, the need for a foodshed conservation plan is clear:
NYC's unmet demand for local food is estimated to be more than $600 million dollars per year, but instead of new local farms opening shop to meet this demand, one is lost to development every 3 ½ days.
To make matters worse, the network that supplies farm services relies on a critical mass of active farms.  This network begins to unravel as more farms go out of business and the costs of services increase for those remaining farmers.
These factors make being a farmer, traditionally a career that is built on hard work and low profits, even more difficult in the Hudson Valley.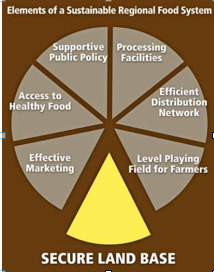 NYC's foodshed is obviously in disrepair. Farmers cannot afford to farm and city residents lack access to local food. By adopting the FCP, Scenic Hudson hopes to protect a critical mass of farms, pumping millions of dollars into farmers' hands where it will be reinvested in the regional food system and provide a foundation for NYC's foodshed.
The Foodshed Conservation Plan draws a blueprint for large-scale farmland preservation.
A common tool for preserving land is acquiring conservation easements. In a typical conservation easement, a land trust, such as Scenic Hudson, purchases the development rights of a property from a landowner.  This allows the landowner to continue farming with proceeds from the transaction and aims to keep the land affordable for future farmers. According to the Land Trust Alliance's 2010 National Land Census, state and local land trusts have used easements to conserve more than 8.8 million acres of land, proving how useful conservation easements can be.  Still, their effectiveness may be limited if land trusts do not follow a strategic conservation plan.  The same census points out that land trusts following strategic plans nearly double the amount of land acquired under easements. The FCP aims to attract a mix of public and private investors with a unified goal.
This study provides a foodshed model by analyzing the 5,387 farms in the 11 counties stretching between New York City and Albany. Incorporating GIS tools with parameters such as soil quality and proximity to other farm parcels, this model identifies nine priority conservation clusters that should be strategically targeted in order to secure the NYC foodshed land base. With the FCP in hand, Scenic Hudson is now working to get foodshed conservation onto New York State and NYC's agenda.
As Scenic Hudson's Foodshed Intern, I am raising public support around this issue.
I am responsible for facilitating meetings among NYC Foodshed stakeholders. We have sponsored an event at Gracie Mansion with Mayor de Blasio and held legislative briefings with state legislators, city officials and community leaders to promote the plan. I am also writing a report that details the economic impact and community services, such as public health, that Hudson Valley agriculture brings to New York City.
Most of my time is spent getting a handle on the current thinking around foodsheds and food hubs and learning more about the NYC Food Movement. This involves a lot of reading, as well as interviewing food study experts, business owners and community members. One of my favorite responsibilities is visiting some of the dedicated people who bring fresh, nutritious, food into underserved communities across the five boroughs. By showing what ties bind NYC to the Hudson Valley, I hope to show what could be lost in NYC if Hudson Valley farms are not protected.
From an environmental policy perspective, all of this work is important. Science shows that responsible agriculture leads to resilient ecosystems. Natural Resource Economics describes the many benefits of healthy foodsheds. Environmental Law provides a structure for private and public investors to work together. Clear written communication allows us to explain why NYC stakeholders should take interest, and Environmental Policy, of course, determines what should be said, who should say it, who they should say it to, and when. In short, this project pulls from each of the disciplines studied during Bard CEP's first year.
And, the timing is right:
On the heels of a Scenic Hudson briefing in Albany this past May, Governor Cuomo reinstated the Farmland Protection Program. In the city, the New York City Food Forum is organizing 80+ food-justice organizations and Mayor de Blasio, a longtime proponent for shrinking the city's "foodprint," has appointed an energetic and forward-thinking Director of Food Policy in Barbara Turk. Meanwhile, in the Hudson Valley businesses like Hudson Valley Harvest are experiencing tremendous growth by showcasing local farms.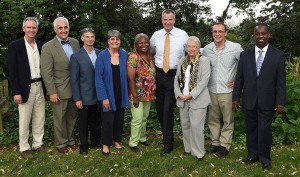 Considering all of the attention that the Food Movement is generating, now is the time to push towards reaching a secure land base. Years from now I hope to see New York City invest in its food supply as it currently invests in its water supply, by valuing the resource and working with upstate farmers to protect its quality, and to feel as though my Bard CEP internship played a role in reaching this goal.