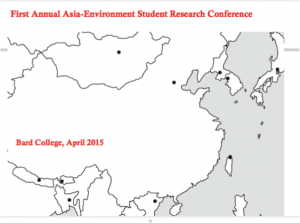 Today it is impossible to think seriously about the challenges of sustainable development and the environment without understanding the local and global environmental footprint of rapid economic growth in Asia—and the Asian response. At the same time, Asian Studies students increasingly require familiarity with the scientific, cultural and political dimensions of environmental crises and sustainable development. Against this backdrop, sixty students and faculty from across the country gathered at Bard College in mid-April for the First Annual Asia-Environment Student Research Conference.
The conference, supported by a grant from the Henry Luce Foundation, featured two provocative keynotes. Judith Shapiro (pictured right), from American University, kicked off the conference with a focus on China's Environmental Challenges: The People's Response. The next day, Emily Yeh from the University of Colorado spoke on The rise (and fall) of the Green Tibetan: Environmental subjects and the vicissitudes of harmony. Student panels and posters focused on subjects ranging from hydro-power production in Bhutan, to post-Fukishima youth politics in Japan, to organic rice production in Thailand, to climate change and dynastic change in China, to grazing policy in Tibet. Student presenters travelled to the conference from as far away as California, Michigan and South Carolina.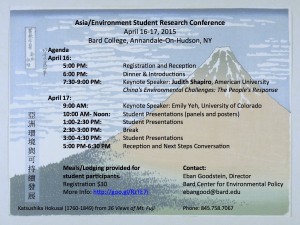 The workshop at Bard provided a venue for students to present undergraduate, masters and PhD level research at the intersection of these critical issues. Overall, the conference shed critical light on how we all might live sustainably—or not—in a 2050 world with three billion more people, limited resources, a thickening blanket of carbon dioxide heating the planet, and a global economic development process increasingly defined by Asian models and leadership. The workshop participants—mostly still in college—will be the researchers and policy makers helping understand and shape the future of US interaction with Asia around environmental concerns. Two more conferences will follow: in April 2016, and April 2017. To be placed on the mailing list for the conference, please sign up here.