By Sanaz Arjomand, M.S. in Environmental Policy 2016

If you've been to a farmer's market, you've seen the iconic green "No Farms, No Food" bumper stickers of the American Farmland Trust (AFT), an organization whose mission is to protect farmland, promote sound farming practices, and keep farmers on the land. At the AFT New York office, this mission is carried out through programs such as policy advocacy in Albany, working with farmers to reduce nitrogen pollution to drinking water sources on Long Island, and linking farmers and landowners through the Hudson Valley Farmlink Network.
As a former farmer's apprentice and school garden coordinator, I have come across my fair share of bumpers tagged with the catchy logo. But, during my first year as an environmental policy student at Bard College's Center for Environmental Policy, I had also read about AFT in academic articles as a major force in shaping agricultural policies. In particular, I had been struck by their willingness to work towards compromise with groups of varying ideologies. I accepted the offer to be a policy intern at the New York AFT office with lots of enthusiasm and excitement.
One month into my internship, I still feel the same enthusiasm. Working as the American Farmland Trust's New York Policy intern has enabled me to practice the policy principles I learned in the classroom, to push myself to independently accomplish important tasks, and to work towards an environmental goal that I believe in.   
Putting My Education Into Action
First and foremost, I find it constantly fascinating to actually be involved in the world of policymaking. Both as a political science undergraduate and a graduate student of environmental policy, I've spent years reading about the general tropes, like:
the importance of capitalizing on opportune moments

of building coalitions, and

of balancing expectations with the economically and bureaucratically feasible.
My main project during my time at AFT NY is a report that has been timed to celebrate the 20th anniversary of New York's Farmland Protection Program funding (1), for which I have organized a stakeholder meeting to discuss the main messages of the report (2) and have researched policy solutions in other states while learning about how the New York program is operated (3). Seeing these types of best practices in action helps me to more deeply comprehend what I have learned in the classroom.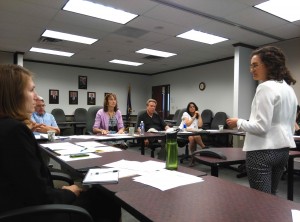 Taking on a Professional Challenge
Second, as a graduate intern with a long-term position, I have a lot of meaningful work on my plate. As I move forward with the report, my to-do list includes:
collecting data to make the case for the importance of farmland protection, 

setting up more meetings with stakeholder groups,

choosing the most effective policy recommendations,

writing and editing the text of the report,

developing a social media campaign,

considering advocacy options, and

presenting parts of my work to a statewide conference and to the governor's office.
Although policy work is not always glamorous or exciting outside of the world of wonks, the opportunity to craft a policy document with the guidance of long-time policy professionals is one that I know will serve me well in the future.
From observing policy principles in practice to engaging in hands-on work, creating the 20th anniversary report for the American Farmland Trust New York office has already been a great learning experience. And, when the report is published in 2016, I will be proud to know that my work with AFT has served the purpose of "Saving the Land that Sustains Us."