Never doubt that a small group of thoughtful, committed citizens can change the world. Indeed, it is the only thing that ever has.  — attributed to Margaret Mead
My dream is to work in non-profit organizations on mitigating climate change and protecting our beautiful planet. I'm particularly interested in figuring out what role philanthropy plays in the fight against global warming and how it works in the real world. Bard College's Center for Environmental Policy (CEP) and the ClimateWorks Foundation have given me a terrific opportunity to search for answers to these questions.
For a second-year CEP Master's student like me, a four- to six-month internship is an important component of our program's curriculum. Attracted by the strong tradition of environmental protection and the beautiful sunlight of California, I pursued an internship at ClimateWorks, a global non-governmental organization.
My ClimateWorks internship is not only giving me an opportunity to work with professionals in the field of environmental research and to seek inspiration for my thesis work, but it is also providing me with the chance to expand my professional networks and learn job-specific skills.
My first impression – amazing!
San Francisco is definitely my favorite city in the US! The sunlight, the beautiful view from the piers, the breeze (s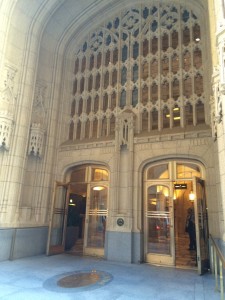 ometimes it is too windy) makes me feel so comfortable. The climate of California is totally different from that of New York.
When I first entered the Russ Building, where ClimateWorks is located, I was surprised by its long history and magnificent design. It is located in the heart of the Financial District in San Francisco and was built in 1927.
In contrast, the office of ClimateWorks on the thirteenth floor of the historic building looks very modern. ClimateWorks is located in a LEED-Platinum certified space. Extensive daylighting and advanced lighting sensors help to reduce energy use for lighting by maximizing access to natural light. The operable windows make the best use of San Francisco's pleasant climate, thus minimizing the use of air conditioning.
My favorite parts of the office are the beautiful green plants above the small water pool and the butterflies near the entry that are made of newspaper and other waste paper.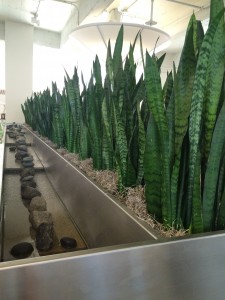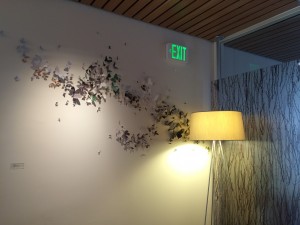 Philanthropy, collaboration and climate change
What exactly does ClimateWorks do? The answer lies in the title of this blog: "using the power of philanthropy to solve the climate crisis and to ensure a prosperous future for humanity." The staff at ClimateWorks is composed of researchers, strategists, collaborators, funder facilitators and grant-makers who are devoted to mitigating climate change and who believe in the power of collective philanthropy.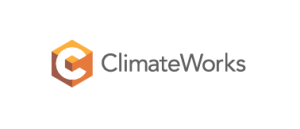 ClimateWorks has long-term collaborations with a wide range of climate funders, NGOs, and climate leaders around the world. By working with funders, ClimateWorks helps to further their understanding about climate change crisis and related opportunities, connects them with peer groups, and recommends portfolios of philanthropic climate investments fitting their varied interests and making direct grants as appropriate.
Together, these climate philanthropies are designed to catalyze large-scale emissions reductions. Portfolios focus on investments opportunities in China, the U.S., the E.U., India, Brazil, Mexico, and Indonesia, as well as promising global or transnational strategies.
The Carbon Transparency Initiative – a new tool to track carbon emissions
So what am I focusing on at ClimateWorks? As an Advisory & Research intern, I work with a project called the Carbon Transparency Initiative (CTI). This project aims to create a transparent and granular current development scenario that is based on current policies, decarbonization trends, and energy related investments.
By collaborating with Bloomberg New Energy Finance (BNEF), Climate Action Tracker, Energy Foundation – China, International Energy Agency (IEA), McKinsey & Company and other organizations, ClimateWorks is capable of leveraging global insights and utilizing crucial data to create diverse metrics for carbon emissions research.
We track a large number of key metrics across all sectors, including industry, oil and gas, power, buildings, and transport and use these to project future greenhouse gas emission pathways for a few countries –notably China, EU, India, Mexico and the US.
I'm involved in comparing greenhouse gas projections with diverse country scenarios. The CTI presents analysis on driver metric statistics by sector. During my internship, I will support the synthesis and evaluation of the latest trends in emissions reductions and policies, especially as they relate to China. It is also my duty to assist in the analysis of existing datasets and mitigation opportunities on topics such as national policies, global supply chains, and energy access.
The story continues …
The CTI will also support my thesis research. I plan to use the CTI projections to assess the fulfillment of China's Intended Nationally Determined Contributions (INDCs). If China's actions are not enough to meet the INDCs or the 2-degree pathway, I will discuss what mitigating opportunities from existing policies and additional efforts (decarbonization pathways) are needed in diverse sectors (power, industry, transport, buildings) to bridge the gap. And I will also use the model of the CTI to do sensitive analyses in order to see the potential quantitative effects of these policies and actions on China's emission reduction.
I will also compare the projections of CTI and the projections of other research institutions (for example, analysis from the IEA and other Chinese organizations such as ERI, NDRC, Tshinghua University) to discuss why there are differences among different projections of China's emission pathways.
I'm very excited that my internship fits my research interests so well, and that it is showing me how small groups can work together to address the climate crisis. I really would like to devote myself to the same cause by working for an organization like ClimateWorks after I finish my degree.