Pre-Internship Studies (J-term turned A-term)
I began the journey towards my internship in the stark landscape of Iceland, hiking among volcanoes, geothermally heated pools, and glaciers. I then travelled to Finland for a course on
Urban Green Management at the University of Helsinki. There, I had the chance to learn about how cities all over Europe are integrating and evaluating green infrastructure and the research that is (or should be) informing these decisions. A highlight was our visit to a research station where the world's northern most lysimeter is used to understand soil dynamics in cold northern climates. Researchers at the station were also in the midst of an interesting experiment designed to better understand the benefits and potential disservices of green roofs in high latitudes. After all of that hard learning, there was still plenty of time for berry picking, lake swimming, and the ubiquitous Finnish sauna.
The Internship
Bard CEP requires its students to complete a 4-6 month internship, and I'm doing mine at the Stockholm Resilience Centre. The Centre is a research organization that is a joint initiative between Stockholm University and the Beijer International Institute of Ecological Economics at The Royal Swedish Academy of Sciences. It is housed by Stockholm University in a beautiful brick building at the Kräftriket campus in a northern area of Stockholm. The campus is located in the world's first National Urban Park and is adjacent to lakes, gardens, and forests. A short hike on my lunch break feels like a step into a mountain forest without ever leaving the city!
The mission of the Stockholm Resilience Centre is "to advance research for governance and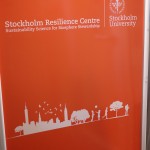 management of social-ecological systems to secure ecosystem services for human wellbeing and resilience for long-term sustainability. The Centre applies and further develops the scientific advancements of this research within practice, policy, and in academic training." To learn more about what resilience is and how it can be used in application, check out the Centre's website. Here you will find well-designed and clear downloadable materials, as well as videos, that synthesize and simplify much of the work the Centre does.
Daily Life
The Centre itself is a busy and dynamic place to be. There are more than 100 researchers as well as Master's and Ph.D. students from around the world with expertise in many different disciplines. I am a research intern and am working under a brilliant researcher in the area of Resilient Provisioning of Ecosystem Services. My current work with him is around urban green infrastructure valuation.
Every day there is something exciting happening. There are Monday speed talks (complete with the classic Swedish smorgås) and I also have the opportunity to attend theme meetings and planning meetings with both the urban group and a landscape change group. There are many other lectures and discussions as well:
Brown Bag Lunches–lectures from visiting researchers or to discuss new work at the Centre.

Stockholm Seminars

–top scientists presenting their research on sustainable development!

Ph.D. defenses–the classic Swedish style with a presentation, then questioning by an opponent and examining committee.

Master's presentations

Workshops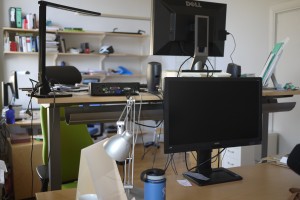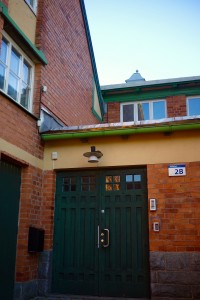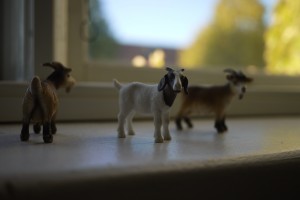 The office–the goats are no replacement for the sheep at Gansvoort!
So far so good
This is the place that I most wanted to be for my internship, because the Centre's research is being done with today's world in mind by individuals and groups from all over the world. It is highly interdisciplinary, systems-based, inclusive, and oriented towards decision making and action. I am learning a lot. To name just a few examples, in the last couple of weeks I have learned about how the ENSO affects global conflicts, that managing for short-term variability increases long-term variability, and how the spreading of global marine resource exploitation can be similar to the patterns of disease epidemics.
In the next three months I expect to learn even more, get a lot of work done, and keep improving my Swedish!