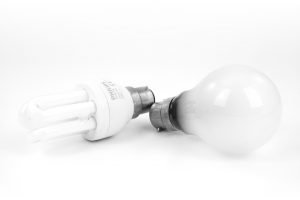 Have you recently invested in energy-efficient technology?
Do you believe that you're consuming less energy and lowering your carbon footprint? (You can calculate your personal carbon footprint here).
If you answered yes to both of these questions, you probably haven't heard of the rebound effect in energy efficiency.
The rebound effect in plain terms is the misconception that using energy-efficient technology significantly cuts energy consumption and greenhouse gas emissions. 
In more technical terms, the rebound effect is the effect that lower consumption and cost of energy services due to energy-efficient technology implementation has on consumer behavior.
In other words, it's the amount of energy conservation produced by energy-efficient technology that is taken back by consumers in the form of higher consumption, either from more hours of energy use or higher intensity of energy use.
I and so many people I know contribute to this effect. Take for instance my friend Jane (her name has been changed to maintain her anonymity). Jane decided this past summer to replace the car that gave her a gas mileage of 25 miles per gallon with an energy efficient car that has a gas mileage of 38 miles per gallon. Ideally, Jane would have noticed that her energy conservation has increased. However, because she now realizes that it costs less to fuel up her car (believe me, she boasts about this way too many times), she has inadvertently started to drive more, therefore 'taking back' some of this ideal energy savings in the form of higher levels of energy use (in this case more driving). This means Jane is consuming more energy than she is saving.
Fuel is about 20% of the average cost of driving. According to Peter O'Connor  from the Union of Concerned Scientists, cutting fuel consumption by 50% (doubling miles per gallon) reduces driving cost by 10%.
There are two types of rebound effects 
Direct rebound effects occur when an increase in real income due to adoption of energy-efficient technology for an end use service allows for an increase of demand for this end-use service. This is Jane's case.
Indirect rebound effects occur when lower cost allows individuals and households to spend additional income saved on other goods and services that need energy for their provision.
The reason why the rebound effect is relevant, especially to energy policy, is that energy conservation has been a topic of high consideration on political agendas globally (especially with our current focus on curbing CO2 emissions).
Why does this matter to you, you ask? 
Well! Someone has to pay for this unintended demand on natural resources. Policy implementers are starting to suggest that an increase in taxes externally will help mitigate this additional consumption. They have found that an increase in prices for electricity and gas do not make a measurable change in energy consumption. Instead, they are starting to suggest an indirect shift in taxes elsewhere to curb this behavioral economic phenomenon. One of the most frequently suggested hypothetical solutions has been to increase income tax.
What can be done to remediate this rebound effect? 
Become more cognizant of your tendencies to crank up the heat during the winter, leave your air-conditioning on during the summer, or keeping the  lights on when you leave home/ leave a room—thanks to our fast paced lives, most of us are guilty of this!
Understand the milage of your car (if you drive one) and be more aware of your other transportation options—because it costs us less to fuel up our fuel efficient cars, we rarely think of alternative transportation like public transport and carpooling with friends and family.
Know where your energy comes from. If your major energy comes from a coal-fired power plant or from another conventional source of energy, using energy efficient technology, especially more of it, may cause a "back-fire" or "take-back" effect.
Keep it in your pockets! Spending additional money from savings sounds very tempting (trust me if you walked into my closet it would be very apparent), but saving that additional money for a rainy day sounds really cliched but you will be grateful in the long run (yes, I'm looking at you folks with college debt and recent graduates)!
Energy saving should be a priority over energy efficient technology implementation—remember to switch those lights off, compressed fluorescents or not.
Finally, check out this informative video by nextagenda featuring Dr. Harry Saunders, most commonly known as the "godfather of the rebound" if you want to know more about the rebound effect!