In 1990, Gallop asked Americans if they thought more should be spent on protecting the environment. Democrats said yes 75% of the time. The number of Republicans saying yes? An identical 75%.
Responding to the same question in 2012, Democratic support for more spending on the environment was still strong at 68%. But for Republicans, the figure had dropped to 40%.
The divergence in Congress was even more dramatic. Breaking with a tradition of bi-partisan voting on environmental legislation through 1990, by 2012 Democrats were supporting environmental bills 90% of the time on average, while Republican support had dropped to 10%.
The author Fred Rich calls the emergence of this huge divide in opinion on the environment "The Great Estrangement". What happened over that twenty-five year period to drive such dramatic partisan polarization?
Dr. Eban Goodstein, Director of the Center for Environmental Policy at Bard College provides some insight in this launch webinar for the Politics & Environment Education Project.  Goodstein focuses in particular on the rise in "Movement Conservatism" as a response to liberal ascendancy in the 1960's; the battle for the Republican Party between Movement Conservatives and Moderates; and the impact of Donald Trump's candidacy in this changing landscape.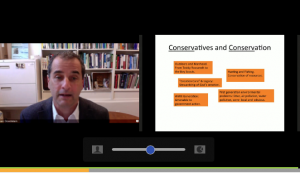 This fall, Politics & Environment will engage students across the country in exploring the question of "The Great Estrangement". The project includes a national network of speakers committed to offering a non-partisan perspective on the evolution of US environmental politics from the era of bipartisan compromise (1970-1992) to the era of increasingly partisan rhetoric and gridlock (1992-present).
By non-partisan, we mean that the speakers commit to neither supporting nor denigrating any political candidate or party. Speakers in the network are academic and NGO staff with expertise in environmental politics and policy, and they have agreed to facilitate these conversations at no charge.
Over the coming years, will the US return to a period of bipartisan engagement on climate and environmental issues more generally? No one knows of course, but speakers in the project will help students both understand the history of US environmental politics, and also explore possibilities for the future.
To learn about becoming a speaker, click here. To find a speaker from your region for your college class, public lecture, or community group for this coming fall, click here.
The Politics & Environment Project is an initiative of the Center for Environmental Policy at Bard College, which offers MS Degrees in Environmental Policy and Climate Science and Policy. The Bard MBA in Sustainability, a low residency graduate business program based in New York City, is affiliated with the Center.