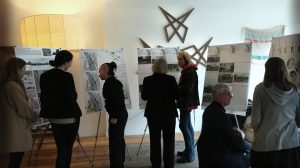 Climate change is often thought of purely a problem, and a scary one; but what if we reimagine climate change as a challenge, an opportunity to improve our built environment? There is much work to be done to prepare and protect ourselves from climate-related hazards. Let's use this chance not only to protect ourselves but to make things better.
Here in the Hudson River Valley, hurricanes Irene and Sandy in 2011 and 2012 brought climate change to everyone's attention. Irene's heavy rains (that likely were more intense because of climate change) caused record-setting floods, and Sandy's storm surge (made worse by sea level rise) overtopped the Hudson's banks. And while storms like those used to be thought of as rare, the Intergovernmental Panel on Climate Change (IPCC) models predict they will happen more often as our climate shifts.
In response to these dangers, the Hudson River Estuary Program, part of NYS DEC, has launched initiatives to help communities all around the Hudson Valley not just react to disasters, but take a proactive approach. The DEC and the Estuary Program aim to help the state prepare for and adapt to climate change while protecting our natural environment.
Part of this effort is the Climate Adaptive Design (CAD) studio, a collaboration with Cornell University. CAD brings together students from Cornell University and community members in at-risk cities and towns, with support from the Estuary Program. So far, the program has been working along the Hudson River, which is uniquely vulnerable to both inland flooding and sea level rise.
Now in its third semester, CAD will bring landscape architecture and engineering students into the City of Kingston to learn about real-world needs, challenges and opportunities facing the city. They will also learn about other ongoing projects, including the Hudson Riverport plan for development and revitalization along Kingston's waterfront. In response, the students will create designs that can help community members imagine new ways to interact with and benefit from their waterfront while adapting to risks from climate change.
As an intern for the Estuary Program, I will work with partners at Cornell Cooperative Extension (CCE) to support previous CAD communities of Catskill and Hudson move designs forward to implementation. I will also be working with the new CAD class in the fall, focused in Kingston. Another aspect of my internship is developing community resilience metrics to measure the impact that the CAD program is having.
I am excited to be working at the Estuary Program in the emerging and proactive CAD program. I believe this kind of participatory design can help bring communities together to meet challenges around climate change and other environmental issues. It will be valuable to learn from Catskill and Hudson what worked and what did not, and a challenge to improve the CAD program for Kingston and beyond.
The CAD project is funded by NYS Water Resources Institute at Cornell University and the NYSDEC Hudson River Estuary Program with support from the NYS Environmental Protection Fund.