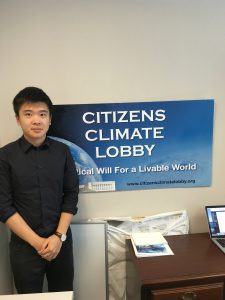 When I opened my eyes in the morning, I knew the day had finally come. I quickly dressed and ate some fried homemade dumplings; I am so ready to start the first day of my internship. As part of the Master's program in Environmental Policy at Bard College (Bard CEP), we students are required to commit 4-6 months internship to gain real world experience before we graduate.
Shaking my head, I squeezed out of the crowded Red Line; finally I saw the office building and the White House, which is only two blocks away. Before I entered the office, I kept asking myself: am I ready to become a lobbyist and save the world? Probably not–until I saw the slogan on the poster: Political Will For a Livable World. I took a deep breath and walked into the office, starting  my internship at Citizens' Climate Lobby (CCL).
What is Citizens' Climate Lobby and what does it do?
"We exist to create the political will for climate solutions by enabling individual breakthroughs in the exercise of personal and political power." 
CCL is a non-profit, non-partisan, grassroots advocacy organization focused on national policies to address climate change, particularly carbon dioxide emissions. As a grassroots organization, CCL mobilizes volunteers to act on climate change and lobby the Carbon Fee & Dividend policy to all levels of government.
CCL proposes the Carbon Fee & Dividend Policy as the ultimate climate change solution. Carbon Fee & Dividend is a policy that puts a carbon tax of $15 per ton on CO2 equivalent emissions and then equally distributes the collected revenues to every single household in the United States. The ultimate goal of CCL is to lobby Congress to pass Carbon Fee & Dividend.
CCL has four main methods to pursue its goal:
Lobby congressional representatives

Write letters to editor and op-eds

Do outreach events, including tabling and presentations

Support volunteer chapters and hold periodical conference calls
With help from more than 40,000 volunteers, CCL has been able to hold 910 lobbying meetings, publish 1804 media reports, hold 1350 outreach events and write 17887 handwritten letters to Congress so far in 2016. CCL also has 339 active chapters worldwide and is developing others.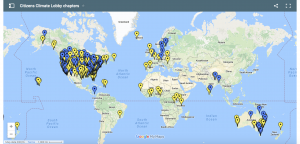 My responsibilities and how Bard CEP has played a role
I am working with CCL's Legislative and Science Director, Informational Technology Director, and the Senior Outreach Liaison. Under their supervision, my main responsibilities are:
Researching Carbon Pricing around the world. I mainly research international carbon tax and emission trade systems and then turn the research into educational materials

Drafting educational materials such as Laser Talks. Laser Talks are concise and powerful statements. CCL uses Laser Talks to educate volunteers about how to communicate with congressional representatives in a powerful yet brief manner.
Managing and updating CCL website.

Attending regular meetings and briefings to take notes and interact with volunteers.

Engaging various small research projects my supervisors assigned me.
I am grateful for the ways CEP prepared me. Thanks to Caroline, I am able to apply blog post writing skills when I craft Laser Talks. Also, the fall literature review experience helps me during my research on carbon pricing policies. In addition, CEP's Environmental Economics Environmental Policy classes have been helpful as well–we had many classes on carbon pricing methods and policies, which prepared me for the work I am doing (thanks, Gautam and Monique).
What's next: my thesis and a big lobbying Event
Through my research on carbon pricing policies, I have become interested in international carbon regulation instruments. Regulating carbon dioxide has become an issue of global awareness in the last decade. Last year, many countries signed and joined the Paris Agreement, which is a signal that carbon emission regulation will be put in force in the next decade. Therefore, I want to develop my thesis on this topic–although I know that I need to narrow it down to a specific direction.
Even though I just started my internship, CCL has shown me how ordinary people can influence politics and save the world. This November, CCL will host a lobby day on Capitol Hill.  It is an opportunity for people to learn how to lobby and to experience real lobbying meetings with congressional representatives. If you want to join and get trained to become a citizen lobbyist, don't miss it.