You know that weird feeling you get when you finally watch the movie version of your favorite book? You've read every page and spent hours imagining every character and every bit of scenery—you think you know exactly what to expect. Of course, when the lights go down it's completely different.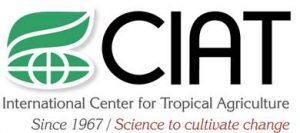 The coffee farms surrounding Jinotega, Nicaragua are my Harry Potter or Lord of the Rings. After nearly a year of reading every bit of research I could find on coffee agroforestry, I was sure I knew what I was getting into when I joined the International Center for Tropical Agriculture (CIAT) in Nicaragua on a project that aims to estimate carbon storage in coffee systems surrounding the city of Jinotega. This project is part of the Humidtropics CGIAR Research Program in collaboration with Bioversity International and local development organizations.
All of those research papers left a few parts out, though. They forgot to mention the exhausting treks up and down steep muddy hills, the hundreds of mosquito bites, the way your head spins as you try to understand new procedures in a foreign culture and a language you barely speak, the sudden downpours that soak you and your data notebook before you have a chance to find shelter under a banana leaf, the flat tires on unpaved country roads, or the taste of the fruit you eat straight from the shade trees you're studying.

Why coffee?
Small shade coffee farms have the potential to provide a wide range of ecosystem services: they can serve as valuable habitat, filter water, and even help slow climate change by storing significant amounts of carbon in the form of plant biomass.
Coffee is Nicaragua's largest export, and its production is being seriously threatened by climate change. Increasing temperature and decreasing rainfall will likely shrink the range of coffee-growing zones while increasing the prevalence of crop pests and diseases.
CIAT's mission is to fight poverty and hunger through increasing the eco-efficiency of agriculture. Here in Jinotega, where more than 60% of Nicaragua's coffee is grown, the focus is on smallholder livelihoods. Shade coffee farming already provides farmers with additional food crops, firewood, and timber. As global carbon markets develop, selling carbon credits could bring Nicaraguan farmers a new source of income.
Where I come in
My project aims to create an estimate of carbon storage in coffee farms, and the first step to creating this estimate is to visit these farms. In this data-collection phase, my team of technicians took soil samples and recorded the size and species of shade trees at 70 farms surrounding the city of Jinotega.
After a month in the field, I'm sitting in front of a computer with a stack of notebooks that represent all of this hard work. There are little reminders scattered through the pages, like a smudge of dirt that represents the time I just barely avoided sliding down a steep hillside, or a rip where I tried to write on the wet paper as we scrambled to finish data collection during a heavy rain.
Although I'm no longer hopping into a Land Cruiser every morning at sunrise to spend all day slogging through the coffee growing regions, I still have a lot of work ahead of me. My task now is to turn this pile of paper into a usable dataset for analysis, and to turn that dataset into carbon storage estimates.
In the next phase, I will select a few farms that are representative of the different farm management methods I've observed. We'll return to these farms to collect more data, which we will use to simulate the outcome of potential changes in shade management. Adding, moving, or replacing the current shade trees could result in farms that store more carbon and provide farmers with more economic benefits—such as food and firewood—without impacting coffee harvests.
With these recommendations, we hope that CIAT can provide farmers with tools to help adapt to climate change, and create more eco-efficient coffee production in Nicaragua.