Matthew Sprague, Junior and EUS major at Bard College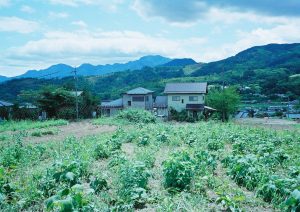 When I found out earlier this year that I had received a grant to travel to Japan and work on organic farms I was elated. I never thought that I would be able to see this part of the world, especially within the context of my studies. I am an Environmental and Urban Studies major at Bard College in my third year. My focus area is Urban Agriculture and Inequality. My studies have largely been shaped by my experiences on a variety of farms. My introduction to this field began in high school when I worked on an organic urban farm in New Orleans, Louisiana. This experience shed light on many issues such as environmental racism and food insecurity. Furthermore, it introduced me to farming. I proceeded to go back to work on this same farm a few months later, and then worked on another urban farm in Philadelphia that had a goal to bring its community together by increasing their food security. Once I arrived at Bard, I began working on the college's farm and decided to turn my interest into my focus of study. I have always been interested in how farms build community and attempt to tackle societal problems. This grant provided me with the perfect opportunity to broaden my horizons beyond the United States and take a look at how organic farms in another part of the world function.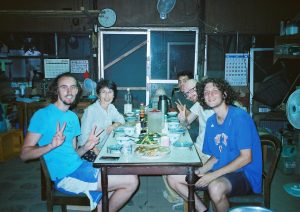 I was certainly nervous when I stepped off the plane in Tokyo, as I had almost no knowledge of Japanese language or culture. Luckily for me, I only spent a brief night in Tokyo to get some rest before I traveled to my first farm. Before the culture shock of the big city could set in, I was on my way to the beautiful countryside in Yorii, Saitama. I arrived at Keiko's farm on July 1st, along with two other wwoofers. Awaiting me, were two more woofers along with Keiko and Tanaka. Everyone I met on her farm was extremely friendly. Fortunately for me, all of the wwoofers spoke fluent English and a couple could speak Japanese to make translating easier between us all. Keiko is 69 years old but full of energy. She had us doing all sorts of tasks around the farm. Every moment she was running around giving us new jobs. I loved the energy and passion she brought to the farm. I also really enjoyed all of the farm work she had us doing. I gained experience using a few kinds of farm equipment. I was able to drive a tractor and use weed whackers and mowers. Perhaps most importantly, I was also able to tend to the chickens.
On all of the farms I had worked on in the past, I had only ever dealt with a few goats or a dozen or so chickens. Working with 400 chickens on Keiko's farm was enlightening. I got to feed and provide water for them, collect their eggs, maintain their pens, and even slaughter them. I was fascinated in her process of raising chickens because I had never seen it done on this kind of scale in person. With the scale of her operation, she is able to provide food for her surrounding community. Keiko's love for her community is what made her farm so special. She had taught many of the younger farmers in her neighborhood how to farm and these students of hers had gone on to run their own operations. These students would still come and help out nearly every day. We would have large community lunches and joke around and relax. Keiko would treat the wwoofers just like any of her community members. It was abundantly clear that her goal was to provide delicious organic food for her community as well as educate the younger generation. Keiko was perfectly happy subsisting off the land and spreading the joy of farming to those around her. On her farm I gained a ton of knowledge about the actual practice of farming. I also learned about how one farmer uses agriculture as an educational tool to teach wwoofers and her community alike.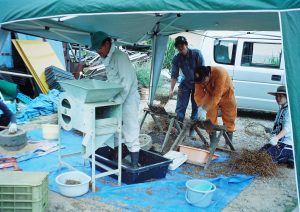 The second farm I went to was located in a small village called Aoki in Nagano. This farm focused on growing a variety of health foods. Eri and her husband Takamichi ran this farm, which was located on various plots around the mountain village. They grow soy, tomatoes, kale, and yacon. On this farm, I was the only wwoofer. I would wake up at 4:30 in the morning and weed by myself for 3 hours. Then I would get an hour break for breakfast and work alone again either weeding or using a tiller to weed plots. This work was much more difficult for me because I was alone and it was more tedious and grueling. I still had a wonderful time though, as Eri and Takamichi were very fun to be around when we weren't working. I also got to work and relax with Takamichi's parents who I just called Ojīchan and O Bachan (grandpa and grandma). We would laugh and watch TV together despite the language barrier
Takamichi and his father did the brunt of the work on this farm. This was a different model than Keiko's farm. While many other people in their community were farmers, this farm was run almost entirely by two people. Takamichi did however invite friends and students from a nearby university to come and work on the farm so they could learn his practices. My lessons on this farm differed from Keiko's farm. I learned first and foremost the amount of human labor that goes into organic farming. Furthermore, I learned that farming can create strong bonds within the family unit.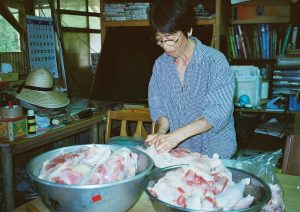 My experiences working at these farms taught me about how Japanese farmers incorporate community into their work. While I only worked on two farms, it is clear that both of these farmers value their community and the spread of their knowledge. Furthermore, both of these farmers value the land and thus use sustainable practices to grow their produce. Even though I only have a limited scope, from what I have experienced, these Japanese farmers seem to deeply value the land they work on. They see how this land can bring people together and provide delicious and nourishing food. They work extremely hard and long hours, but gain strong bonds with the people around them.