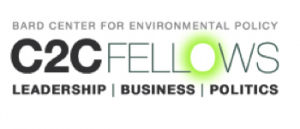 Workshop Agenda
Bard College
9:00-9:15  C2C Introduction: Dr. Eban Goodstein, Director of Bard's Center for Environmental Policy and Director of Bard's MBA in Sustainability
:: Why are you here? Why now?
9:15-10:00 Ideas Marketplace
:: Interested in eradicating Styrofoam from the face of the planet? Starting a clean-tech venture? Are you really good at   graphic design? Each Fellow gives a one- minute pitch on a passion, project, or business they want help with – or a skill they have to offer to others. Three Fellows are selected by popular vote to give a longer pitch in the finals round.
10:00-10:30  Working to Change the Future: Dr. Eban Goodstein
10:45-11:00 Secret to Fund-Raising Revealed!
11:00-11:45 Group Work on Asks
:: In small groups, develop a 3-minute pitch for a sustainability solution, product, or project that you come up with. During Round One, practice pitching this idea to three other groups to win their investment. Top earners from Round One go on to pitch their solution to the C2C Fellows Funding Board in the final round.
11:45-12:30  Lunch 
12:30-1:15 Secret to Communication Revealed!
:: Strong leaders are good communicators. What's the secret to delivering a compelling talk? 
1:15-4:00 Group Work on Story Telling
:: Working in small groups with a mentor, you will develop a persuasive 5-minute story about an idea, passion, or belief you have – or a business or campaign you want to start. Starting with a personal story that reflects an important moment/decision in your life, you will hone the details of this story and use it to inspire a specific action in the audience – to ask the audience for something.
4:00-4:30 Voting and Awards
:: Top stories will be chosen from the groups above. These top speakers will have the opportunity to share their stories with the entire audience and the C2C Fellows Story Board, for the chance to win one of the three coveted "Green Stones" awards.
4:30-4:45  Wrap up and Reflect
4:45-5:00 Welcome to the C2C Fellows Network!
:: Publish your thoughts, access exclusive scholarships, and more!
5:00 Finish (and Optional OSUN Civic Engagement Info Session)