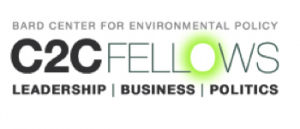 Workshop Agenda
March 6- 8  2020, Bard College
Friday (Location: LC 115):
4:00-5:00 Registration
5:00-5:15 C2C Introduction: Dr. Eban Goodstein, Director of Bard's Center for Environmental Policy and Director of Bard's MBA in Sustainability
:: Why are you here? Why now?
5:15-6:15 Ideas Marketplace
:: Interested in eradicating Styrofoam from the face of the planet? Starting a clean-tech venture? Are you really good at   graphic design? Each Fellow gives a one- minute pitch on a passion, project, or business they want help with – or a skill they have to offer to others. Three Fellows are selected by popular vote to give a longer pitch in the finals round.
6:15-7:00 Dinner and Introductions
:: Peeling the Onion: getting away from small talk
7:00-8:00 Working to Change the Future: Dr. Eban Goodstein
8:00-9:15 Interviews with Sustainability Professionals :: Elsa Yoseph / Danielle Salisbury / Terence Duvall. A panel of sustainability professionals join us for a frank conversation about who they are and their career paths. This is your chance to ask successful young leaders about the intersection of passion and career.
9:15-9:30 Wrap up and Reflect
9:45      CarPool to  UTS
Saturday (Location: Olin LC 115):
7:45      CarPool from UTS
8:30-9:00 Breakfast
9:00-9:30 Secret to Fund-Raising Revealed!
9:30-11:15 Group Work on Asks
:: In small groups, develop a 3-minute pitch for a sustainability solution, product, or project that you come up with. During Round One, practice pitching this idea to three other groups to win their investment. Top earners from Round One go on to pitch their solution to the C2C Fellows Funding Board in the final round.
11:15-12:30 Skills Inventory
:: Gain a better understanding of who you are, what strengths or abilities you possess, and how those strengths or abilities can be leveraged in future careers and actions. Develop some general themes about yourself, and identify opportunities for future skills development.
12:30-1:30 Lunch 
OPTION 11:30-1:30 Introduction to Bard Graduate Programs in Sustainability, includes catered lunch
Policy: MS Degrees in Environmental Policy and Climate Policy
Education: M Ed. Degree in Environmental Education
Business: MBA in Sustainable Business
1:30-2:15 Secret to Communication Revealed!
:: Strong leaders are good communicators. What's the secret to delivering a compelling talk? 
2:15-5:00 Group Work on Story Telling
:: Working in small groups with a mentor, you will develop a persuasive 5-minute story about an idea, passion, or belief you have – or a business or campaign you want to start. Starting with a personal story that reflects an important moment/decision in your life, you will hone the details of this story and use it to inspire a specific action in the audience – to ask the audience for something.
5:00-5:15 Break and Snack
5:15-7:00 Solving Climate By 2030: Reagan Richmond
7:00-7:15 Wrap up and Reflect
7:45-9:00 Dinner on your own.
9:15      CarPool to UTS
Sunday (Location: Hegemann 102):
8:15      CarPool from UTS
8:30-9:00 Breakfast
9:00-10:00 Ideas Marketplace Round 2
:: Finalists will have 5 minutes to pitch their idea + 2 minutes for Q&A. The audience will give feedback on all pitches.
10:00-11:30 Telling your story
:: Stories change and solidify overnight. After a final opportunity to practice your story from yesterday one-on-one, we'll invite you to share your story with a larger group of Fellows.
11:30-12:00 Voting and Awards
:: Top stories will be chosen from the groups above. These top speakers will have the opportunity to share their stories with the entire audience and the C2C Fellows Story Board, for the chance to win one of the three coveted "Green Stones" awards.
12:00-12:15 Welcome to the C2C Fellows Network!
:: Publish your thoughts, meet with a professional mentor, attend C2C's Candidate-CEO Career Camp, access exclusive scholarships, and more!
12:15-12:30 Wrap up and Reflect
Shuttle to Train Station, 1:00 PM (Kline Bus Stop)