By John Stapleton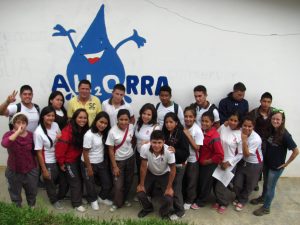 Danielle Salisbury just came back from the Peace Corps and is stepping back into her graduate program in Environmental Policy at Bard College. After working with local people to protect a biosphere reserve in the Mexican state of Queretaro, she will graduate this spring with her Master of Science degree.
Danielle, like hundreds of American graduate students over the past 30 years, combined Peace Corps service with education through Peace Corps' Masters International. The program, dubbed MI, allows students take graduate courses for a year, enter the Peace Corps, then use the two-year international experience as a springboard for research.
"MI was the best way to do the Peace Corps," Dr. Eban Goodstein, director of Graduate Programs in Sustainability at Bard. "Not only did students bring greater expertise to their service, [but they also] got more out of it. MI-inspired thesis projects really benefit the country in which students have served. They also created powerful foundations for subsequent careers in sustainable development."
Sadly, Masters International is closing its doors this year. In announcing the program closure, the Peace Corps said the decision to shutter MI was a difficult one as the agency shifted priorities.
But the option to combine Peace Corps service with Masters education lives on in at least two graduate programs: Bard's Center for Environmental Policy and the Middlebury Institute for International Study at Monterrey. Both institutions will continue to provide graduate students with the ability to embed a Peace Corpsexperience in the heart of their Masters program.
"This is too good an opportunity for our students to let it go," says Dr. Jason Scorse, director of the Middlebury Institute's MA in International Environmental Policy. "Graduate programs like ours that feature international focus and require professional experience, encourage and support students to integrate Peace Corps service into the Masters degree."
Danielle's master's thesis will assess whether citizens value the environmental programming in the Mexican reserve where she worked. "I am developing a meaningful thesis project that will benefit not only my community, but the biosphere reserve to which it belongs," Danielle reports. "I could not have done this without the Peace Corps. It was the perfect complement to my Masters degree."
Want to integrate the real world with your graduate studies? If you hurry, the full list of former MI Partner Schools is still on the Web. Contact these graduate schools to see if Peace Corps service can still be integrated into the Masters programs they offer, or contact Bard and Middlebury to grab this incredible opportunity.