I was fortunate to be able to attend the American Public Transportation Association's (APTA) annual conference and Expo at the Georgia World Congress Center in October of 2017. Hailed as the largest transit conference in the United States, it only made sense that the Metropolitan Atlanta Rapid Transit Authority (MARTA), Atlanta's primary public transportation agency, would host the event.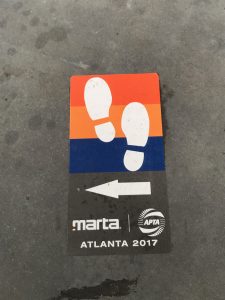 With presentations from livable and sustainable communities, to international transportation developments and projects, this gave me the lucky opportunity to talk to and learn from nearly 12,000 transit professionals from all over the world.
This conference was one of many ways my time with MARTA as a Long-Range Planning intern helped to tie together the elements of transportation planning and policy as parallel to my understanding of environmental policy.
On the last day of APTA, Secretary of Transportation Elaine Chao took to the stage to deliver her speech regarding the future of transit in the U.S. Coincidentally, her speech fell while the nation was still reeling from the devastation and destruction of one of the most active hurricane seasons in recent history.
Two months before Secretary Chao's speech, the Trump administration rescinded a previous executive order intended to improve climate resilience of infrastructure. As Secretary Chao outlined the Department of Transportation's plans, it was hard not to think about how transportation not only affects climate, but is also affected by climate change. A transportation future where social and environmental adaptive capacities aren't prioritized is precarious.
In our first-year coursework at Bard's Center for Environmental Policy (BCEP), theories related to public goods and externalities are distributed throughout environmental and climate policy, as well as environmental economics curricula. They provided valuable lessons and perspectives in the practical work of transportation planning.
Tragedy of the Highway
A joint lecture on the political economy is presented during orientation week for first-year students at BCEP. It serves as an introduction to topics covered in policy and economics classes. The concepts and philosophies in this lecture also contribute to the lessons of an economic theory created in 1968 by Garrett Hardin.
Hardin's "Tragedy of the Commons" has continuously served as metaphor for the exploitation of shared resources where demand overwhelms supply.
As a cursory summary; Hardin's theory describes how individuals will often put their self-interests before the good of a group, or society as whole. Ultimately, everyone suffers as shared resources are depleted.
Our dependence on the automobile is similar. There's utility in cars due to their comfort and convenience. However, it is known that each additional car on roadways will increase traffic congestion, emissions, and the risk of motor accidents, and diminish livability.
More Cost, Less Benefit
The benefits of creating public transportation to mitigate the aforementioned challenges we currently face as a car-dependent population are seldom explained to the public. I've observed as an intern, however, that the costs of implementing public transportation in Atlanta are always emphasized.
As a planning intern, I helped aggregate data for forecasting costs of various transit modes–understandably, most stakeholders are primarily interested in the cost–and often combed through numerous sources and databases of public transit revenue and expenses by MARTA's peer transit agencies nationwide.
Many of these peer agencies' networks have grown in recent years. Atlanta however hasn't seen new rail extensions since its most recent stations opened in 2000.
The data showed me that with stagnancy in infrastructure investment; the continued destruction of infrastructure due to accidents, weather and age; or a lack of diverse funding sources, the demand and supply paradigm is difficult for transit agencies to traverse.
APTA revealed to me that the infrastructure exists: Seattle plans to transition to zero-emissions buses. In an APTA "Learning Zone" presentation, I learned how some city governments are making a major push for alternative transportation.
My economics class taught me this: if stakeholders–from government officials to citizens–were to look at highway widening and construction to accommodate cars as an example of the tragedy of the commons, we would see the marginal cost of land surrounding major arterial roads and highways as zero. So, continued consumption and transformation of these resources will continue until our marginal benefit is zero.
This slightly hypothetical example of land ethics in transportation planning is just one example of how Atlanta's transportation dilemma is quickly becoming an actual tragedy, threatening the social-ecological interests of society as a whole.
I am not an opponent of the automobile, but I am critical of the politics and transit policies challenging public transportation in Atlanta. A desire to limit transportation to specific geographical bounds is injustice, and disregard for our environment in planning for the future is consequential.
Not only can public transit improve the quality of life for individuals, but it may also enhance the adaptive capacities through transportation infrastructure of a city like Atlanta.
I am fortunate that I had the opportunity to work at MARTA in a time of changing attitudes towards mass transit, and hope that MARTA's future will be a step in the promotion and distribution of the common good over self-interests.