As I reflect on my recent field work in Oaxaca, Mexico with the Bard MBA in Sustainability I am most struck by the work grassroots groups are doing to develop community-based solutions to the environmental and social issues they face. Due to the lengthy dry season from November through June, the Oaxaca region has a perennial water shortage. However, numerous indigenous-led groups are working to develop watershed-level approaches that not only conserve water for human use but also restore the local environment and their connection to it.
In Small is Beautiful, E.F Schumacher suggests that potential solutions to the many challenges we face should be based on "a different kind of technology, a technology with a human face, which instead of making human hands and brains redundant, helps them to be far more productive." These solutions will be "based on the judgements of mature non-electronic brains possessed by men who have looked steadily and calmly at the situation and seen it whole. 'Stop, look, and listen' is a better motto than 'Look it up in the forecasts'" (p. 224).
In the 3000 person community of San Miguel Suchixtepec in the Sierra Sur, 11,000 feet above sea level, the local-led group Mbis Bin exemplifies this ethos and inspires us to look more closely at the world around us. Two of its many initiatives include a partnership with a local secondary school piloting a water conservation program, and a sustainable agriculture cooperative protecting the watershed and generating wealth for member families.
Thanks to a partnership with WWF Mexico and the parents association of the school, Mbis Bin has established a suite of demonstration projects that include dry composting toilets, time in the school day during which each of the 200 students has a tree they are responsible for watering and stewarding, and a rainwater cistern that saves enough water for the school to weather the dry season.
The composting toilets save over 6.4 million litres of water a year, but even more, they model a closing of the nutrient loop: the land provides us with food and water, we eat that food, and we process that food. We have grown accustomed to then having our waste be disposed of. Out of sight out of mind, it goes into a sewer system, a septic tank, or into the local environment. Here, though, the 11 to 14-year-olds compost the waste on site and apply the Bokashi compost, or 'popocomposta', to their school gardens and fledging pine trees, closing the loop.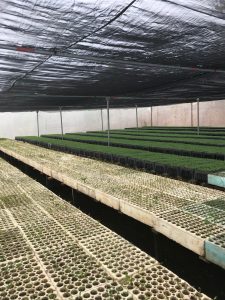 Similarly, the farming cooperative Alternativa Agricultura Zapotec has generated a new revenue stream for the community thanks to a commitment from WWF Mexico to purchase the 10,000 baby trees it grows each year. The seedlings are then planted at reforestation plots Mbis Bin identifies in the Sierra Sur. The project provides a number of community members more than 3 weeks of full-time work during the transplanting season, the revenue from which has enabled the them to iteratively expand their steep slope Milpa production (corn, beans, and squash intermixed with larger fruit trees), construct a chicken coop, a compost system, and a rainwater capture system for irrigation.
Each of these efforts works in concert with the others and was made possible thanks to the strong community ties and local knowledge and heritage. While seed funding from WWF Mexico has helped to catalyze the projects, it is community leadership that has made them so successful.
And, importantly, these water projects and reforestation efforts not only help provide water for their own community but for everyone downstream, including the burgeoning transnational tourism industry along the southern coast. The mountains are the headwaters for the whole watershed.
Now back in New York, I plan to take more care to recognize and support local place-based knowledge, as community knowledge and strength are vital to addressing the many challenges we face in the 21st century.