The State of New York has been a leader in energy systems since 1882 when Thomas Edison developed the world's first electrical grid in New York City. As new challenges related to climate change and its various consequences, such as Superstorm Sandy, have arisen throughout the 21st century, New York continues to be an energy leader through various initiatives, such as Governor Cuomo's Reforming the Energy Vision (REV).
The New York State Energy Research & Development Authority (NYSERDA), a public benefit corporation created in 1975, plays a large role in supporting New York's status as a leader in this field.   By providing objective information and analysis, innovative programs, technical expertise and funding, the agency fulfills its mission of advancing innovative energy solutions that improve New York State's environment and economy.
Introducing Doreen Harris
Doreen Harris is the director of Large-Scale Renewables team at NYSERDA, which works to bring additional utility-scale renewables to serve New Yorkers with clean, renewable energy. As a team, they manage the centralized procurement of utility-scale or large-scale renewable resources in New York under the State's Clean Energy Standard (CES), which requires that 50 percent of New York's electricity come from renewable sources, such as solar or wind, by 2030. Harris is also responsible for overseeing future policy design, program rules and market development mechanisms.
I recently had the opportunity to interview Harris on her role and responsibilities at NYSERDA, her career trajectory, and her definition of leadership based on her experience as a leader in the energy field.
A Pathway to Leadership
My first question for Harris was about the academic and professional experiences that put her on a path toward a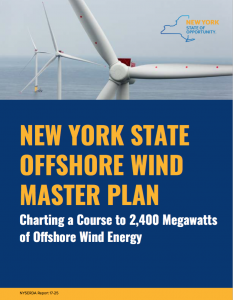 leadership role at such a prominent organization. She explained that after receiving a degree in chemical engineering, she started her career with various roles in the private sector that focused on engineering and energy. Through this work she was exposed to and consistently impressed with NYSERDA's work in the state.
She eventually transitioned to the agency in 2010 and has since played a role in some very exciting initiatives in New York, including the development of the Clean Energy Standard (CES), the execution of solicitations resulting in over 2,000 megawatts of large scale renewables installed in New York, and the execution of New York's Offshore Wind Master Plan.
Based on her experiences, Harris suggests being open to a non-linear path to leadership. In her own career, her background in project development, engineering and science proved to be tremendously valuable in her work at NYSERDA. She believes that by taking a more circuitous route, a rising leader will gain more perspective and connections than someone who remains in a fixed career path.
What Makes an Effective Leader?
Harris defines a leader as someone with influence that can build cooperation and consensus within a team to achieve valued outcomes. Some key skills and traits of an effective leader she identifies include:
A clear vision of the team's short- and long-term objectives.
The ability to communicate regularly with the team on these objectives.
Someone who asks for and receives input from the team on a frequent basis.
Focus on both the team's achievements and the professional accomplishments of the team members themselves.
Willingness to fight for the team's needs and appropriate recognition.
Recognizing the importance and value of actively growing the careers of his or her team members.
Women in Energy
My final question for Harris was about her experience working towards a leadership position in an industry typically dominated by men. Harris states that building a career that is directed towards a leadership role in an organization requires the leader to find her talent, recognize her potential and take the achievement of her goals seriously. She suggests conducting an annual self check with trusted mentors that she is in the right job, at the right company that will set her up on a path to leadership. Additionally, she insists that women be bold in touting their accomplishments and making their intention for a future leadership role known.