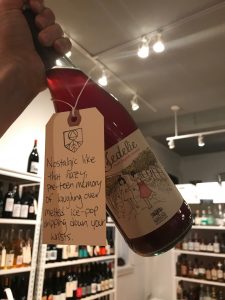 Where are your Malbecs?

I don't know anything about wine, but I know I like "Sancerre"s.
I cut my teeth in the beverage industry in 2014, working part time at a small wine and spirits shop.  Over the years, my colleagues and I have worked hard to expand palates and shift mindsets around what it means to shop for wine.  Despite our best efforts, however, there always seems to be a new customer who expects a cookie-cutter expression of <inset "brand name" here>.
In a world where my own everyday purchases often include a shrink-wrapped block of orange cheese, I suppose it isn't too surprising that so many of us feel entitled to predictability when it comes to what we consume.
Thankfully, in the face of this apathy, there are now established slow and local food movements that celebrate the beauty in a marriage between the natural world and human intervention.
In fact, a couple parallel movements within the wine world have gained traction recently.  I've witnessed a spike in new customers' awareness of and demand for "organic", "biodynamic", and (hotly debated among the true wine-geeks) "natural" wine.  There is a drive for people to know where their wine comes from and what goes into its production.
In the consumer consciousness of value-added agriculture, I see hope for fostering ecological stewardship alongside sustainable human development in the wine world.
Enter, Stage Left:  New York State
Empire State Development has recently worked to support its farm and craft beverage industry.  This support correlates with a critical mass of interesting projects within state borders, poised to push New York wine onto the grander market in a big way.
Beyond wine, the home of the "Big Apple" is also a prime location for hard cider production.  Still considered "too sweet" by even my more adventurous regulars, cider is hitting a pretty hip renaissance.  Awesome fermented apple juice is out there–especially from New York.
(Some of) The Players
I recently had the opportunity to speak with two women working in very different roles at this intersection of mindful land cultivation and meeting competitive market demand.
Jenn Smith is the executive director of the freshly-minted New York Cider Association.  In our conversation, she described her current role as "chief opportunity-maker and problem-solver" in an evolving industry.
Julie Suarez is Associate Dean for Government & Community Relations at Cornell's College of Agriculture and Life Sciences.  Having worked for over 20 years in agriculture and policy, she also serves as a board member for the New York Wine and Grape Foundation.
I was able to ask them both a few questions about their work and thoughts about this fascinating time in New York State craft beverages.
In a field that is fairly economically driven, how do you see environmentalism playing into the work you do?
Jenn Smith suggested that the cider industry aids sustainability movements because a demand for apples keeps land in agriculture, which can have many social and environmental benefits.  NYCA itself partners with Glynwood and NOFA, acting as a conduit for biodynamic and organic trainings aimed at farmers and land managers.
In our conversation, Julie Suarez gently refuted the notion that California has cornered the market on sustainable agricultural products.  She provided strong examples of New York's conservation efforts in wine, such as regional partnerships and a state-wide sustainability guidance.
You clearly have many roles in the interdisciplinary work you do.  What projects or tasks are your main focus, currently?
According to Jenn Smith, most of those involved in the Cider Association are busy entrepreneurs and/or farmers, who don't necessarily have the same time or scope that she does to see chances for innovation or cooperation in the market outside of their own business' vision.
Her current projects include fostering industry collaborations, such as connecting apple farmers' raw material with cider makers in need, as well as generally elevating cider through such activities as developing regional cider celebrations.
Meanwhile, at Cornell, Julie Suarez reported that her work ensures that research tools are accessible and useful to farmers.  She echoed economic themes, underscoring the need for academic research be framed in language that exhibits its practical, financial viability in order for farmers to translate it into action.
Recent activities at Cornell include developing climate smart tools to assist farmers in crop management, as well as promoting Integrated Pest Management practices (Julie actually recently received an award in IPM).
As someone who is, arguably, a leader in this industry–how do you see your role?  How do you define being a thought leader at such an interesting time in your industry?
Jenn Smith facilitates meetings with many personalities, whose strong passions are wrapped up in their very livelihoods.  She referenced her experience tending bar in a previous life chapter as equipping her with the skills to read a room, anticipating and diffusing any conflicts that might arise.  "Finding or building consensus is essential to moving the industry forward," she said–clearly invested in and excited about the work ahead of her.
Julie Suarez shifted the question a bit, instead self identifying as a "facilitator" or "enabler".  Though she expressed a deeply held desire to make a positive impact on her community, she saw her role as someone to "open doors for others to walk through".  We briefly discussed what it meant to be a leader; I mused that making opportunities available sounded like leadership to me.
After our chat, Julie further pointed me to individuals and businesses that she saw as conservation leaders. Winemakers from the Finger Lakes to Long Island are staying true to their business' vision while encouraging the industry towards sustainable practices by their example.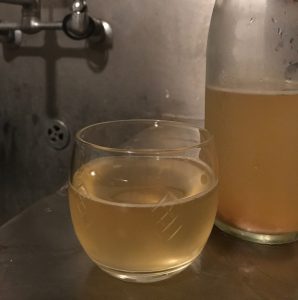 Audience Participation
Value-added agricultural products are a perfect opportunity to celebrate the relationship between human ingenuity and the natural world.  When or if you are able to, backing up this celebration with mindful purchasing is a great way to encourage the sustainable practices of hardworking entrepreneurs.
Next time you visit your local wine shop, consider asking questions about the place your product comes from, any stewardship activities in play, and the human practices (sometimes surprisingly intensive!) that go into that juice you're about to sling back.
While there's always a time and place for simple pleasures, I promise you that making even small efforts to understand what goes into your wine, cider, cheese, or other agricultural concoctions will only serve to enhance your appreciation of consuming it.  And, perhaps, you'll make a difference in protecting lands and livelihoods, too.