My internship with Cornell Cooperative Extension Orange County's (CCEOC) Gleaning Program came to a close at the end of December. In the five months I spent working for the Glean Team, I learned A LOT about the wide variety of fruits and vegetables that grow here in the Hudson Valley. I also learned about basic farm operations, the popularity of some vegetables with eaters in the region, and how to operate a finicky 18-foot, 13-year-old diesel refrigerated box truck in all kinds of weather.
In my last blog post, I explained how the Gleaning Program at CCEOC serves the dual purpose of reducing edible produce waste on farms by funneling the recovered produce into the emergency food system, thereby improving quality of local healthy food found in Emergency Food Resource Provider (EFRP) locations like food pantries and soup kitchens. (You can also read about my team's work in this recent article by the Times Herald Record!)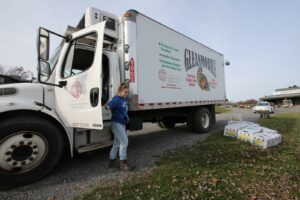 My day-to-day tasks were loaded with logistics and literal heavy lifting, but oddly enough, I regularly found myself thinking back to economic theories about population, development, poverty, and food supply examined during my academic coursework at CEP. Theories presented by Thomas Malthus and Amartya Sen loomed over my daily work as I questioned why an emergency food network is so necessary and so vast  here in the Hudson Valley, where there are over 400,000 acres of farmland!
With so Much Food Production, How Does Anyone Go Hungry?
The answer, obviously, is politics. And some economics, too.
According to Amartya Sen, food insecurity is not caused by food scarcity; it is driven by entitlements, or rather, each person's ability to command a particular resource. In other words, those regularly utilizing the emergency food supply do not have consistent access to nutritious, affordable, or culturally appropriate foods. Why? Well, on the individual scale, deficient access to food is usually caused by:
Lack of financial resources
Lack of transportation to obtain food
Lack of nearby locations where groceries may be purchased
Improving Emergency Food, Dismantling the Food System

However, food insecurity for individuals is indicative of larger problems within our food system and our political and economic systems. The necessity of emergency food systems is forced by widespread economic inequity born of multiple, sometimes purposeful factors, coupled with ongoing U.S. agricultural policy that does not adequately price food (and is crafted by lobbies on all sides of the political spectrum: SNAP benefit advocates, agro-fertilizer companies, biofuel proponents like Exxon, environment and land conservation groups, the American Farm Bureau…you get the picture).
The emergency food system's existence is crucial and assists in alleviating short-term hunger meal-by-meal, but it also allows for the continuation a larger food system that doesn't aptly serve producers or eaters, financially or nutritiously. Policies that improve the quality and availability of emergency food are necessary, but they are an insufficient fix when they create the illusion that a two-tiered system of food access is a goal to strive towards.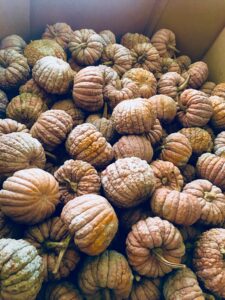 Lo and Behold…
Although my work at Cornell Cooperative Extension was based in improving the nutritional content of donated food to local emergency food providers week to week, it unexpectedly opened my eyes and broadened my interests into the world of food insecurity, emergency food, and agriculture. Through this experience, I've done my best to utilize systems thinking skills developed during my academic year at CEP to see past simple solution sets and instead dig in to context. I began to read and inquire about the life cycle of our food and the economic policies in place that dictate where it comes from, how it moves, and where it ends up. This internship has informed my graduate thesis work and sparked an interest in working professionally in food and agriculture policy, food insecurity, and economic inequity once I complete my degree at Bard. I am thankful to Cornell Cooperative Extension for providing me with this experience and to Bard CEP for wide-ranging, thought-provoking academic study.