Living in the Hudson Valley for nearly half of my life, I've had plenty of opportunity to enjoy the great outdoors.  For many children today, however, living even just a few feet away from the natural environment is not motivation enough to take the time and experience it.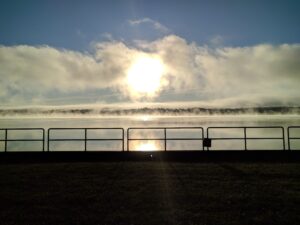 Through Bard's Center for Environmental Policy (CEP), I have not only been working towards a Master's degree in Environmental Education, but have also secured an internship as an instructor for Wild Earth this autumn.
Wild Earth is a nonprofit that focuses on empowering children by using nature to:
Raise self-awareness
Build relationships
Teach respect
Foster appreciation
Drive passion
Serving the Hudson Valley since 2004, Wild Earth provides a wide variety of programs throughout the year, reaching children both in and out of school as well as adults and families.  The foundation of Wild Earth's youth programming involves nature-based skills and crafts as well as engaging games and activities that teach sensory awareness.  Some of the secondary features may include survival skills, rites of passage, connection to place, environmental stewardship, and organismal identification.
Bard prepared me for this work
Although much of my coursework at Bard's CEP has provided insight into my work with Wild Earth, my "Language, Literacy, and the Adolescent Learner" course aided me the most in what to expect with interacting with children and what different philosophies to use for campers of varying backgrounds.  Relating students to the environment and the history of the land is another big part of both the internship and the coursework from my "Place-Based and Outdoor Education" class.  Both of these courses still inform my decisions when planning in advance and on-the-go, and I am grateful that the intensity of all my coursework has not been in vain.
Role modeling is about building relationships

One of the key aspects of instructing at any Wild Earth program is role modeling; I have a responsibility to present myself as an example of someone who is patient, understanding, open, and safe.  I meet children where they are physically, mentally, and emotionally.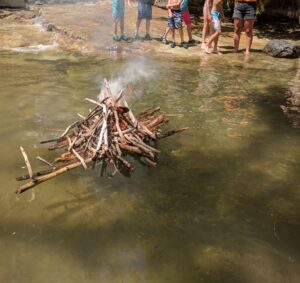 Although challenging situations may arise, such as keeping group attention or mitigating conflict between individual campers, instructors like myself manage groups by drawing upon relationships instead of flexing authority.
If a child is obviously cheating, we might say "Do you think LeBron wins games by cheating?"  Maybe we hear foul language, so we respond with "Hey, those words are offensive to me."  We provide the connections between their own behaviors and the role models they look up to, whether that is a basketball star or simply one of us.
Aside from these, I and whoever I am partnered with may share or alternate leading different activities such as crafting with natural materials, wandering and discovering nature's hidden (and obvious) beauty, or simply just playing active but thought-provoking games.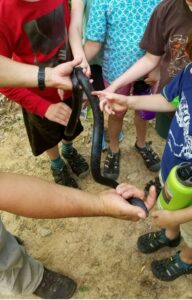 Learning as an instructor provided insight into building a solid workplace

The nature of the work that I do is distinct from my prior experiences in that the workspace is set up with a focus on morale for all participants, including employees.  We begin every morning with sharing what we are grateful for and at the end of every day we talk about the sweet moments that we had with the children.  Counselors frequently debrief and check in with each other to make sure that everyone is emotionally healthy and actively growing.
Prioritizing employee well-being is a useful skill that will allow me to create an environment suitable for improving internal motivation and performance (.pdf download link for a related study here) should I choose to manage an organization some day.  Further, this consistent communication is helping to improve my confidence in leading my own activities as well as speaking with both children and the general public.
Children make excellent leaders

One of the most important tools I have learned to use while working with Wild Earth is letting children lead, especially when they are displaying disruptive behavior.  While I was leading the discussion on safety one morning, a camper constantly interrupted.  So, once it came time to talk about fire safety and preparation, I chose that individual to lead the discussion.  He got to express himself, the objective was fulfilled, and my job was done for me – a win-win-win in my book.
Although I bring some biological knowledge to the table, I am still working on other skills that are valuable to programming as a counselor, such as fire making.  Every morning during "snack time," I feel out the group to determine where the campers are at physically, mentally, and emotionally, and I use that knowledge to determine key aspects about the rest of the day.  Just this past weekend I discovered that a camper was proficient in making fire, so I had her demonstrate building it in my place.
Something I have also noticed is that some groups will respond with silence and focus more readily if someone their age is leading, so it helps to constantly think about how I can give them the reins.
Overall I am enjoying my internship and what I am learning from Wild Earth.  I hope to continue this good work and influence the lives of many in appreciating both the environment and themselves.