As my capstone internship experience comes to an end, I'd like to share some moments of growth and reflection. Enhesa has been an experience unlike any other internship opportunity I've had in either the environmental law or policy sphere. While other work opportunities allowed me to dive into a few specific legal or policy issues, my work at Enhesa has exposed me to nuanced areas in the environmental field that I had little to no knowledge of previously.
The Nuanced Nature of EHS Laws
Environmental Health and Safety (EHS) law is more nuanced than I originally believed it to be. Since I started my internship with Enhesa 4 months ago, I've had the opportunity to work with various EHS compliance laws both in the U.S. and internationally. My biggest takeaway from this opportunity is that EHS laws and regulations cover an impressive range of areas—from hazardous waste management and air emissions, to requirements that employers have breast feeding facilities for female workers.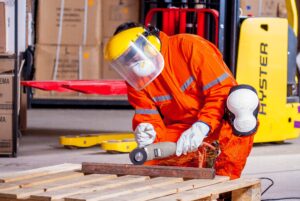 EHS laws vary in both efficacy and stringency and are jurisdiction specific. As a result, Enhesa's legal consultants keep a variety of factors in mind when tackling compliance questions/issues for clients. Some of these factors include frameworks like federalism in the U.S.— federal agencies such as the U.S. EPA have federal-level standards that are considered the "threshold laws" applicable in all 50 states and territories (unless otherwise specified). But states with their own state agencies in turn may have their own compliance standards, with the caveat that the state standards must incorporate the federal standards (at a bare minimum) or be stricter than the federal standards.
Another important factor that consultants at Enhesa constantly have at the back of their minds while they scope for legal issues is the "who, what, where and how" (WWWH) of EHS compliance. Without the WWWH it is difficult to effectively understand how and whether a legislation, regulation or policy proposal impacts Enhesa's clients. It is a model that is consistent and fail proof.
The WWWH in EHS Compliance is Clearer to Me Now
After having the opportunity to work on a variety of projects for Enhesa in the past 4 months, the importance of the WWWH is clearer to me than it was when I first started my internship. I find myself revisiting the WWWH model several times a day in various ways.  I constantly put myself in the client's shoes and ask questions like:
If I were the client, why should I care about this new proposed legislation?
How does this legislation directly impact my operations as a client?
How do these state-level regulations compare with the federal regulation?
Are there any regulatory exemptions that I should be aware of, so I can make an informed decision about the direct impacts this law or regulation has on my activities?
Is my writing clear enough to people who do not have a legal or policy background?
These questions intersect well with Bard CEP's teaching about using the stakeholder approach to better understand the efficacy of policy issues, as well as about using language that every person can understand while also helping them realize why the issues you present apply to them.
Enhesa's Role in Corporate Social Responsibility
One of the factors determining Enhesa's success in the compliance intelligence sphere is its resilience and ability to foresee market trends that potentially have a high impact on its clients—and its interest in adapting its tools to tackle these issues. As companies are becoming more aware of their obligations towards environmental and social stewardship and of how their overall operations impact environmental and public health, Enhesa strives to make sure its clients are aware of their own corporate social responsibility (CSR).
Moreover, Enhesa recognizes that numerous jurisdictions are enacting strict legislation around CSR that hold companies accountable for any violations. Enhesa strongly believes that in the importance of CSR and is unwavering in its support of its clients as they work to meet their CSR obligations.
Better Writing Backed by Supportive Colleagues
One of Enhesa's other strengths is the genuinely supportive nature of its teams. Enhesa uses a peer review-like process where senior consultants review the work of junior consultants. This process not only helps junior consultants get regular feedback on their writing, but also allows for various stages of issue-screenings before material is published for clients to view. This helps Enhesa maintain the quality, consistency, transparency, and efficacy of its compliance tools. It also helps ensure that each consultant is held accountable for their writing and continues their growth towards becoming an effective writer.
I'm honored to have had the opportunity to work with the talented group of professionals at Enhesa. Each team member I've gotten to know brings a unique perspective and background to the complex nature of EHS compliance. I am very grateful for their distinctive views, which have helped inform and shape my own knowledge and experience with EHS issues.