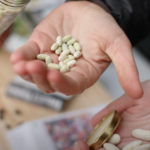 "Seeds are living things…intimately connected and intertwined with story, and lineage and place and people" 
– Rowan White, Sierra Seeds
Can you remember the last time you held a seed? We all have ancestors who carried seeds, yet today we have little relationship with the food we eat and the seeds that our ancestors would have planted. 
One Seed Planted, Hundreds Lost: The Current 'Seed' System
Seeds represent all areas of our lives, from the food we eat to the clothes we wear, to the medicine we rely on. Without them, we would literally not survive.
In the past 80 years, though, we've lost 93% of the variety in our food system. Traditional ways of tending to and planting the land have been replaced by mechanical methods of growing, which strip the soil of life.
In America, industrial agriculture is not the only modern day environmental problem. Commercial seed privatization has drastically altered the number of varieties of crops that are grown on American soil. Companies like Monsanto make it illegal to save and select seeds to grow in the coming crop year. We are not only losing healthy soils, water and air, but flavor, color, and diversity in our food system.
Today, just 12 varieties of corn remain, compared to 307 at the turn of the 20th century. Indigenous seeds exist in few numbers, many on the verge of extinction.
The Importance of Saving Seed (and Sharing Seed) 
Seed saving is the act of saving seeds from select plants once they have gone through their life cycle. It requires thought and patience; however, it is a fairly simple process that communities, individuals and families can partake in. 
Seed saving is important because it is about strengthening our food system and valuing diversity in nature and culture. It is also about sharing seeds with each other, supporting marginalized communities and their continuous work to combat food injustice, and building back resilient seed networks. 
Seed saving is important for many reasons, including: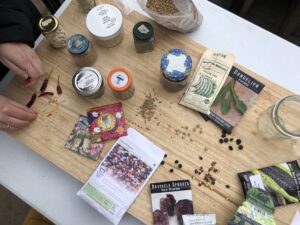 Community Control

: Saving seeds helps people regain public and community control of the seed and food supply, and depend less on large corporations for seed each year. It is also about honoring the ancestral practices of seed keepers through community seed networks that prioritize the protection of ancient seed varieties. 

Protecting Biodiversity:

Saving seeds helps preserve ecosystem biodiversity, and the range of beauty, flavor, color, and variety in our food system.

Resilience & Adaptation

: Saving local seed varieties allows those specific plants to adapt to local climate. By selecting seeds each year, communities and farms become more resilient to drought and impeding climate disasters.  
(This list draws from the work of others such as the "que no se pierda la semilla" zine, Reclaim Seed NYC, and Seed Savers Exchange—please consider supporting their continuous work in the seed sovereignty movement.) 
(Re)Seed Connections: Knowledge, Compassion, and Growing Seed Networks 
Seeds of resilience are being planted across the country in the gardens of a diverse array of communities, many of whom seek to bring food security to their homes and to remember the foods that connect them to culture, family, and history.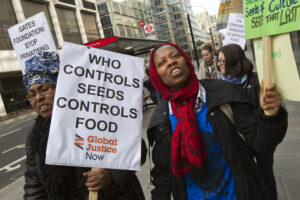 Seeds in the Hudson Valley
In Hurley, NY, Ken Greene, Co-Founder of the Hudson Valley Seed Co. and Kenny Perkins Traditional Seed Keeper of the Kanenhaká:ion Tsiakwaiénthos: Akwesasne Seed Rematriation Garden, are working together to restore ancient Mohawk Akwesasne varieties of seeds.
In 2016, the last two cobs of Mohawk Red Corn were grown out of the Hudson Valley Farm Hub as an effort to save this ancient variety. At the end of the season, those two cobs yielded 800 pounds of fresh seeds that were then brought home to the Akwesasne community. These seeds represent not only sustenance, but cultural resilience and rematriation. 
While Indigenous seeds are a large focus of the Hudson Valley Farm Hub, organizations across the country, including within the Hudson Valley, are reconnecting with traditional seeds of African, Palestinian, Ethiopian, and Latin decent. 
Seeds Beyond the Hudson Valley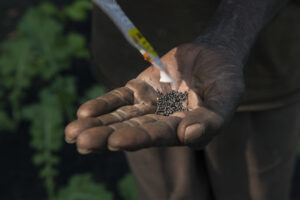 In Philadelphia, Chris Bolden-Newsome, Co-Director of Sankofa Community Farm, is planting African Diaspora species of beans, turnips, and more, reminding the world that gardens and food have always been "landscapes of resistance" for black communities. Seed saving is more than selecting what food to save, but about recognizing the deep seeded colonialism in our food system. For communities who have historically been marginalized from access and ownership of gardens and farms, these seeds tell the story of survival. 
In New York City on nearly 45 acres of land, Jacqueline Pilati and others at Reclaim Seed NYC are growing seed library networks, community seed justice, seed literacy, and urban food sovereignty. A seed library is exactly what it sounds like—an open-source catalog of seeds for people to add to, share, and grow. Reclaim Seed NYC's seeds are open-pollinated, heirloom, regionally adapted varieties that represent the history, culture, and resistance of NYC residents – historically and currently. 
Learn More About Seeds
To learn more about seed saving and where to start, visit Seed Savers Exchange. They have many resources for the home gardener! Tomatoes are a really great first time seeds to save. Check out this post that gives you more information on how. 
Watch the film Seeds of Hope that briefly discusses the collaboration between the Mohawk Akwesasne community and Hudson Valley Farm Hub to restore native seed varieties like the Mohawk Red Corn.
For more information about Indigenous Seed Keepers, the work of Rowan White, and seed stories, visit the SeedSongs Blog 
Find your local seed library, to grow and share native, heirloom varieties, and support organizations doing the work to protect BIPOC seeds on the verge of being lost forever. 
I invite you to rekindle your love with seeds, because they feed all of us, and they have many important stories to tell if we are willing to listen…