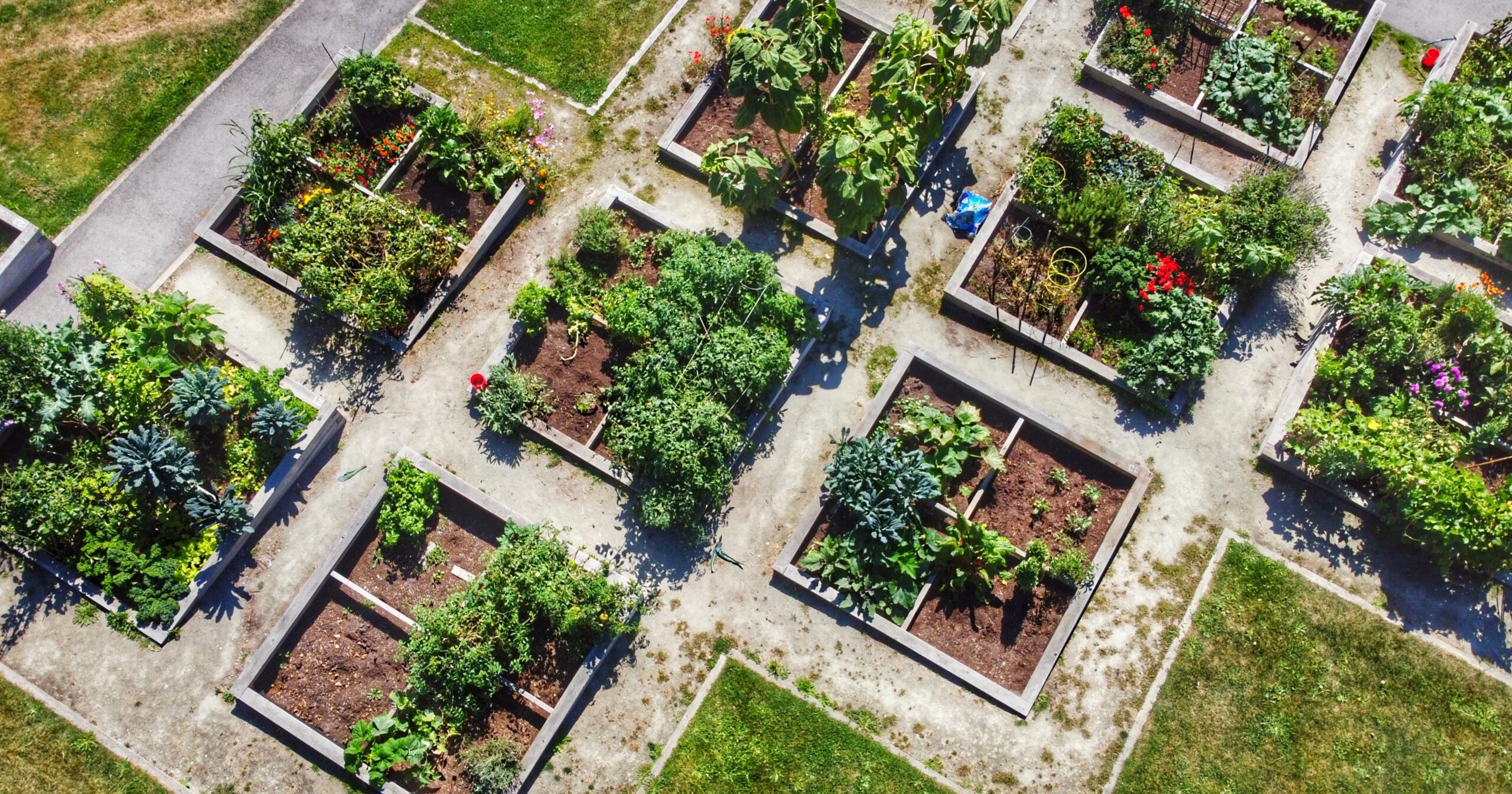 I grew up in a fairly industrial urban area, where most meals came in a box or a can and fast food was a frequent go-to. My experience may be familiar if you, too, live in an urban community, which tend to lack access to fresh, local food.
A report from the U.S. Department of Agriculture (USDA) estimates that at least 12 percent of Americans live in "low-income and low access" areas, where grocery stores are more than one mile away. Urban areas, particularly those with higher populations of low-income and/or communities of color, tend to have less access to fresh fruits and vegetables while also having higher rates of health conditions related to lack of food access (high blood pressure, risk of heart disease, etc.).
One solution to food insecurity that's commonly advanced is to increase land for agriculture and innovate technologies for more efficient food production. But with competing land needs and increased urbanization, this solution might increase environmental and justice concerns rather than solve them.
We need to rethink the ways we improve food availability.  
Community gardens can help unlock food insecurity
Community gardens reimagine food access and security by focusing on the local level. Rather than demanding that we produce more food through large-scale agriculture, community gardens make fresh and affordable food available to the communities that are in the greatest need.
The diverse nature of urban growing and proximity to neighborhoods in need make urban gardens a useful solution. Food can be grown in a number of urban environments, from porch pots, to hoop houses, to full block gardens. Residents are able to walk down their block to access fresh food, opposed to commuting up to an hour to the closest grocery store. 
In a case study that looks at the impact of community gardens on "vegetable intake, food security and family relationships," researchers found not only that participants ate more vegetables, but that they also experienced increased food security. Participants expressed concern about food availability nearly 30% less frequently during garden season than before garden season. 
Additionally, garden programs in different areas participate in local food distribution services, which directly addresses the issue of distance many residents experience.
Community garden co-benefits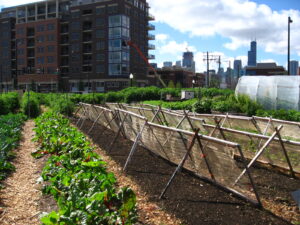 Community gardens can also provide health benefits. Studies show that people who join community gardens have increased blood sugar control (reduced hemoglobin A1C) compared to those who do not. 
The benefits don't stop at improving health and food access. Community gardens are also a useful tool to improve exactly what their name implies: the community!
Gardens and urban farms bring community members together for improved food education, storytelling, and events. They serve as social hubs and can improve mental health and reduce stress. They are a unique and invaluable component of sustaining community structure. 
Community gardens provide support during COVID-19
Rates of food insecurity grew over the course of the COVID-19 pandemic, with low-income as well as Black and Hispanic families disproportionately affected. Salary decreases, unemployment, supply chain disruptions, and general health concerns made food access more difficult for many. 
However, urban gardens were able to provide food access and education during the height of the virus, and served as connectors for their communities. The stay-at-home mandates across the country left many families and individuals isolated from their neighbors. Community gardens, being as well-ventilated as open air gets, allowed members to come together and alleviate some of those emotional stressors.
Many community gardens took the opportunity to innovate during this period as well. Phoenix Community Garden in Ocean Hill, NYC took advantage of the virtual world to host Zoom meetings for garden members and used shared documents to determine socially distant scheduling. Denver Urban Gardens delivered seeds and seedlings to families, as well as "to grow" boxes with garden supplies for new growers. The Garden of Happiness in Bronx, NY raised chickens and runs seasonal farmer's markets.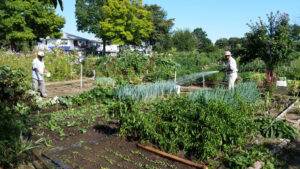 How can you help? Keep it local.
If you're interested in supporting community gardens, remember to support the integrity of the community itself. Start by looking for gardens in your own area and asking what they need.
In NYC, for example, there are more than 600 community gardens scattered throughout the five boroughs. Gardens are planted in a variety of locations and infrastructures, from housing developments and vacant lots to schools and daycares. The city even has a few urban farm projects, including the Teaching Garden at Governor's Island. You can use online resources like this map from GrowNYC to find which gardens are closest to you.
GrowNYC, a non profit environmental organization that runs many of the city's community gardens, provides multiple levels of education, volunteer work, and virtual engagement to support the gardens and their activities. 
To support your local community garden:
Donate seeds and supplies

Volunteer to work in the garden

Distribute meals and/or kits

Participate in garden events and fundraisers
While community gardens aren't the only and final solution to ending food insecurity, they're contributing significantly towards reducing it. The sanctuary, connection, and resiliency they provide for community members in the face of future environmental challenges is invaluable.