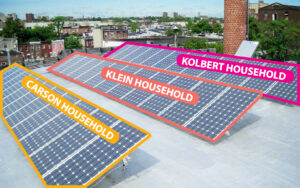 Have you been unable to participate in sustainable and clean energy trends because the costs are so high? Are you a renter and unable to convince your landlord to install solar on your apartment building? Do you find that you're living paycheck to paycheck, barely able to afford your energy bill each month?
Well, you're in luck! There's an easy and affordable way for you to help save the environment without breaking the bank.

Presenting: community solar. Community solar is quite literally, solar energy for your community.

How does it work?
Community Solar is a way for a large number of people to share the benefits of a single solar energy system without having to install solar individually on their homes. Participants can subscribe to a portion of the solar energy generated by the shared system and receive credits on their electricity bills, reducing their overall energy costs.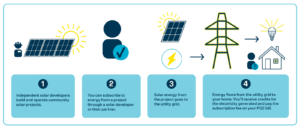 Community solar projects are often developed and managed by a third-party organization, and can be located on rooftops, parking lots, or open land. This is especially beneficial for those who cannot install solar panels on their own property, such as renters or homeowners with shaded or unusually shaped roofs.


Benefits beyond clean energy
Community solar can be especially beneficial to low-income and BIPOC communities, who have historically been left out of homeownership and confined to older and neglected rental housing. BIPOC populations also bear higher rates of fossil-fuel pollution exposure, leading to compromised health.
Solar energy can significantly reduce energy costs in older homes and apartments that aren't energy efficient, and community solar can enable these communities to participate in solar energy without having to deal with the expensive upfront costs of installation, and without having to go through a landlord.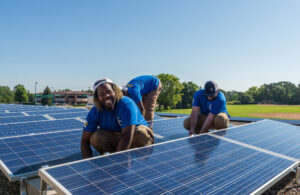 Many community solar programs provide low-income targeted incentives and carveouts that designate a certain amount of program or project capacity to low-income customers. And many utilities also have low-income specific programs that are designed to benefit low-income customers directly.
Community solar projects can also provide educational and training opportunities, such as apprenticeships and workforce development programs, which can help build skills and provide pathways to employment. They can also provide a platform for community engagement and collaboration, helping to build stronger and more resilient communities.
How to participate in community solar
There several steps to take if you want to participate in community solar:
Find a community solar project: Look for community solar projects in your area that are accepting new participants. This can be done by searching online, contacting local solar companies, or checking with your utility company. 

Specifically look for programs from your utility, local, or state governments that combine community solar with energy efficiency benefits, or provide subsidies for participating if you are considered a low-income customer—such as New York state's Solar For All Program.
Seek out low-income community solar programs that partner with community institutions: these partnerships engage with low-income and BIPOC communities in addition to possibly providing physical spaces to site projects.

Sign up: Once you've found a project, sign up to become a subscriber. You may need to provide your contact information, electricity usage data, and other relevant information.
Review the terms: Make sure to review the terms of the agreement carefully, including the length of the contract, the amount of energy you will receive, and the cost per unit of energy.
Pay for your subscription: You may be required to pay an upfront fee or monthly subscription fee to participate in the community solar project.

check your eligibility for low-income status—you may qualify for subsidized pricing or an incentive that will lower your cost to participate!

Start receiving energy credits: Once the project is up and running, you will receive credits on your electricity bill for the energy generated by your portion of the solar array.
Raise your voice to advocate for community solar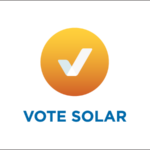 If there aren't community solar projects in your area, here are some actions you can take to promote renewable energy in your municipality:
Attend local government energy meetings, or local city council, planning commission, and other relevant meetings and speak up in support of solar energy. You can share the benefits of solar, such as job creation, energy independence, and reduced energy costs.
Advocate for policies that support solar: encourage your local government to adopt policies that promote solar, such as renewable portfolio standards, net metering, and tax incentives.
Educate your community: host events or information sessions to educate your community about the benefits of solar and how they can take advantage of it. This can help increase demand for solar in your area.
Collaborate with local organizations: partner with local organizations, such as environmental groups or business associations, to advocate for solar and promote its benefits in your community.
Install solar on your own property: if you're able to, install solar on your own property and share your positive experience with your community and local government.
Community solar provides energy stability and will reduce your community's exposure to fossil-fuel energy pollution. Not only will it improve your quality of life, but it will also lower the cost of your energy bills each month.
Take the leap and join a community solar project in your area today, and contribute to lowering the energy burden and increasing clean energy opportunities for all.