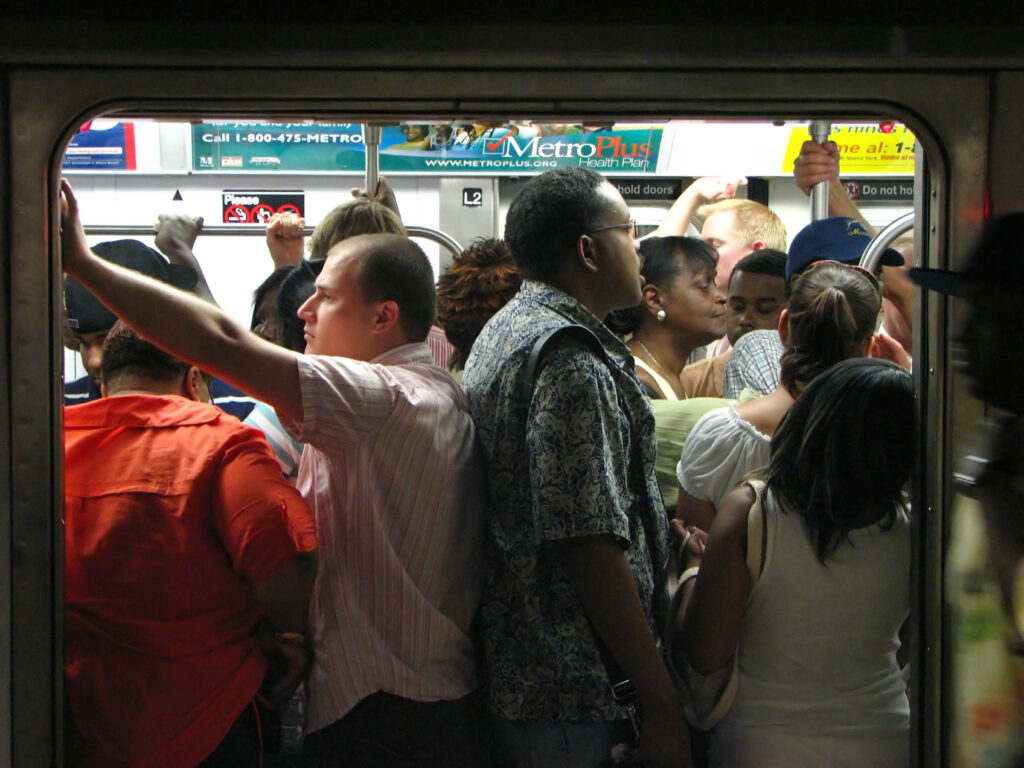 Summers in New York City are unbeatable. They're also unbearably hot, and, due to climate change, they're getting hotter every year. An 80ºF day is characterized by the smell of hot garbage in the morning, sweltering heat during the day, and relentlessly muggy nights.
In a city full of commuters, the fact that NYC's busiest subway platforms get up to 20ºF hotter than outside temperatures alone should raise major red flags about public health and infrastructure—especially when trains get as packed as they do.
 Urban areas across the U.S. are increasingly impacted by extreme heat events caused by climate change. As New York gears up for what's to come, other city and state governments might glean from its plans to address extreme heat—and how they may be falling short of protecting the city's most vulnerable communities.
The Implications of Extreme Heat in NYC
Looking forward, extreme heat events in NYC are expected to triple by the 2050s and quadruple by the 2080s. These events will increasingly impose issues throughout the city, with disproportionate effects across the city.
Increased heat vulnerability is especially prevalent in Northern Manhattan, the South Bronx, and Central Brooklyn—all neighborhoods primarily comprised of Black and Latino populations.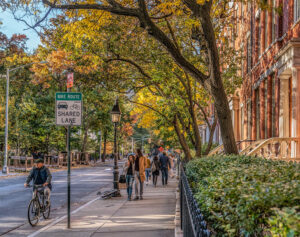 Heat-related deaths currently average nearly 400 per year. However, the burden is not shared equally—Black New Yorkers are twice as likely to die from extreme heat as white individuals. Lower access to green spaces and street trees, lack of air conditioning, poor housing quality, and historical redlining have all acted to make these disparities more pronounced. 
Power outages and strains on the city's energy system from increased AC use are also the among disruptions caused by heat waves in New York. Train delays due to heat are not uncommon, further exacerbating exposure to extreme temperatures as subway riders wait on hot platforms. This may particularly impact elderly residents, children, and individuals with pre-existing conditions that increase vulnerability to heat-related illness. 
NYC's Current Extreme Heat Action Planning—and Where it Falls Short
In recent years, the city has begun work on several initiatives to adapt to the effects of extreme heat and protect New Yorkers: 
Increasing tree canopy cover

in vulnerable communities through 2026 with a committed $112 million for the program as of Summer 2022

Cooling streets & roofs

with 11 million square feet of rooftop currently covered and 2022 funding underway to support legislation piloting similar projects on additional streets and roofs

Cooling centers

that offer free access to cooling in extreme heat events

Cooling homes primarily through city-level advocacy to reduce barriers to in-home cooling via funding for the Home Energy Assistance Program (HEAP) or policy change to reduce high utility costs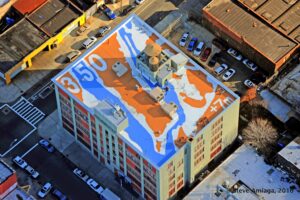 However, the immediacy and severity of extreme heat events perhaps renders many of these initiatives inadequate in the near term.
Although increased canopy cover—particularly lining streets in the outer boroughs—will certainly help alleviate heat burdens, it could be several years before the cooling benefits are fully realized, depending on tree type. And access to cooling centers, while important, can be inequitable, as some centers located near disadvantaged neighborhoods also have less stable AC systems.
Advocating on behalf of low-income New Yorkers to reduce cost barriers to in-home cooling is further reliant upon State policy change, particularly in adjusting HEAP eligibility requirements. 
How New York State is Preparing to Protect its Most Vulnerable
At the direction of Governor Hochul, in July 2022 the New York State Energy Research and Development Authority (NYSERDA) and the Department of Environmental Conservation (DEC) released interim recommendations for extreme heat action planning in NYS.
These recommendations are meant to serve as immediate actions the state might take to address its most pressing heat-related issues while a complete action plan is developed. A few key recommendations include:
Convening an interagency heat emergency coordination team

that responds to incoming heat waves and redistributes key assets needed for quick response

Expanding the availability of cooling centers and access to State parks, swimming areas, and other State facilities

that NYS may be able to waive fees for

Improving heat and humidity warning systems

to ensure consistent and accurate language is used across agencies

Collaborating with community-based organizations

to reach underserved communities

Improving access to existing energy efficiency programs and expand access to affordable cooling through HEAP

to provide assistance to heat-vulnerable communities and by expanding eligibility for HEAP 

Developing a complete Extreme Heat Action Plan

that includes identifying and securing State funding for short- and long-term recommendations
While these recommended actions are directed towards all of New York State, they help leverage existing/new initiatives and State funding that the city might implement and utilize. For instance, the expansion of availability to cooling centers and potential expansion of HEAP eligibility requirements will be beneficial to the city's efforts to protect vulnerable residents, particularly considering the city's ongoing advocacy to expand access to HEAP. 
Opportunities to Act Based on New York's Leadership
Though New York's recommendations are just that, other cities and states might draw inspiration from these proposals and implement them in anticipation of more frequent extreme heat events. This might include taking on the expansion of cooling centers, improving heat warning systems by ensuring they include non-English languages, and identifying key community partners in order to increase engagement with hard-to-reach communities.
At the individual level, awareness of symptoms of heat-related illness will be crucial in order to respond proactively in regards to your and others' health. During a heat wave, reviewing the status of nearby cooling centers in your city is an additional emergency plan to have in your backpocket, should you ever need one. Ensuring street trees remain in good condition will also be essential in order to maintain the cooling benefits that their shade provides and avoid unnecessary replanting of new trees. Residents who notice trees that are in poor condition or at risk of being damaged might report the issue to their city councilmember.
Though cities may find themselves in precarious positions with increasing heat events, there is worth in emulating the response and action plans cities and states like New York have already laid a foundation for in order to be better prepared to protect the most vulnerable communities.