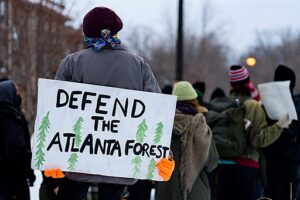 On January 18th 2023 at nine in the morning, Georgia state troopers raided an activist encampment and murdered environmental activist Manuel Esteban Paez Teran.
Manuel, known to friends as "Tortuguita," was a non-binary, Venezuelan 26-year-old environmental activist, a graduate of Florida State University and, most recently, a member of the Stop Cop City movement. Stop Cop City protests the construction of a police training facility that will bolster an already-militarized police force at the expense of Atlanta's largest urban forest.
"We win through nonviolence"
Manuel and other activists occupied the Weelaunee Forest in hammocks and tents, using body solidarity to block construction. On January 18th, Georgia state troopers raided the encampment and began shooting after one officer was shot in the leg.
Months later, the Dekalb County Medical Examiner released its official autopsy. Tortuguita was shot 57 times.
The police claim Tortuguita fired the first shot and a ballistics report tying the injured officer to a gun legally purchased by Tortuguita supports their narrative. But the evidence goes both ways. An independent autopsy found that Manuel had their hands raised at the time of death. The County's autopsy found no gunpowder on Tortuguita's hands. And while some officers had body cameras, none were near the scene of the crime.
Tortuguita themself had publicly promoted nonviolence just weeks earlier. When interviewed, Tortuguita told reporter David Peisner, "We win through nonviolence. We're not going to beat them [Atlanta Police Foundation] at violence." Ultimately, the County's autopsy said there was no way to tell if Tortuguita stood in defense or attack at time of death—their body was too mangled.
Regardless of their innocence, Tortuguita died from the very issue they spent the final year of their life protesting: a militant police force.
Cop City will strengthen an already-militant police force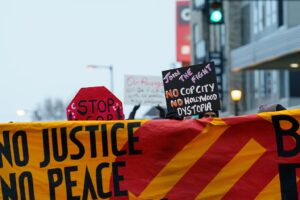 Though Tortuguita is the first environmental activist shot and killed by police during a protest in modern U.S. history, Atlanta is no stranger to a strong police force.
One third of the city's budget goes to the police department, totaling $250 million. This budget was approved even after an Atlanta police officer killed resident Rayshard Brooks just three weeks after George Floyd's death. Despite these numbers, in 2021 the City Council approved the construction of a $98 million, 85-acre Public Safety Training Center, complete with a shooting range, a driving course to practice chases, and a mock village to rehearse raids (inspiring the nickname "Cop City").
Though the city's police budget is significant, the city is only funding one-third of Cop City. The Atlanta Police Foundation, a nonprofit funded by major corporations like Coca Cola, Delta Air Lines, and Home Depot, is covering the rest of the tab.
If this doesn't sound bad enough, the training facility will be built in the Weelaunee Forest, which was identified as one of the four "lungs" of Atlanta in the city's 2017 sustainability plan. The forest reduces climate change impacts by cooling surface temperatures and mitigating stormwater flooding. Atlanta has the largest tree canopy of any US city, but 80 acres of this canopy is jeopardized by Cop City.
Activists are fighting to protect the Atlanta community from climate change and over-policing.
Under Georgia law, disruptive protest is domestic terrorism
Admittedly, the forest defenders are not fighting without force. Following Tortuguita's death, protesters have graffitied institutions supporting Cop City, lit a police vehicle on fire and thrown firebombs at construction.
But property destruction is not violent, according to Stop Cop City spokespersons; instead, it is an expression of civil disobedience. Civil disobedience requires us to disobey the law for a greater moral cause. Stop Cop City aims to "prevent future violence" like Tortuguita's death, "by disabling the economic machine of the Atlanta Police Foundation…which funnels military gear into our city to wage war on Black, Indigenous, Brown and poor folks." In this context, property destruction prevents true violence at the hands of the police.
A 2017 Georgia law disagrees. This law lowered the requirements for domestic terrorism to no longer require harm to other persons. Under this law, 42 Stop Cop City activists have been charged with domestic terrorism. One activist faces 35 years in prison for trespassing and refusing to leave a treehouse for 12 hours.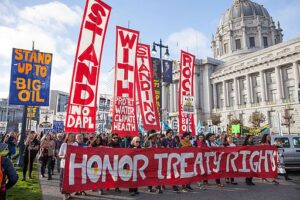 These charges are consistent with a growing national trend. Des Moines activist Jessica Reznicek is serving an 8 year terrorism sentence for vandalizing the Dakota Access Pipeline, and Standing Rock protestors were investigated by the FBI terrorism task force.
This trend leaves environmentalists and anti-policing activists alike wondering what means of protest are left.
We can vote for the legislators who approve local police budgets. But what difference does our vote make when the projects like Cop City are funded by corporate dollars? We can take to the streets and march. Be wary, though, of the police who are trained in mock cities to subdue large crowds. Lastly, as our history books promote, we can break the law for a moral cause in an act of civil disobedience. Until, of course, the simple act of trespassing is deemed to be domestic terrorism.
Meanwhile, the organizations that kill civilians like Tortuguita and destroy land crucial to climate resilience are permitted to continue.
The ideals and reality of the American Protest are clearly at odds. So, what do we do?
I don't have all the answers—but I can point you towards people who do.
How to protect protestors and support the Stop Cop City movement
Stand in solidarity with Stop Cop City protesters as they pivot to a new front: corporate America. This method of disruptive protesting threatens the project's implementation while putting individual protestors at less risk.
Pressure the companies funding, insuring and building Cop City to cut ties with the Atlanta Police Foundation.  The initial contractor, Reeves Young Construction, dropped the project in April 2022 and Quality Glass Company broke their professional ties with it in February 2023—who's next? Find an interactive map of companies contributing to Cop City here.
Send money to the frontlines. Bail out incarcerated prisoners and fund protest supplies through the Forest Justice Defense Fund. Support Tortuguita's family as they grieve and pay legal fees.
Pressure Georgia DAs to drop the domestic terrorism charges and demand better treatment for incarcerated protestors here.
And if you choose to protest, be prepared. Teens in the Tennessee Student Solidarity Network are learning to protect themselves against tear gas and police force in preparation of gun violence protests. Consider using their "militant non-violent civil disobedience" techniques.
Stand in solidarity with environmental activists. Protect the Weelaunee Forest. #StopCopCity.