In the Northwest, as the last blows are exchanged, the Big Black Coal Beast lies slumped on the ground, collapsed. Hot, sticky carbon dioxide, steams off its back and thick, black carbon-sweat drips down its face. Has the Coal Beast been defeated? Eco-warrior KC Golden, of Climate Solutions, has led grass root movements for the past 20 years and all but slain this coal beast, and he will continue without relent. Recently awarded the Heinz Award for Lifetime Leadership in Environmental Policy, Golden discussed at the October 3rd National Climate Seminar the final attempts of big coal companies to continue coal production in the US as they push for export, and what we can do to prevent it.
Coal companies are in a panic; They are engaging in desperate schemes to get coal off our shores and into the rapidly growing markets in Asia. Currently, there are 6 proposals in Washington and Oregon to build coal export terminals to feed this demand. Golden urges us to recognize the crossroads we have arrived at and to make decisions now that will limit our emissions in the coming decades, not only in America but globally. If China is assured that there is a market for coal with long-term supply and competitive prices, it could have the confidence to invest in energy infrastructure for coal. This will lock us on a trajectory path for catastrophic climate change. Golden sees our responsibility as an industrialized nation that benefited from being a major emitter of greenhouse gases is to pioneer new and sustainable infrastructure for prosperity not only for a long time, but also for a larger group of humanity.
The war that so many of us have often waged as environmentalists is rewarding and awesome when we win, but incremental and challenging; this war with coal we can quickly and easily lose. To prevent this we cannot be patient and flexible. Golden insists that we don't have the time and money to invest in the wrong direction, but need to be assertive and step up to the challenge of creating clean technology, policy, and infrastructure.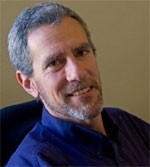 In Seattle, Golden has worked is doing just this. As a climate policy planner for the city he worked to curb energy use and create an efficient city that is carbon neutral. Seattle is a special case because they own their utilities. However, Golden argues that any municipality can be pressured by public interest and exert control to make our energy future efficient and clean. "Stop wasting so much energy!" Golden cheers. Easy for him to say, as the Pacific Northwest has had great successes in this, but it should be easy for all of us to say, and act upon. This is the war we are in and need to avoid losing to benefit all of us now and in our futures.
Coal export is not the future America should invest in. We don't want to build energy policy and an economy based on this dirty fuel and need to stand up, as conscious, global citizens to deter these proposals from becoming a reality. "You have a right to get tired. Get frustrated," says Golden, "but don't become a cynic" or the coal beast will rise again, we'll lose the climate war, and we cannot afford that.