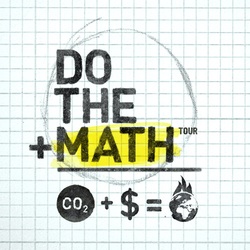 Do the Math Campaign:
In order to keep the planet from warming about 2 degrees Celsius, scientists estimate we can put up to another 565 gigatons of carbon dioxide into the atmosphere. However, fossil fuel companies have about 2,795 gigatons in their reserves and will burn all of it unless they are stopped.
How to stop them? 350.org launched their newest campaign in October, Do the Math, with the goal of getting colleges, universities, pension funds, churches, and other organizations to divest their money from the fossil fuel industry.  If this movement succeeds in getting these groups to divest, fossil fuel companies will see a direct impact on their bottom line and will be forced to change. Divestment helped end apartheid in South Africa; they can work here as well. Catch 350.org's Do the Math Tour as it tours across America over the next few weeks.
Inspired to act now?
Join us at Bard College over the weekend of November 30th-December 2nd for the C2C Fellows sustainability leadership workshop. Led by Dr. Eban Goodstein, an economist, scholar, Director of the Bard College Center for Environmental Policy, and the Dean of the Bard College MBA in Sustainability program, the workshop teaches undergraduates, recent graduates, and graduate students how to become the sustainable leaders our country needs.
Joining Dr. Goodstein will be:
Nate Kimball, an Airport Environmental Specialist at Port Authority of New York and New Jersey
Miles Crettien of VertiCulture
Jason West, Mayor of the Village of New Paltz, NY
Nate develops and implements sustainability programs at all five Port Authority airports and serves as the Aviation Department's liaison on agency wide greenhouse gas inventories as well as, strategies and on agency-wide climate change adaptation and resilience efforts. Miles works with VertiCulture, an aquaponics project in Brooklyn that alleviates the environmental, health, and social problems associated with modern agriculture by promoting sustainable food production in urban environments.
Jamie Henn will give the closing remarks for the workshop. Jamie is the Communications Director and Co-Founder of 350.org, which is building a global grassroots movement to solve the climate crisis. (Why 350?)
Apply now! Contact us with questions!
Posted by Serafina Zeringo, MS'14 Environmental Policy candidate and C2C Fellows Program Assistant