Do as your heart tells you
"Do as your heart tells you," I was often told, in between the walnut groves on a wise grandmother's porch last summer. At the time, I was serving as an AmeriCorps member, running environmental education and eco-restoration projects for a land trust. My heart told me to help other young people find ways to heal the planet, and to take this passion for protecting the planet to a national level.
Enter C2C Fellows, and the Bard Center for Environmental Policy, where I am currently a first year graduate student getting my MS in Environmental Policy. With this degree, I'll be able to follow that passion; and through my work with C2C Fellows, meet hundreds of other young people around the country creating meaningful solutions to climate change.
Climate Change is both the primary fight of our generation, and a challenge that our generation is uniquely equipped to fight. Our access to global networks and our ability to collaborate on a scale unheard of before means that, within a few years,
our generation can be making the decisions that will decide the fate of the planet. Are you prepared?
Don't wait to change the world
Young leaders like you are desperately needed in Congress, City Hall, and the corporate world. You're needed to bring a new voice to green business and politics – a voice that understands the challenge we face, and that is passionate and ready to lead change.  Becoming a C2C Fellow can help you achieve these goals.
C2C Fellows will bring our weekend-long workshop to UC Berkeley over the weekend of November 8-10th, 2013. Diverse student sustainability leaders from across the western US will get together to learn leadership skills necessary to succeed, such as how to: raise money, tell your story, build your network, pitch your idea, and know what you're good at. Check out our Workshop Agenda for more specific details.
Partners in Climate Change Solutions
I am excited to introduce our partners in the Bay Area, responsible for bringing C2C to UC Berkeley in November: the Climate Corps Bay Area, and Berkeley's The Green Initiative Fund (TGIF). These two organizations are perfectly poised to support C2C Fellows,  the national network for young sustainability leaders ready to change the world.
The Climate Corps Bay Area trains a remarkable group of young people with the skills needed to help cities prevent and prepare for climate change. Over the years, they have implemented or accelerated over 75 greenhouse gas prevention projects, that together have the potential to reduce over 16,000 metric tons of greenhouse gasses per year. Members have cumulatively spent over 130,000 hours on climate projects in the Bay Area, and have trained over 6,000 volunteers.
The Green Initiative Fund has implemented innovative sustainability project across UC Berkeley's campus. TGIF focuses on improving transportation on campus, reducing UC Berkeley's impact on the environment, funding sustainability projects on campus, and much more. The fund has spent over $1.5 million dollars on 82 projects between 2008-2013. TGIF is a model for student leadership and, we are honored to have them join us as partners.
What are you waiting for?
I'm committed to changing business as usual through my education and activism; TGIF is committed to changing the environmental impact of Berkeley and beyond; and the Climate Corps Bay Area is committed to continuing to help cities prepare for climate change. What about you? Become a C2C Fellow at our upcoming workshop and join the over 200 Fellows committed to pursuing impactful careers in business and politics for the planet! Details and application links are below.
My heart told me to take my passion to the next level. Hope you choose to do the same – and that you join the C2C Fellows workshop in California next month.
C2C Fellows UC Berkeley
November 8-10, 2013
Application Deadline October 25th
Apply today!
Workshop Flyer
Workshop Agenda
Any questions, email [email protected].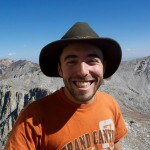 Jeremy is a native of Atlanta, Georgia. When he's not studying you can find him playing one of his many instruments. Guitar, mandolin, bass, harmonica, drums, etc. Jeremy believes variety is the spice of life. He is a graduate of American University and a graduate student at the Bard Center for Environmental Policy. Jeremy seeks to influence how the public views natural resources through service learning and active engagement. His favorite outdoor activities include hiking, rock climbing, and mountain biking. He believes that performing random acts of kindness have the power the change the world.