by Robert Friedman
Originally posted on October 22, 2013 on switchboard.nrdc.org
There's something about standing on a fracking pad or at the edge of a mountaintop removal site that changes you forever. You ask yourself how anyone could be so blinded to be removing mountains from the landscape, to be contaminating peoples' water and air with carcinogens and to be actively ruining any hope of stabilizing our climate. I experienced all of these things, as well as extreme hope last week as part of the Extreme Energy Immersion Tour, hosted by Unity College and the Expedition Education Institute.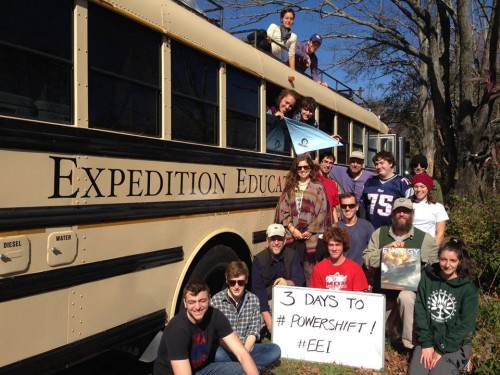 For 10 days, I travelled on aretrofitted school bus with 18 college students to meet with people that are resisting the onslaught of gas and coal companies in the northeast and Appalachia. I was honored to able to participate and contribute to our learning as someone who has been a part of the climate justice movement for most of my life.
Our journey began in New York, where we have successfully kept fracking out of our state. Unfortunately, that has not kept the natural gas industry out completely, as infrastructure is becoming more prominent across the Catskills. As we traveled through the countryside, it was heartbreaking to see clearcuts through the beautiful, changing foliage to make way for natural gas pipelines and compressor stations.
Our next stop was Dimock, Pennsylvania, where we met with colleagues and activists that have been fighting fracking in their community for years. Every few minutes, a water or fracking equipment truck would pass by. Fracking pads dotted the hills and pastures. Everywhere we went, we heard compressor stations that sounded like jet engines. The entire community has been industrialized by gas drilling.

From Dimock we traveled to End of the World State Park, where fracking could begin as soon as next month. We met with young people who are resisting the encroachment of the natural gas industry through a variety of tactics, ranging from direct action tocommunity mobilization.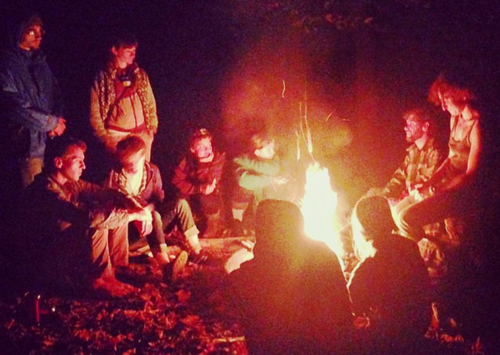 It was simultaneously inspiring and saddening to sit under trees that could be felled to make way for fracking pads in only weeks, while also learning from such passionate folks fighting on the frontlines to save their communities.
And as if the devastation could not become even more real, we entered West Virginia, where the coal industry continues to blow the tops off of mountains to get at deep seams of coal. Friends from Coal River Mountain Watch, an anti-mountaintop removal advocacy organization brought us up to a site to witness what happens when someone demolishes a mountain. It's one of the darkest things I have ever seen.

Most of our journey was pretty bleak, but at the same time, it was inspiring. Seeing the amount of resilience, love and passion that exists in these frontline community advocacy groups was truly extraordinary. They live under constant and direct assault, yet they push on and are fighting for what they truly believe in. I look forward to continuing to collaborate with friends on the frontlines as we work to further all of our goals.
Our 10-day long adventure actually ended on an extreme high note. From West Virginia, we travelled to Pittsburgh for Power Shift, a biennial convergence of thousdands of young climate justice warriors from across the country. I was happy to be joined by many colleagues from NRDC, as well as dozens of friends I have met in this work over the years. For four days we attended panels and workshops, shared our stories and got loud to demonstrate that despite the enormous hurdles we face, we are in it for the long haul. Apparently we made such waves that the coal industry took notice and felt the need tomake a statement. But that did not stop thousands from pouring into the streets in support of a more just, more sustainable future!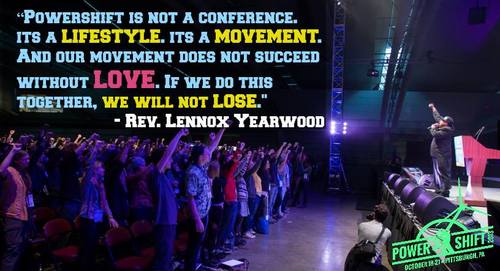 The youth climate justice movement is extremely powerful, and it's gaining momentum. We have come a long way from the first Power Shift in 2007. Our movement is more diverse, more passionate and more resilient than ever. We're fighting extreme energy extraction across the world, on many levels simultaneously. And yes, we're idealistic, hopeful, creative and young. But those are our greatest attributes. It is through these ideals that I truly believe that we will win.
Onwards.
Robert Friedman, Youth Engagement Coordinator, New York City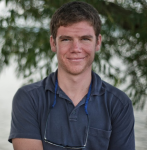 I grew up in the Hudson Valley in a community whose waterfront is a Class 2 Superfund site. Thus, from a very young age, environmental issues were a big part of my life. Growing up, most of my weekends were spent in the Catskills, hiking, biking and climbing. This is where I began to gain an appreciation for the outdoors and the beauty of our planet. In middle school I (somewhat prematurely) decided I would make a career out of my passion for protecting our environment, and I haven't exactly looked back ever since. I studied climate policy with a focus on social movement theory at Bates College, and over the years have been involved in a diverse set of environmental policy-related endeavors including investigating the impacts of climate change on artisanal fishermen in coastal Tanzania, working on a boat to defend the Hudson River from polluters, and advocating for the rights of climate vulnerable nations at the United Nations climate negotiations. And now I'm at NRDC fulfilling my greatest passion: engaging young people in environmental advocacy and the fight for intergenerational justice.