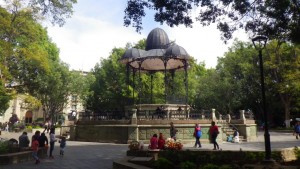 Having the opportunity to come to Oaxaca and closely study the region's water crisis and reform process was a great experience. It gave me the chance to learn more about the politics of water but also to understand those politics in relation to how a lack of access to clean and sufficient water impacts the people who live in the City of Oaxaca de Juarez and in valleys that surround the city. Hearing about their struggles in accessing water, in one of the poorest states in Mexico, was eye opening for me. In the first few days of our arrival, we were able to meet with the Director and staff from the Institute for Nature and Society (INSO) who have worked on water management issues in the watershed since 1990s. Listening to their presentations about their projects and policy work was very helpful in giving us a concrete sense of water reform in Oaxaca. We also had a presentation about the World Bank -Oaxacan State project, MAS Oaxaca. MAS Oaxaca has several goals to support water reform, including financing for new water related infrastructure, enhancing the capacity of the state water utility and supporting a more participatory water policy and planning process. We had the chance to discuss this project with  a staff member from the Ministry of Finance who was working with the implementing state water agency, the CEA on MAS Oaxaca. Talking directly to someone from the government was very helpful in gaining a clearer idea about the project and how World Bank funds are channeled from the Federal Government to the State Government in ways that have significant influence over how the project is implemented on the ground.
Aside from the presentations and meetings at INSO, we had the chance to do some awesome field trips. We visited El Pedregal which is an agricultural sustainability demonstration and learning site. It features renewable energies,  worm composting, rain water harvesting, and many other diverse organic techniques. The site is an example of how an area of steep slope farming can be re-greened and returned to balanced productivity and self-sufficiency. We also had a river tour at San Agustin Etla, where we hiked for almost three hours (I felt I was going to die at some point) but I really enjoyed the  marco-invertebrate monitoring, which we used as a measurement for water quality at varying points of the river.
A visit to the archeological site called Mitla was one of my favourite field trips. On our way back we stopped at a famous Sunday market in the town of Tlacolula. One nice part of going to this market was the chance to see local people wearing their indigenous clothing in the streets, which is something that surprisingly was not common in  Oaxaca city. The market was very crowded and lively with a rich cultural heritage, many native languages were spoken and traditional handwork was sold all over the market. The people of Oaxaca were very loving and friendly, and although I did not speak any Spanish except "gracias" and "hola", I was able to communicate with them somehow.
In spite of the many economic and political challenges, Oaxaca is a very safe place and its people are  friendly and welcoming. By the end of our stay, I felt more like a Oaxacan than a tourist.
Dalia Najjar MS '18