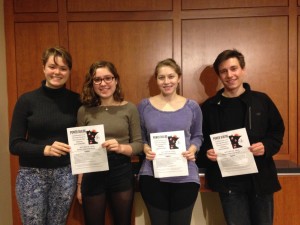 By Eban Goodstein
Becca Krasky is a first year student at Macalester College in Minnesota. If someday she has kids, they will be college-age around the year 2045. She will be in her late 40's. And by that year, we will know the future of the earth.
We will know if and how we met the needs of another two billion people on the planet—nine and a half billion total. And we will know more fundamentally, how hot it is going to get. Will global warming drive the planet another 2 degrees F hotter, or another 6 degrees hotter, within her lifetime?
The future depends on what we do—in our currently disunited States— soon. Along with China, the US is the world's biggest global warming polluter. Last December in Paris, for the first time the US and China both pledged to cut global warming pollution. In turn, the US commitment to reduce emissions by 30% by 2030 will depend in significant measure on what happens in Austin and Salem, Richmond and Harrisburg, and the remaining 46 state capitols.
Becca is helping students in Minnesota find out how to drive state action. She is working to organize a Power Dialog. On April 4, students from colleges and universities in the Minneapolis-St Paul area are meeting with state officials to learn what Minnesota is doing to promote clean energy and reduce global warming pollution.
Nationwide, Power Dialogs are scheduled for 20 states, from Alabama to Washington. And in spite of the recent Supreme Court decision putting a hold on new EPA power plant regulations, there is a lot going on. Over 20 states already have in place policies that will get then half way to the Clean Power Plan by 2030. More than 40 states have recently retired coal plants, and both red and blue states are seeing explosive growth in renewable power. In December, in a surprising bi-partisan move reflecting the growing economic clout of renewables, Congress extended tax credits for wind and solar for five years.
Coley Schiro, a student at Wake Forest University in North Carolina, is helping organize a "deliberative" Power Dialog. Small roundtables of student and community members will come together to hash out the state's energy issues. Coley said that based on her research, "North Carolina has relatively easy footprint fixes. There is a bi-partisan bill now in the legislature supporting third party solar installation, plus existing efficiency programs that could really cut into our carbon footprint and meet the EPA goals."
At the University of Arizona, Madeline Ryder and other students are travelling up to Phoenix for her state's Dialog. "Arizona's state government is absolutely behind the times," she said. "Given the current political climate, I really appreciate that ADEQ is willing to sit down with students and be part of an open conversation about our climate and energy future."
Nationally, the Power Dialog initiative is being organized by the Center for Environmental Policy at Bard College in New York. Xaver Kandler, a Bard sophomore, has been working on the national project for almost a year. "It is amazing to see students from all over the country engaging with top state officials," said Xaver "As young people, the fight for clean energy is part of a much bigger push to create a just and sustainable future. Especially as we move into the fall elections, the youth voice is just going to get louder."
Speaking for her Power Dialog group in Minnesota, Becca added: "We are the first generation to feel the impact of climate change and the last generation that can do something about it. We have realized the power is in our hands as students, and that we can and will make an impact".
Eban Goodstein is Director of the Bard Center for Environmental Policy. Click here to find a Power Dialog near you.