As part of the Bard Center for Environmental Policy's (CEP) Master's program, we students are required to do a 4 to 6-month internship at an organization related to environmental or climate science and policy. This internship gives us the opportunity to apply what we've learned in our first-year coursework and to get "real-life" experience. Given my interest in increasing energy efficiency, I decided accept the "Policy and Research" internship at the Alliance to Save Energy in Washington DC.
What does the Alliance do?
The Alliance to Save Energy is a nonprofit, bipartisan organization of businesses, environmental advocates, and government leaders all striving toward increased energy efficiency across the globe. Its DC location is ideal for the federal work it does in achieving this goal.
The mission statement of the Alliance is "Using less. Doing more." The Alliance focuses on using less energy to do the same amount or more of an activity. In other words, the Alliance tries to increase efficiency. Energy efficiency is increasing the output of activity without changing the input of energy, or decreasing the input to achieve the same output. For example, an energy efficient washing machine uses less water and energy than a regular washing machine but still cleans your clothes in the same amount of time and just as well.
By increasing energy efficiency, we can get more out of the energy we use. Because we are using less energy, we are decreasing the amount of CO2 emissions, which leads to a cleaner environment. We also have to import less energy, increasing national energy security.
To achieve this goal, the Alliance performs several actions:
It leads global energy efficiency initiatives, focusing on areas such as research, education, and policy advocacy, to affect the different economic sectors
It provides vision and contributes by having key players, such as active members of Congress and business leaders, take part in the Alliance's work
It initiates and partakes in strategic alliances that expand its area of influence
These actions are achieved through a team of energy efficiency experts and professionals–i.e. the extraordinary individuals I work with every day.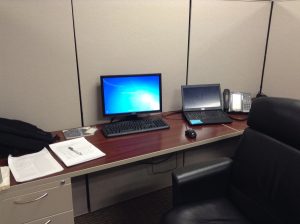 What are my responsibilities?
As the Policy and Research intern, I assist the Policy and Research team on various projects:
In addition, I perform ongoing research on the Alliance's recommendation tracker, as part of its work on Accelerate Energy Productivity 2030. The Accelerate roadmap describes policy recommendations for increasing energy efficiency at the federal, state, and local level. My job is to research which recommendations have been implemented.
Skills I've used from Bard CEP
My first-year coursework has already helped me in my first month. I've written two blogs for my internship, so the blog work I did in my Communications class has assisted me very nicely. I know I'll write more blog posts in the future because the Alliance has its own blog that is updated almost weekly.
The research and synthesis I did for my literature review has helped when I have to research and summarize different topics I don't know much about. In addition, since I wrote my literature review on barriers to energy efficiency in households, I came to the internship with background knowledge on energy efficiency and ways to increase energy efficient appliances in the residential sector.
Some of my work in Economics also relates to my internship. We had a couple of classes on energy and rate design and the history behind how electricity is transmitted and generated and ways of decreasing stress put on the grid. These classes gave me a foundation for understanding the rate design work my supervisor is doing.
What I hope to gain from this experience
I think the most valuable aspect of this internship for me is getting to be in Washington, DC, and do hands-on work with policies and policymakers. I'm already gaining experience working with bills and interacting with members of Congress. By the end of my internship, I hope to have a better understanding of how to influence political change to benefit the environment.