NYC Department of Sanitation (DSNY)
My internship is with DSNY, in the Office of the Commissioner, and my position is largely focused around one event in particular, the NYC Food Waste Fair.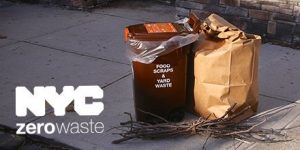 Under NYC's Zero Waste Initiative to contribute zero waste to landfills by 2030, the city has been steadily rolling out its organics collection program over the last year. The program allows DSNY to collect food scraps, yard waste and food soiled paper from residents in participating communities and turn it into compost or renewable energy. Participation in the residential organics program is voluntary at this time; however, that is not the case for businesses.
NYC Food Waste Fair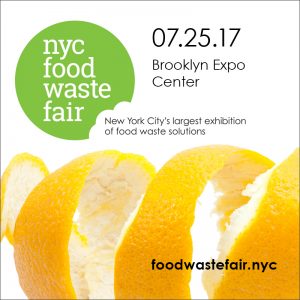 Since July 19, 2016, businesses that fall into certain categories have been required by law to separate their organic waste. These businesses include hotels with 150 rooms or more, food service vendors in arenas and stadiums that seat 15,000 people or more, food manufacturers with 25,000 or more square feet of floor space, and food wholesalers with 20,000 or more square feet of floor space.
Over time, more and more businesses will be covered under the NYC Commercial Organics Law, as capacity for organics collection and processing expands. The Food Waste Fair was developed to provide businesses with the connections, tools and knowledge to create a food waste prevention plan in preparation for their inclusion under the law. The Fair will showcase over 70 exhibitors, 18 workshops, and 4 panels geared toward prevention, recovery, and recycling solutions for food waste.
My role has been Event Coordinator for the Fair. This has included everything from extensive outreach and communication with exhibitors, speakers, sponsors and attendees; creation of marketing materials and outreach campaign strategies; workshop and panel development; event staffing; location scouting, site visits, run of show preparations, etc.
Amuse-Bouche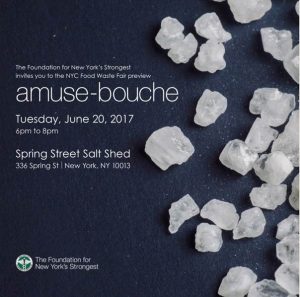 In anticipation of the big event, DSNY held a "recycled food" tasting, Amuse-Bouche, at the Spring Street Salt Shed to garner press and get people excited about the Fair. Amuse-Bouche, which is French for "amuse the mouth," featured food and drink samples that were once thought to be waste but instead were recycled into new culinary creations. The event was a huge success and really helped to get the word out about the Fair. When I began this internship on June 5th, we had around 50 registered attendees. We now have over 1000!
I cannot wait to see how the Food Waste Fair turns out (I know it will be amazing!) and all the great relationships and partnerships that are established. I have only been at this internship for about a month and a half but I have already learned more than I could have ever imagined. See you at the Fair!