Did you know that Woodrow Wilson is the only president to hold a PhD?
I didn't either, until I began my internship as a Research Assistant at the Woodrow Wilson International Center for Scholars in Washington, D.C. 
Little did I know that our nation's 28th president was more than just a politician. He was a scholar, writer, and dedicated leader to peace through politics.
In honor of his leadership and commitment to scholarship, Congress erected the Wilson Center as the official living memorial to him and his legacy. The Center embodies his ideals by tackling global policy issues through nonpartisan, independent research and open dialogue.  The scholars and experts who work here minimize the gap between academia and public policy through the development of solutions to relevant world issues.
This past year, I conducted a literature review on the relationship between climate variability and the emergence of social conflict. I wanted an internship that would allow me to take my interests and create something powerful. So when the opportunity arose to continue this research and further develop my understanding during my required internship for Bard's Center for Environmental Policy, I could not have been more excited.
At Wilson, I have the incredible opportunity of working directly with one of the Center's distinguished scholars on climate change and national security issues.
So, who am I working for?
Meet Sherri Goodman
Sherri Goodman is currently a Senior Fellow at the Wilson Center. At Wilson, she is affiliated with the Environmental Change and Security Program, Global Women's Leadership Initiative, and the Polar Initiative. Alongside her work at Wilson, she is also a member of the Center for Climate and Security's Advisory Board and a Senior Advisor for International Security.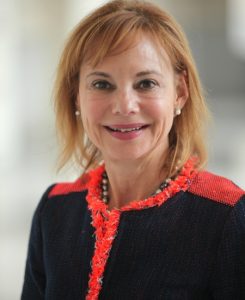 Before her time at Wilson, Goodman was CEO and President of the Consortium for Ocean Leadership, and Senior Vice President, General Counsel and Corporate Secretary of CNA. She was the Executive Director of CNA's Military Advisory Board, which she founded in 2006, and led numerous projects pertaining to climate change and national security.
Goodman also served as the first Deputy Undersecretary of Defense (Environmental Security), in which she was responsible for global environmental, energy efficiency, safety and occupational health programs and policies of the Department of Defense.
You can see Sherri Goodman in the recent film, The Age of Consequences. Or, if you would like to get to know her history and impact on the climate-security nexus better, please read her Buzzfeed article.
Sherri Goodman has extensive experience in the climate-security field, and she serves as a role model and leader whom I am immensely proud to learn from.
My Own Fourteen Points at Wilson
For the past month, I have been networking, writing, researching, attending events, and learning from D.C.'s best and brightest.
My work at the Wilson Center is very independent and self-motivated. I am assigned various tasks, such as summarizing hearings, taking meeting notes, and writing blogs. Most of all, I research aspects of the climate-security field, read what I find, and then research some more.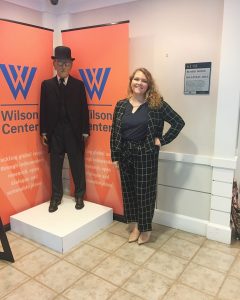 The main project I am working with Sherri Goodman on is coordinating a workshop that will bring together key actors in the climate change and national security field. The workshop will focus on creating a comprehensive identification of pathways for water-scarce and/or climatically vulnerable global areas on preventative measures that can be taken to reduce risks involved with the future implications of climate change.
The idea for the workshop follows the National Intelligence Council Report, which indicates six pathways by which climate change will pose national security challenges for the United States and other countries over the next 20 years.
There is a great deal of preparation in store for the workshop. Luckily, I am constantly using my first-year coursework to present valuable work. Whether it is critically analyzing literature, creating assertion-evidence based slides for presentations, or writing reports in a policy-brief format.
The skills I developed during my first year at Bard CEP have served me well so far, and will only continue to serve me well into the future.
The people of the Wilson Center are focused, dedicated, and inspiring. I am beyond happy to be in such a positive work environment and I look forward to gaining wisdom from everyone here at the Wilson Center.
If you would like to know more about the topics I will be working on this Fall, here are a few of Sherri Goodman's projects and publications: