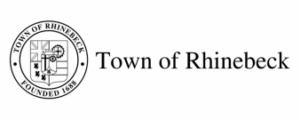 If I learned anything in my first year as a Bard CEP environmental policy graduate student, it's that tackling climate change is now a subnational affair. And in my internship this summer and fall—fulfilling the practicum aspect of the CEP program—that's becoming even more clear. 
From June to December, I'll be interning with Rhinebeck's joint town-village environmental committee in order to analyze the successes and potential for the growth of some of its key environmental policy measures from the last ten years. Located just south of Bard's Annandale home base, the internship with Rhinebeck has presented a great opportunity for me to further embed myself in the environmental politics of a region where I grew up and intend to settle.
(The joint environmental committee represents both Rhinebeck's concentrated downtown village and its rural town, which also includes the riverside hamlet of Rhinecliff. Got it? Good, because there will be a quiz.)
The Town of Rhinebeck—the town where I attended high school—published an expansive Comprehensive Plan in 2009. The plan outlined the civic, environmental, and climate issues the town wanted to tackle to increase its sustainability while preserving its quaint, rural small-town character. 
It's an immense document with hundreds of wide-reaching policy goals. But its completion was such an accomplishment in and of itself that since its publication in 2009, there has been very little tracking of any actions taken to make those goals a reality. 
That's where my work comes in. My internship involves combing through the comprehensive plan and its aspirations to figure out which goals were accomplished and which fell by the wayside over the last decade or so. In addition, I'm on the hunt for what else the Town and Village should aim to implement in terms of environmental policy based on new thinking from our Hudson Valley neighbors to progressive cities around the globe.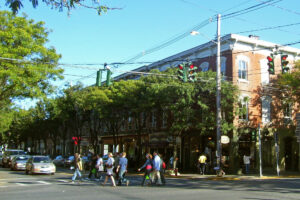 The work I'm conducting seemed to be very small-scale initially. But in the midst of a federal environmental leadership crisis, it's become abundantly clear that rigorous work on the part of small communities like Rhinebeck can have a huge cumulative impact.
Intermunicipal and state agreements are a huge part of Rhinebeck's work: Rhinebeck is a member of the Hudson 7, a consortium of communities who draw—and seek to protect—their drinking water from the Hudson River. Rhinebeck's village is a bronze-rated Climate-Smart Community through the certification program administered through NYSERDA, the state's energy R&D agency. Small towns like Rhinebeck are fast finding innovative ways to amplify their impact. 
Naturally, the novel coronavirus has influenced my work as well—beyond the fact that, like most of my cohort, I'm working from home. During my internship, I'm trying to keep abreast of how COVID-19 is affecting small-town environmental policymaking and community dynamics. 
And while the pandemic has generally been a thorn in the side of environmental planners so far—the New York State Department of Budget put a freeze on discretionary local aid grants until 2021—it's also opened up some windows of opportunity for implementing progressive policies. 
"The vulnerabilities that have been exposed in our community from COVID are the same ones that would be exposed time and again in a climate-disrupted world," reported Kale Roberts in an interview with my internship advisor and me. Kale is a Bard CEP alumnus and a senior program officer for ICLEI, a prominent local government sustainability network.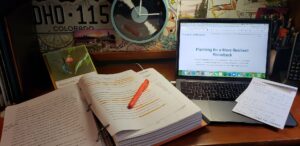 "Right now," Kale said, "it's just all about hammering home the point that sustainability and climate action cannot stop."
The first deliverable I crafted was a literature review of how small-town climate planning has developed over the last ten years, covering topics from electric vehicles to green infrastructure. Crafting a literature review is one of the tentpole projects in every Bard CEP student's first-year coursework, although I had no idea I'd be making use of that writing skill so quickly. 
My next big task is collecting any studies, maps, analyses, or other materials that could form the baseline for a natural resources inventory (NRI) for the town. An NRI is a valuable tool for guiding housing and business development in a way that takes valuable habitats and biodiversity into account, all while planning for a more sustainable future. 
As 2020 rages on, I look forward to diving even deeper into my work with Rhinebeck and learning from committed professionals in the field of local environmental policymaking. In a town whose community dynamics I was convinced I knew backward and forwards, there's been an incredible amount to learn—and there's lots more to come before the year is over.