You've probably heard that climate change causes the oceans to rise. And maybe you've heard the follow-up statistic, which is that shorelines are rising 1 inch every 7-8 years.
To most people this doesn't seem like much, but this seemingly small figure translates to thousands of miles of coastlines being newly classified as flood zones. More importantly, it means that thousands of people who live on these shorelines are vulnerable—not only to flooding but to severe weather events that will increase in frequency as a consequence of climate change.
Just how big of an issue is it? 
Miami, Florida
Coastal flood risks and their associated flood zones will increase significantly as sea levels continue to rise. Miami-Dade County is on low-lying land and will feel the inevitable effect of sea level rise. It is one of the largest risk areas in the United States.
According to statistics from the Surging Seas mapping tool hosted by Climate Central, Miami is due for a 3-foot high flood by 2050. And Yale360 estimates that by 2100, Florida will experience sea levels up 6 feet from present-day levels, which would displace 800,000 residents of Miami-Dade County.
The following maps of Miami generated with Climate Central's mapping tool show illustrate the effects of a 3- and 6-foot sea level rise: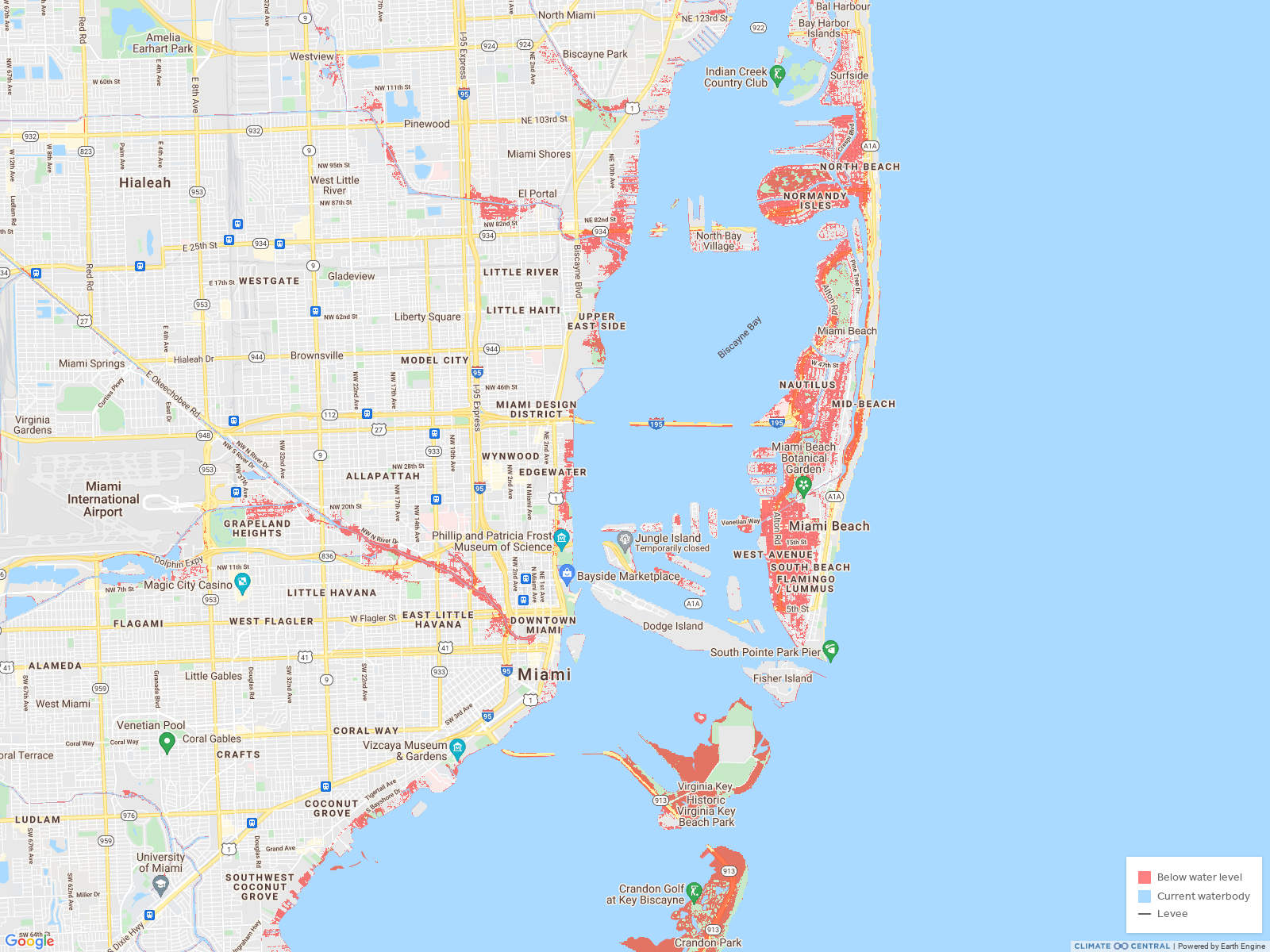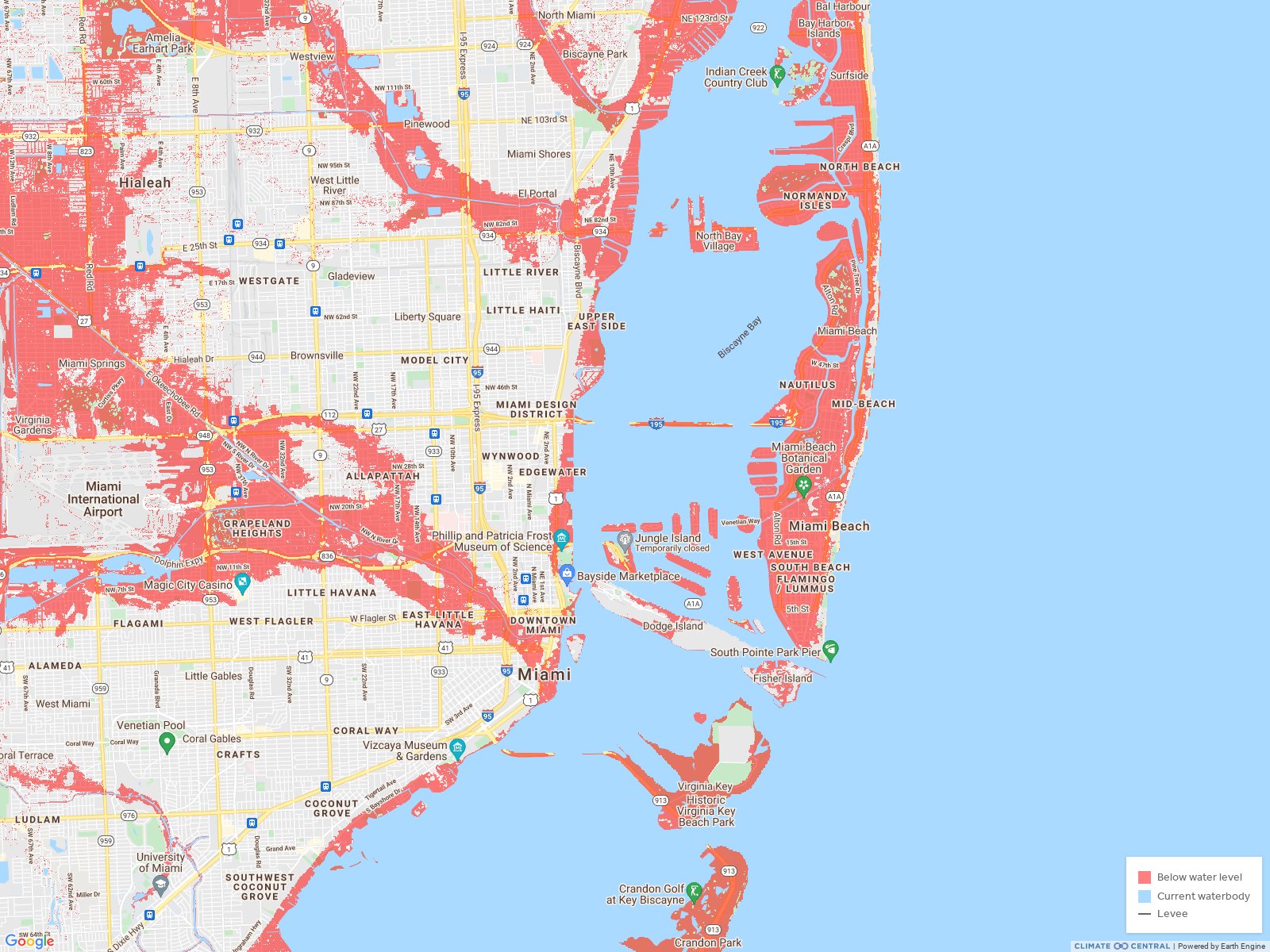 New York City—a coastal case a little closer to home
New York City has 578 miles of shoreline, which are home to 1.4 million residents. Hurricane Sandy tore through the City in 2012, leaving behind a trail of destruction. Forty-four New Yorkers died from the immediate event and roughly 300 homes were destroyed.
The storm caused approximately $19 billion in damages as well as lost economic activity across the City.  Moreover, according to a 2016 study, during the recovery efforts, non-white individuals had less access to resources and aid.
According to the NYC Department of Planning, "currently, 1.3 million New York City residents live within or directly adjacent to the floodplain. By 2100, this number could rise to 2.2 million."  Upwards of half of this floodplain or floodplain-adjacent population is considered low income.  More details can be found via the NYC Department of Planning's report, linked above.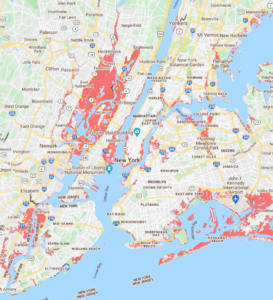 What's being done about climate change-caused flooding? And what are future solutions?
Discussions and action around resilience post-Hurricane Sandy and other storms have primarily centered around "building back better;" however, the reactive approach that's been taken thus far isn't exactly functional as it costs inland taxpayers huge amounts of money.  Moreover, "repetitive loss properties" have collectively cost $12.1 billion in federal flood insurance payouts.
In response, a growing number of experts agree that it's necessary to integrate coastal retreat or strategic migration into coastal resilience plans.
A managed coastal retreat would move residents away from floodplains through home buy-out programs.
After Hurricane Sandy, for example, property buyout and coastal retreat picked up steam in some Staten Island communities and was successfully implemented. This program was funded federally though the Department of Housing and Urban Development's Hazard Mitigation Grant Program.
Perhaps something akin to Staten Island's buy-out program could be implemented in other areas at risk before another big storm hits. Proactively timing such a program would save money and effort, and more importantly, protect people's lives and prevent human trauma.
With infrastructure development on the national agenda and NYC's reputation as a leader in climate action, there is strong political will for progressive policies to comprehensively manage coastal resilience.
What are the challenges to managed coastal retreat?
Coastal retreat can be a challenge to implement because there are so many moving parts. Strong relationships between communities and government are therefore essential.
Further, environmental justice needs to be central to an equitable coastal retreat plan. Homes need to be bought out at fair prices (pre-storm values) and residents need to be feel that they are being treated fairly. Census data, particularly the Social Vulnerability Index as well as the environmental justice mapping tool hosted by the Environmental Protection Agency can be used as guides to identify priority populations and neighborhoods. 
Additionally, residents who are being relocated need somewhere to go where they can easily transition. Finding communities that can accommodate these displaced people can be challenging but is not impossible. A more involved plan could include relocation services such as job placement and housing assistance. 
What next?
Climate change effects like sea level rise and coastal resilience can be daunting to tackle, but the first step in solving these issues is to simply become aware of their scope—which you've already done by reading this post!
When it comes to flooding, many homeowners are unaware of the hazards or simply don't know that they live in a floodplain. Here are some additional actions you can take to stay aware and engaged:
Be aware: Find out the flood risk of your property.
Be educated: Learn about your town's climate resiliency plan. 
Be involved: Find out what local organizations or leaders are working on climate or coastal resiliency to see how you can participate. 
Be a voice: If you don't live in or near a floodplain, you can spread awareness of the risks to people that you know who might.