By Erika Nelson
More than 3,000 people from 115 institutions participated in the National Conversation on Democracy and Climate last week, which was organized at Bard and available virtually to organizations across the country. Hosted by C2C Fellows on Wednesday, April 17, the event featured a coordinated nationwide screening of the filmThe Island President, followed by an interactive expert panel. Bard students and community members gathered in Olin Auditorium while remote participants—mostly from colleges and universities—screened the film on their campuses and watched the panel that followed live via Google Chat. Remote viewers sent questions for the panelists via text message, Twitter, and Facebook. The panel comprised 350.org executive director and cofounder May Boeve; former UN deputy permanent representative to the Maldives and Voice of Women cofounder Thilmeeza Hussain; and the film's director Jon Shenk. Eban Goodstein, director of Bard's Center for Environmental Policy and the new Bard MBA in Sustainability program, moderated the panel. Shenk participated via Google Chat while the other panelists came together in Olin.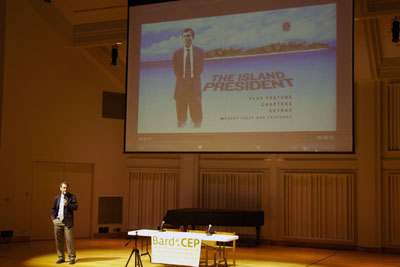 The Island President focuses on the intersection of politics and climate change in the island nation of the Maldives in the Indian Ocean. After 30 years of single-party rule by President Maumoon Abd al-Gayoom, during which human rights abuses were reported and multiple coup attempts took place, the country elected Mohamed Nasheed to the presidency in 2008. As a key plank in his platform, Nasheed took up the issue of climate change and its impact on the Maldives. The country is made up of more than 1,200 islands whose inhabitants are already struggling against rising sea levels, and project the eventual submergence and evacuation of their home if decisive global action is not taken to slow rising global temperatures. The film follows Nasheed's efforts leading up to and during the 2009 United Nations Climate Change Conference in Copenhagen, Denmark, where he worked to achieve a fossil fuel emissions agreement to help protect his country from rising sea levels.
Thilmeeza Hussain, Voice of Women
Since the film was completed, Nasheed has lost power in the Maldives amid political turmoil. He has said that he was forced to resign. "Our democratically elected government was overthrown by a coup in February 2012," said Hussain in an interview before the panel, "so we are again fighting to restore democracy. … We cannot fight on the issue of climate change without having a democracy."
C2C Fellows is a program of the Bard Center for Environmental Policy that aims to engage college students and recent graduates in environmental advocacy, particularly in the realms of government and business. C2C Fellows organized this event in order to educate students on the issues facing the Maldives and galvanize them to get involved. Boeve commented before the panel, "[W]hen you're in a small college in a beautiful place sometimes it's hard to imagine the world around you. I think a film like this really globalizes everyone's perspective on an issue like climate change. For students at Bard there are certainly sustainability efforts on campus [in which they can get involved]."
May Boeve, 350.org
The panelists agreed that government corruption is one of the greatest obstacles to effective climate change legislation. "[D]emocracy has been eroded in the Maldives," said Boeve, "and in many ways our inability to tackle the climate change issue in the United States is also a problem of democracy, in that the fossil fuel industry has had such an outsize influence on the politics of this issue that we can't have a democratic discussion about the issue." Hussain urged participants to vote and write to their elected officials about climate change and U.S. foreign policy in the Maldives. Eban Goodstein called global warming "the defining issue of our generation." Jon Shenk commented, "I don't think the Nasheeds of the world get enough credit," referring to the many activists and politicians working to combat climate change globally.
When asked what she thought of the evening's format, which Goodstein had termed a "virtual flash mob," Boeve said, "I think it's fantastic. There are different forms of action that are required in any movement. … This is one of those times to really learn and take a step back and understand what's at stake. … [The C2C Fellows] program has found a way to bring some scale to that by inviting any campus to participate. It's a great example of, 'if you have a good idea you might as well share it with everybody else.'"
Visit the C2C website for information about upcoming events and join the conversation on Twitter@Campus2Congress. Post written by Bard Public Relations.