The Bard Institute for Writing and Thinking Goes On the Road
For the first time in its 30-year history, the Bard Institute for Writing and Thinking will offer a series of text-centered workshops for teachers at locations in Illinois and California. IWT On the Road will visit the Francis W. Parker School in Chicago, Illinois, on Friday, January 26; the College Preparatory School in Oakland, California, on Friday, March 16; and Santa Clara University in Santa Clara, California, on Saturday, March 17, 2018. To register, and for more information, go to
writingandthinking.org
.
"Historically, IWT's one-day workshops on the Bard College campus in Annandale have been our most popular," says newly appointed IWT director Erica Kaufman. "This year, we are building on that success by offering workshops in areas where we already have communities of teachers who regularly attend our weeklong workshops in July—taking this intensive one-day experience on the road and increasing access for teachers who are not able to travel to Annandale in the midst of the school year."
At Chicago's Francis Parker School, IWT will offer three individual Writer as Reader workshops to include sessions on novels, poetry, nonfiction, STEM texts, philosophy, and other media. Workshops highlight writing-to-read strategies that foster close reading; invite connections to the text's cultural, social, ethical, and creative contexts; and help readers develop an appreciation for the connections between interdisciplinary texts. Writer as Reader workshops emphasize the pedagogical value of teaching texts that are unfamiliar to students, prompting them to read closely, critically, and with an open mind. "Every single practice will help facilitate student and teacher thinking," commented a recent participant, a ninth-grade English teacher. "I love the variety and the deliberate nature of these strategies that are keys to unlocking understanding and to extend exploration and thought."
These "on-site" workshops are not intended to be scholarly seminars, although they do offer opportunities for critical reading and discussion of the works presented. Instead, they model writing and reading activities that can focus class discussion, help students engage with difficult material, and emphasize the social character of all learning.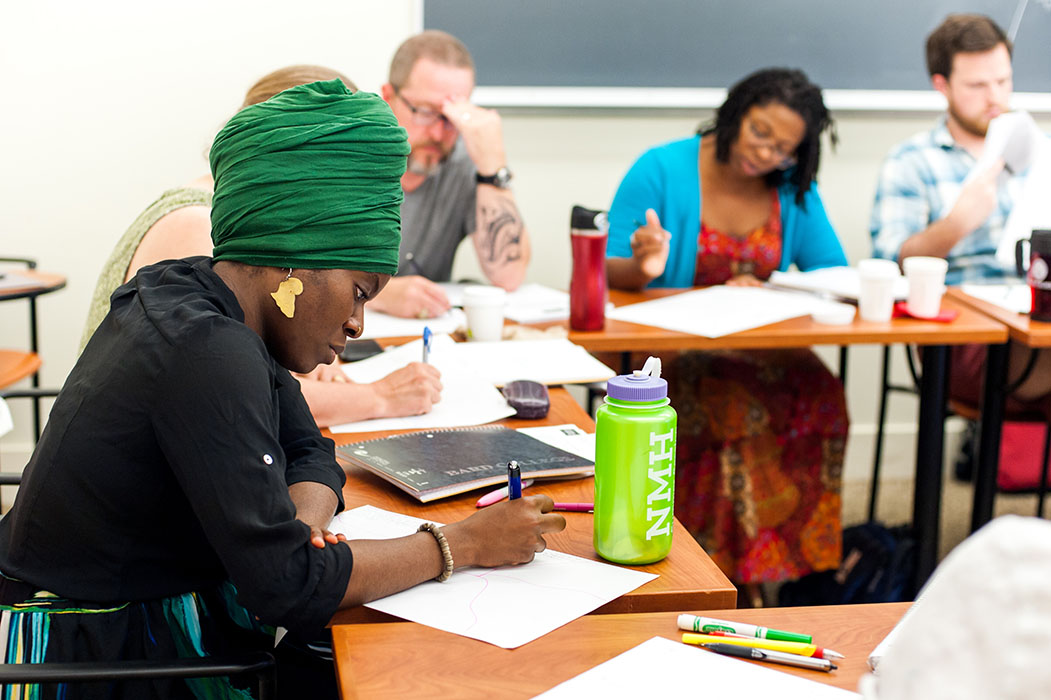 At Chicago's Francis Parker School, workshops will focus on texts by J. D. Salinger, Loren Eiseley, Claudia Rankine, and Neil Gaiman, among others. (For full workshop descriptions and registration, visit
writingandthinking.org/ontheroad/chicago
.)
IWT will be in residence at the College Preparatory School in Oakland, California, on March 16 and at Santa Clara University on March 17. It will offer the Institute's core workshops, which provide practical guidance in the kinds of innovative teaching strategies that can make writing a central classroom practice in a variety of disciplines. These workshops provide hands-on experiential practices that support and emphasize critical thinking, writing, inquiry, and discourse. Their unifying goal is to deepen student learning.
At the College Preparatory School, IWT On the Road will offer three core workshops: Writing and Thinking; Writing to Learn; and Thinking Historically through Writing: Case Studies in American History. At Santa Clara University, four core workshops will be offered: Writing and Thinking; Writing to Learn; Writing to Learn in the Stem Disciplines; and Thinking Historically through Writing: Case Studies in American History.
The Institute for Writing and Thinking seeks to enrich student education in all disciplines through challenging, engaging, and effective teacher development programs that focus on the role of writing in teaching and learning in all disciplines. IWT promotes pedagogical innovations that, in the words of former director Teresa Vilardi, "emphasize the need for teachers to develop a practice for writing-based teaching, not simply a collection of strategies." IWT's Writing to Learn practices are rooted in the Bard Language and Thinking Program's emphasis on collaboration, active learning, experimentation, playfulness, and inquiry across the disciplines. Both domestically and internationally, IWT works with faculty, teachers, and students to use classroom writing to deepen learning across all subject areas.
Workshop registration is limited to 15 teachers per workshop. To register, visit
writingandthinking.org
.
Post Date:
01-23-2018