Bard College Names Valerie Barr the Margaret Hamilton Distinguished Professor of Computer Science and Director of the Bard Network Computing Initiative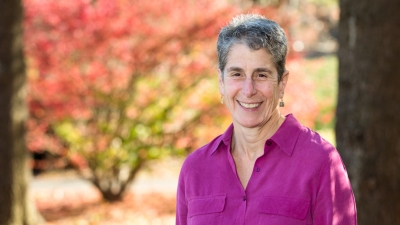 Bard College is pleased to announce the appointment of groundbreaking computer scientist Valerie Barr as the Margaret Hamilton Distinguished Professor of Computer Science in the Division of Science, Mathematics, and Computing, and Director of the Bard Network Computing Initiative. She begins in fall of 2022.
"Professor Barr is a national leader in efforts to broaden participation in computing even as she champions innovative approaches to connecting computer science with a wide array of intellectual disciplines," said Vice President and Dean of the College Deirdre d'Albertis. "Over the course of her career she has demonstrated tremendous creativity as an institution builder. Valerie Barr's appointment will strengthen Bard's commitment to the study of computing within the liberal arts and amplify these efforts throughout the Bard network."
"I am deeply honored to be offered the Margaret Hamilton Professorship, which recognizes the numerous contributions Hamilton made to the practice and processes of large-scale software development," said Barr. "I am also excited to join the Bard faculty. I have watched the growth of the Bard Network for many years, and am pleased to become part of this innovative and exciting institution," she said. "A key question I hope to explore is what do all students, not just computer science students, need to know about computing in order to actively critique and challenge the current pace and impact of technological change? My many conversations with Bard faculty convinced me that Bard, with its rich array of interdisciplinary programs, many of which reach across the Bard Network, will provide a wonderful arena in which to explore this question."
Valerie Barr
comes to Bard from Mount Holyoke College, where she is currently the Jean E. Sammet Prof. of Computer Science. She recently completed four years as chair of Mount Holyoke's Computer Science department, and is also cochair of the Data Science program.
In addition to teaching, Barr has distinguished herself in curriculum development and computing education, leading directly to the creation of interdisciplinary programs with a goal of changing the demographics of computer science. Her research projects have been funded repeatedly and extensively over the past two decades by the National Science Foundation. She is past-chair of the Association for Computing Machinery Council on Women in Computing, and has served as a program officer for the National Science Foundation. She is a member of the Liberal Arts Computer Science Consortium.
Barr's research interests include computer science education, particularly new curricula that will engage diverse groups of students in the liberal arts setting; working collaboratively with colleagues in other disciplines to apply computing to problems in their fields; reanalyzing degree attainment data to better identify and understand long standing trends in the areas of gender, race, and ethnicity; and in software testing, particularly as applied to various kinds of artificial intelligence and language processing systems.
Prior to Mount Holyoke College, Barr was on the faculty of Union College, where she served as Director of Interdisciplinary Programs, and Hofstra University. She has also taught at Pratt Institute and Rutgers. She received her master's degree from New York University and Ph.D. from Rutgers.
The Margaret Hamilton Distinguished Professorship of Computer Science
was established by Bard College President Leon Botstein in honor of trailblazing computer scientist Margaret Hamilton, who led the NASA software team for the Apollo program's first moon landing. Hamilton is an honorary degree recipient of Bard, as well as a parent and grandparent of Bard alumni/ae.
Post Date:
10-01-2021