Bard College Professors Souleymane Badolo and Kite Each Receive 2023 Creative Capital "Wild Futures: Art, Culture, Impact" Awards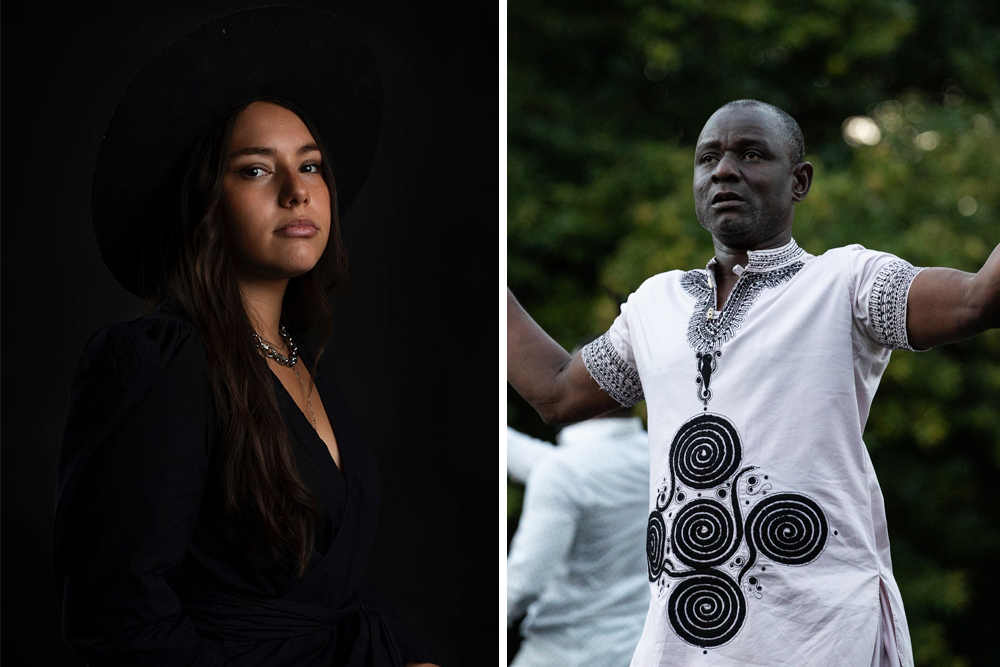 ANNANDALE-ON-HUDSON, N.Y.—Bard College Assistant Professor of Dance Souleymane Badolo and MFA alum in Music/Sound and American and Indigenous Studies Program faculty member Kite (aka Suzanne Kite MFA '18) have won 2023 Creative Capital "Wild Futures: Art, Culture, Impact" Awards, which will fund the creation of experimental, risk-taking projects that push boundaries formally and thematically, venturing into wild, out-there, never-before-seen concepts, and future universes real or imagined.
Creative Capital awarded 50 groundbreaking projects—comprising 66 individual artists—focused on Technology, Performing Arts, and Literature, as well as Multidisciplinary and Socially Engaged forms. Souleymane Badolo (with Jacob Bamogo) won an award in Dance. Kite won an award in Technology. Awardees will receive varying amounts up to $50,000 in direct funding to help finance their projects and build thriving artistic careers. The award provides a range of grant services from industry connections and financial planning to peer mentorship and community-building opportunities. Grant funding is unrestricted and may be used for any purpose to advance the project, including, but not limited to, studio space, housing, groceries, staffing, childcare, equipment, computers, and travel. The combined value of the 2023 Creative Capital Awards totals more than $2.5 million in artist support.
"The 2023 Creative Capital cohort reaffirms the unpredictable and radical range of ideas alive in the arts today—from artists working in Burkina Faso to Cambodia and across the United States. We continue to see our democratic, open-call grantmaking process catalyze visionary projects that will influence our communities, our culture, and our environment," said Christine Kuan, Creative Capital President Executive Director.
The Creative Capital grant is administered through a national open call, a democratic process involving external review of thousands of applications by international industry experts, arts administrators, curators, scholars, and artists. The 2023 grantee cohort comprises 75% BIPOC artists, representing Asian, Black or African American, Latinx, Native American or Alaskan Native, Native Hawaiian or Pacific Islander, and Middle Eastern-identified artists; 10% of artists identify as having a disability; and 59% of artists identify as women, gender nonconforming, or nonbinary. The cohort includes emerging, mid-career, and established artists between the ages of 25 and 69. The artists are affiliated with all regions of the United States and its territories, as well as artists based in Cambodia, Burkina Faso, Germany, and Japan.
Kite also won a 2023 United States Artists Fellowship
in Media. The award honors her creative accomplishments and supports her ongoing artistic and professional development. Kite is one of 45 USA Fellows across 10 creative disciplines who will receive unrestricted $50,000 cash awards. USA Fellowships are awarded to artists at all stages of their careers and from all areas of the country through a rigorous nomination and panel selection process. Fellowships are awarded in the following disciplines: Architecture & Design, Craft, Dance, Film, Media, Music, Theater & Performance, Traditional Arts, Visual Art, and Writing. Learn more about USA Fellowships
here
.
Souleymane 'Solo' Badolo
is a Brooklyn-based dancer, choreographer, and founder of the Burkina Faso–based troupe Kongo Ba Téria, which fuses traditional African dance with Western contemporary dance. A native of Ouagadougou, Burkina Faso, Badolo began his professional career with the African dance company DAMA. He has also performed with Salia nï Seydou and the National Ballet of Burkina Faso, and worked with French choreographers Elsa Wolliaston and Mathilde Monnier. Badolo and Kongo Ba Téria are featured in the documentary
Movement (R)evolution Africa
. He appeared in the 2015 BAM Next Wave Festival; has created solo projects for Danspace, New York Live Arts, Dance New Amsterdam, Harlem Stage, the 92nd Street Y, and New York's River to River Festival; and was commissioned to create a dance for Philadanco as part of
James Brown: Get on the Good Foot
, which was produced by the Apollo Theater and toured nationally and internationally. He was nominated for a Bessie Award in 2011 as outstanding emerging choreographer, received the Juried Bessie Award in 2012, and a 2016 Bessie for Outstanding Production for his piece
Yimbégré
, which "gloriously communicated the clash and reconciliation of the different traditions held within one's life, one's body." The Suitcase Fund of New York Live Arts has supported Badolo's ongoing research in Africa. He graduated with an MFA from Bennington in June 2013. He has been on the Bard College faculty since 2017 and previously taught at the New School, Denison University, and Bennington College.
Kite aka Suzanne Kite
is an Oglála Lakȟóta performance artist, visual artist, and composer raised in Southern California, with a BFA from CalArts in music composition, an MFA from Bard College's Milton Avery Graduate School, and is a PhD candidate at Concordia University for the forthcoming dissertation, sound and video work, and interactive installation Hél čhaŋkú kiŋ ȟpáye (There lies the road). Kite's scholarship and practice explores contemporary Lakota ontology through research-creation, computational media, and performance. Kite often works in collaboration, especially with family and community members. Her art practice includes developing Machine Learning and compositional systems for body interface movement performances, interactive and static sculpture, immersive video and sound installations, poetry and experimental lectures, experimental video, as well as co-running the experimental electronic imprint, Unheard Records. Her work has been featured in various publications, including the
American Indian Culture and Research Journal
, the
Journal of Design and Science
(MIT Press), with the award-winning article, "Making Kin with Machines", and the sculpture Ínyan Iyé (Telling Rock) (2019) was featured on the cover of
Canadian Art
.
#
About Creative Capital
Founded in 1999, Creative Capital is a nonprofit organization with the mission to fund artists in the creation of groundbreaking new work, to amplify the impact of their work, and to foster sustainable artistic careers. Creative Capital pioneered a transformative grantmaking model that marries direct funding to individual artists with infrastructure and scaffolding support through professional development services, advisory services, community-building, and mentorship. The Creative Capital philanthropic model has impacted not just artists, but the arts ecosystem as a whole—inspiring countless other nonprofits to invest in the long-term, sustainable careers of artists. To date, Creative Capital has awarded millions to 901 artists to create adventurous, ambitious projects to advance artistic freedom of expression. Our awardees are internationally renowned presenting at the Venice Biennale, Whitney Biennial, Sundance Film Festival, Tribeca Film Festival, Broadway, and beyond. Grantees have also received prestigious honors and other accolades, including: 138 Guggenheim Fellowships, 19 MacArthur "Genius" Fellowships, and 3 Academy Awards and 14 nominations. For more information, visit
creative-capital.org
About Bard College
Founded in 1860, Bard College is a four-year, residential college of the liberal arts and sciences located 90 miles north of New York City. With the addition of the Montgomery Place estate, Bard's campus consists of nearly 1,000 parklike acres in the Hudson River Valley. It offers bachelor of arts, bachelor of science, and bachelor of music degrees, with majors in more than 40 academic programs; graduate degrees in 13 programs; eight early colleges; and numerous dual-degree programs nationally and internationally. Building on its 123-year history as a competitive and innovative undergraduate institution, Bard College has expanded its mission as a private institution acting in the public interest across the country and around the world to meet broader student needs and increase access to liberal arts education. The undergraduate program at our main campus in upstate New York has a reputation for scholarly excellence, a focus on the arts, and civic engagement. Bard is committed to enriching culture, public life, and democratic discourse by training tomorrow's thought leaders. For more information about Bard College, visit
bard.edu
.
###
Post Date:
01-31-2023