Bard College Student Ava Mazzye '20 Receives the Andrew Goodman Foundation Hidden Heroes Award for Commitment to Protecting and Expanding Democracy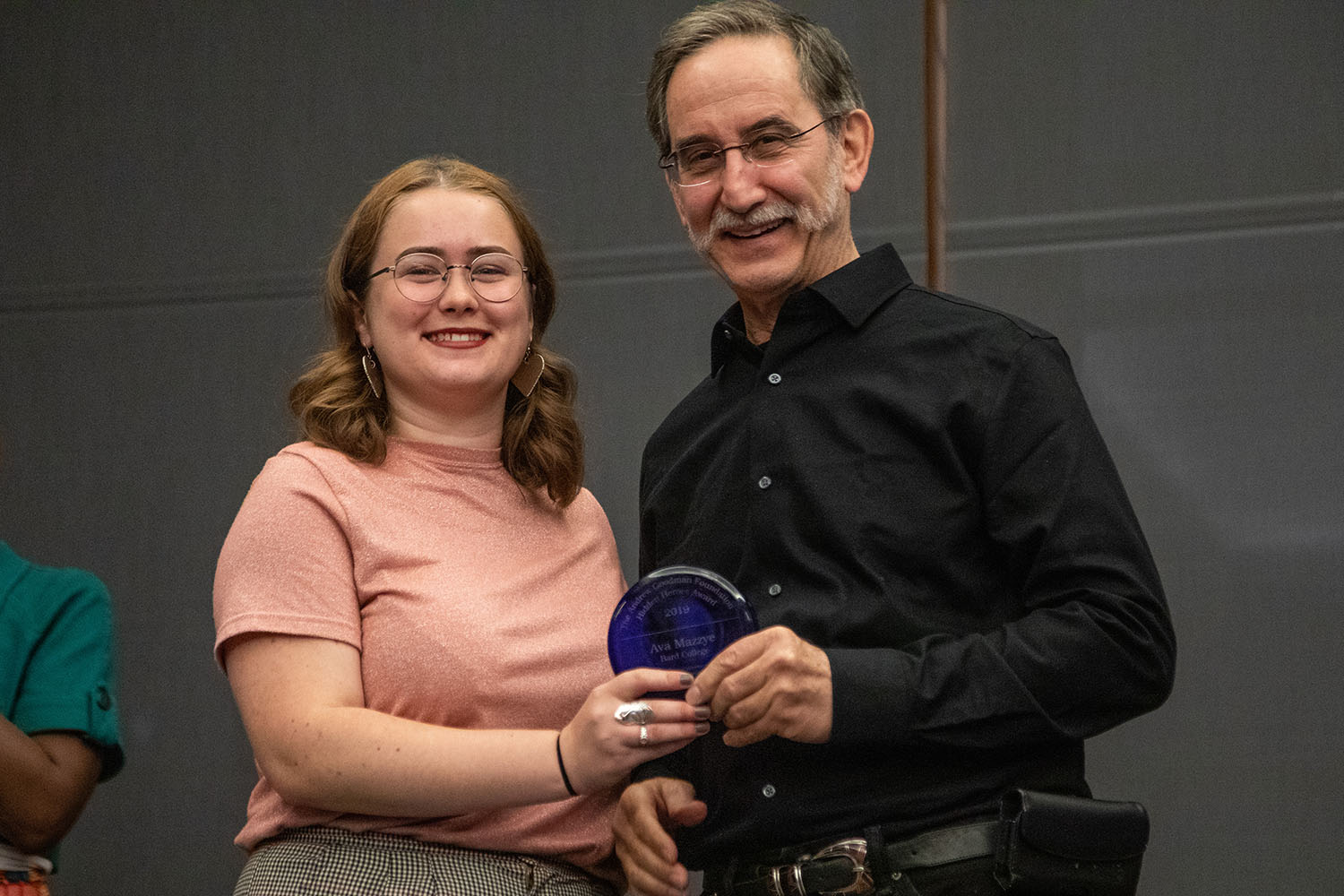 On Saturday, June 22, The Andrew Goodman Foundation awarded five young campus leaders from around the country for their dedication to ensuring their fellow college students have access to polling places and voter registration services. Bard College student Ava Mazzye '20 was recognized for her work as part of a team in the fall 2018 semester that registered over 400 students to vote, hosted 26 events, and engaged over 550 people on Election Day with shuttles, educational materials, and a results return watch party. Mazzye also helped to inform her community around polling place accessibility issues, continued dialogues about a polling place relocation effort, and advocated in the community on behalf of legislation that aims to require polling places on campus in New York.
The Hidden Heroes Award honors The Andrew Goodman Foundation's outstanding Vote Everywhere Ambassadors and Puffin Democracy Fellows for demonstrating a commitment to continuing Andrew Goodman's legacy of expanding civic engagement and defending democracy in their communities. More than 100 of these civic leaders from around the country were considered for the award. Vote Everywhere Ambassadors are college students from schools around the country who lead voter campus registration drives, Get Out the Vote efforts, and remove the barriers that student voters face. The Puffin Democracy Fellows, the Foundation's newest leadership program, work on innovative and impactful projects to expand voting rights and social justice in their local communities and nationally.
"This year's Hidden Heroes award ceremony comes at an important time in our country's history as more states push to restrict voter registration efforts. These extraordinary young leaders, along with all of our Vote Everywhere Ambassadors and Puffin Democracy Fellows, are standing at the front lines of these battles," says Sylvia Golbin-Goodman, the Executive Director of The Andrew Goodman Foundation. "We are in awe of their dedication and fearlessness in the face of these efforts and we couldn't be more honored to recognize these outstanding young people."
The awards ceremony took place during the Foundation's fifth annual National Civic Leadership Training Summit where students from 59 campuses around the country meet to train and prepare Vote Everywhere Ambassadors for the upcoming school year. The event featured workshops and lectures with staff, alumni, and expert speakers. The Summit also commemorated the 55th anniversary of Andrew Goodman's murder by the KKK in Mississippi while registering African Americans to vote.
Ava Mazzye '20 is a BA candidate at Bard College where she studies Political Studies. She currently serves as a member of the Fiscal Committee in student government and as a Lead Peer Counselor.
Post Date:
06-24-2019