Bard College Student Sonita Alizada Addresses the UN on Child Marriage and Education for Girls
Bard College student Sonita Alizada addressed the United Nations on Tuesday, February 11, 2020. Sonita is a rapper and a human rights activist from Afghanistan. She spoke movingly about how she was sold into child marriage twice, escaped, and went on to become an advocate for education for girls worldwide.
Sonita's family left Afghanistan for Iran when she was a girl, and lived in Iran for several years as undocumented refugees. During this time, Sonita began to make music to express her frustration and fear as her family began to discuss selling her as a child bride. "I was breaking the law in Iran at that time. And still now women are not allowed to sing or rap solo," she explains. "Honestly, back then I knew the law, but I felt like my dreams were bigger than the fears that I had from the police."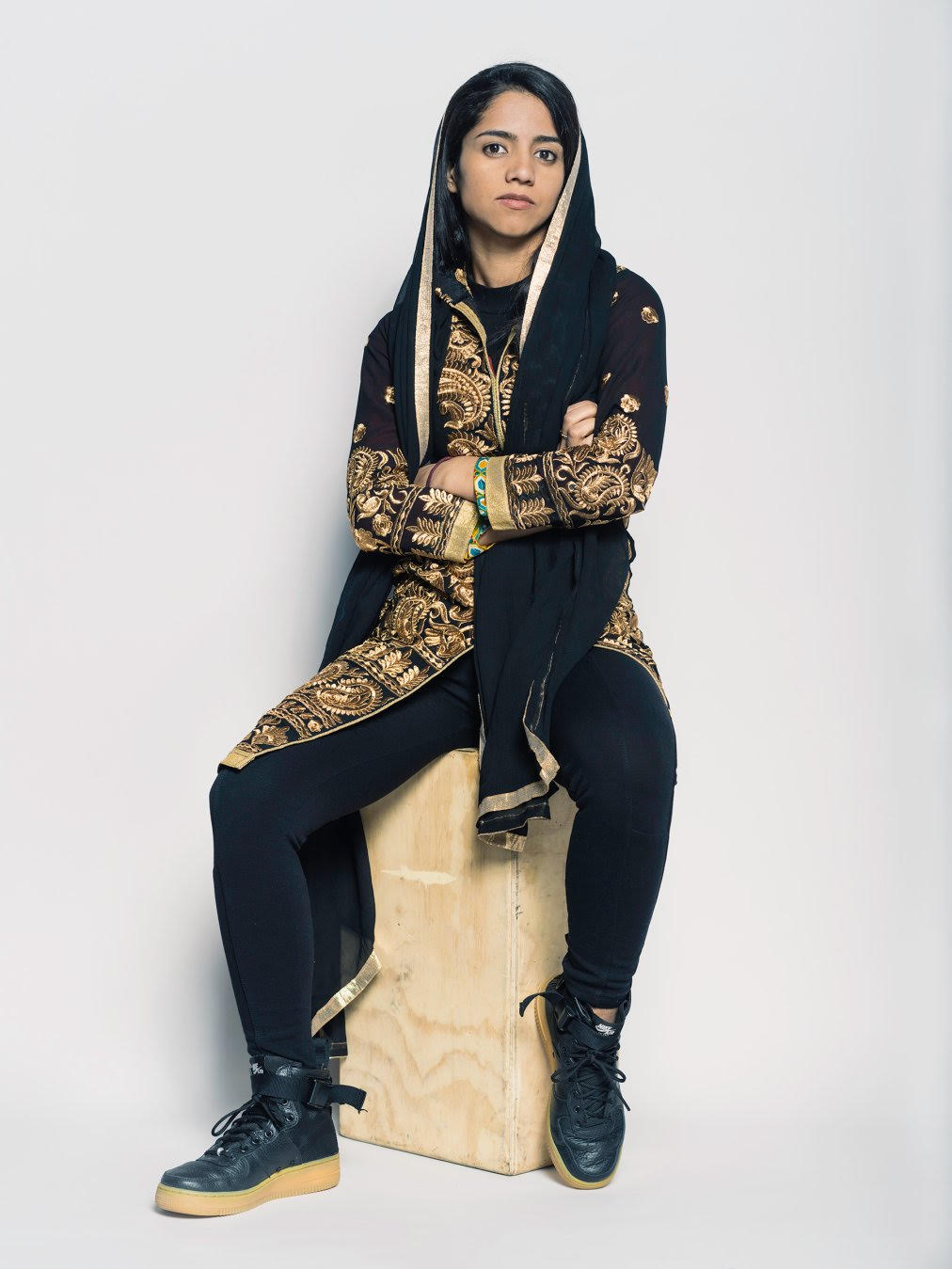 She met the Iranian filmmaker Rokhsareh Ghaem Maghami, who helped Sonita make a music video for her song "Brides for Sale," which went viral and called attention to Sonita and the plight of many Afghan girls. Maghami made a documentary about Sonita's struggle to escape child marriage,
Sonita
, which was released by New Wave Films in 2016.
Sonita
won the World Documentary Audience Award and Grand Jury Prize at the Sundance Film Festival, as well as the Audience Award for Best Documentary at the IDFA Amsterdam Film Festival. With support from Maghami, the True Life Fund, and the Strongheart Group, Sonita was able to move to the United States, complete her secondary education, and continue to college.
Sonita was taking English language classes at American University in Washington, D.C. when a friend told her about Bard. "I felt like this would be the best place for me, because I like a close connection with my professors. So when I came here I realized that professors here, they were supportive, students were diverse, and it's been—I really like it here and am happy with the decision that I made because they're not only supporting my education; they also support me with my advocacy work, which is very important."
Sonita is taking classes in human rights and international studies at Bard. "I'm taking First-Year Seminar, of course. I loved Mary Shelley's
Frankenstein
—not so much Darwin!" She enjoys working with other Bard students who are English language learners. Denise Minin, the English language program coordinator at the Learning Commons, has become a friend and an advocate to Sonita. She continues to write music and perform, regularly booking the recording studios on campus so she can work on her first album.
Sometimes, her music and her advocacy work have her studying on the train or in a hotel before an event. "I usually have some time before the performance or before the speech, so I do my homework in between," she explains.
These days, Sonita misses her family. "I didn't tell my family when I came to the U.S. They wouldn't have let me come here, so I basically ran away." Though her parents were initially angry, seeing Sonita's success with music and school has changed their way of thinking. "Right now they are my biggest fans," she says. Her sister rejected a marriage prospect, and their parents didn't force her. The transformation Sonita has seen in her own family gives her hope.
They understand that a girl can actually support herself. My mother, she thought I had no chance of saving myself, because they always think that we have to marry a guy, and only the guy can take care of us. So now it's proven to her that girls are strong, they can make their own decisions, they can support themselves, they can also support others. It took a long time. It's not that easy. But I'm just saying that change is possible even in families, Afghan families that are very conservative. They just follow old traditions. But for my mother to change that much, it was very shocking for me. I felt like if I can change my mom, if I can change my family, I can change other families, too, to think about their girls, to see that there are other possibilities for their girls other than just being mothers while they are children.
Sonita has been nominated for a Women Building Peace Award, as presented by the
United States Institute of Peace
. The award honors a woman peacebuilder whose substantial and practical contribution to peace is an inspiration and guiding light for future women peacebuilders. Sonita will find out the results over the summer.
Sonita has a busy semester shaping up. In addition to coursework and her album, she's started to write a book about her life. She's looking forward to performing at a Human Rights Watch event in San Francisco next month. She will also likely be speaking at the UN again in March, on behalf of the organization Girls Not Brides.
She continues to push to address the root causes of child marriage—poverty and lack of education—and to advocate for local people to take the lead in reform in their own countries. "The problem with some organizations is that they come from the U.S., they come from other countries, to a country like Afghanistan, but they don't really understand the root of this problem," she observes. "You can't just fight with your ideology against their culture. So they need to ask leaders from their communities to help them with what changes they want to bring." Organizations need to not only support the girls, she explains, but also educate the parents.
Sonita finds that her roles as a college student and public figure exist in harmony. "There are so many courses here that talk about human rights," she observes. "The students here are very engaged with human rights and helping the environment—with everything. My friends, they're very supportive of girls' education. So whatever I do most of the time they're like, 'This is kind of what we do.' They are doing projects, too. We're doing the same kind of work, I just do it somewhere else." She describes her friends working on civic engagement projects and volunteering, then laughs, "I find them more active than me sometimes."
Post Date:
02-19-2020